The official website for the previously announced film of the Kuroshitsuji (Black Butler) anime franchise has revealed that the new film will be titled Kuroshitsuji Movie: Book of the Atlantic and is slated to open in theaters in Japan in early 2017.
The Book of the Atlantic adapts the sixth story arc of the Kuroshitsuji manga, which is set on the luxury passenger liner Campania. The story investigating experiments of resurrecting the dead spans the 11th through 14th volumes.
The staff is as follows:
Director: Noriyuki Abe (Arslan Senki, Divine Gate, Kuroshitsuji: Book of Circus)
Script: Hiroyuki Yoshino (
Character Designs / Chief Animation Director: Minako Shiba (Kuroshitsuji II, Kuroshitsuji: Book of Circus)
Music: Yasunori Mitsuda (Inazuma Eleven, Kuroshitsuji: Book of Circus, Kuroshitsuji: Book of Murder)
Animation Studio: A-1 Pictures (Sword Art Online, Fairy Tail, Kuroshitsuji)
It has also been revealed that the Aniplex Plus booth at the AnimeJapan 2016 convention will sell limited-edition advance tickets for the film with an exclusive illustration from Toboso from March 26 to March 27.
Visual: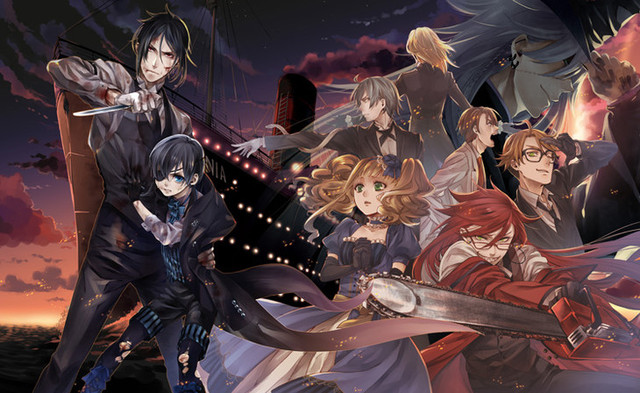 Kuroshitsuji is a manga written and illustrated by Yana Toboso. Since its debut on September 16, 2006, it has been serialized in Square Enix's shounen manga magazine Monthly GFantasy.
A 24-episode anime adaption, directed by Toshiya Shinohara and produced by A-1 Pictures, aired from October 2008 to March 2009. The second season, Kuroshitsuji II, aired in 2010 spanning 18 episodes with two new main characters, Alois Trancy and Claude Faustus, following the aftermath of the first season. This series was the anime's own adaptation and did not feature in the manga. A live action film adaptation was released in Japan on January 18, 2014. A third anime series, titled Kuroshitsuji: Book of Circus, was broadcast between July 10 and September 12, 2014. A two-part theatrical OVA titled Kuroshitsuji: Book of Murder screened in Japanese theaters on October 25, and November 15, 2014. On October 10, 2015, it was announced on the Black Butler official Twitter account that an animated film for the series has been green-lit and that the original anime cast will return to reprise their roles.
Kuroshitsuji synopsis from Haruhichan:
In Victorian era Europe, a young boy loses everything he once held near and dear to a vicious plot. In his moment of death, he strikes a deal with a demon: his soul, in exchange for revenge. Ciel Phantomhive is now the head of the Phantomhive corporation, handling all business affairs as well as the underground work for the Queen of England. His new partner is a demon butler, Sebastian Michaelis, whose prowess as a butler is only surpassed by his strength as a demon.

The story follows the two along with their other servants, as they work to unravel the plot behind Ciel's parents' murder, and the horrendous tragedies that befell Ciel in the month directly after.
Source: Kuroshitsuji official website