Have you ever felt a compulsive need to curl up with a large pile of manga and read through it all? Or perhaps you just want to search for a place where you can find and read a huge assortment of actual printed manga? Then a manga cafe might be the habitat you are looking for. Manga cafes are a type of cafe originating in Japan where people can pick and choose from a seeming endless array of manga and read them in relative comfort. People pay based on how long they stay in the cafe. Many manga cafes also offer additional facilities, such as movies/DVDs to watch, shower room, dart boards, magazines, computers and internet, music and CDs, nail salons, pool tables, newspapers, TV, ping pong tables, slot machines, tanning beds, and even mahjong tables.
However, a company called Soft Curve has thought up of an even more revolutionary idea. This "anime advertising" company has announced the creation of their new series of manga apartments! Soft Curve plans to construct ten stories or units of manga apartments in 3 cities, Akihabara, Nakano, and Ikebukuro. These apartments are meant for tourist and visitor use alone. Just as the name sounds, visitors will be able to spend their days as well as nights in and environment that will supply the tourist with around 2000 different types of manga. It will cost less that 5000 yen to stay a night in this fully furnished, fully equipped, and fully manga covered apartment.
But with so many different manga, how can one hope to find an apartment with exactly the right manga for them? Soft Curve has this issue covered. Each city's manga apartments are aimed at a different readership. In Akihabara, apartments will have the latest manga news and information, in Nakano classic manga will be featured, and in Ikebukuro the comics will target the shoujo and jousei audiences.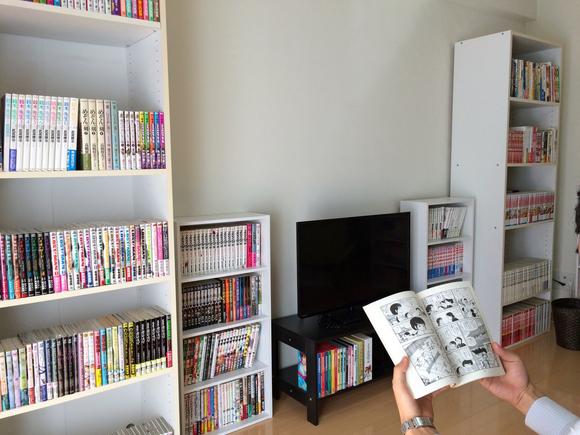 The apartments will not have any hotel service or catering in order to reduce costs and make visitors pay less. However, people who live in the apartments will get discounts at restaurants and cosplay shops and for the latest toys.
Often, people visit cities like Akihabara to experience Japanese anime and manga culture. However, these visits do not last very long. Tourists come to look around and possibly buy a couple things. Soft Curve hopes that with the addition of their new manga apartments, these visits can become true vacations.
Source: Tourism Review, ANN