A new promotional video and visual have been posted online for the upcoming OVA of Sui Ishida's Tokyo Ghoul spin-off prequel, Tokyo Ghoul JACK. Tokyo Ghoul: JACK, will have a limited run in Japanese theatres. The OVA will run from September 5th till the 18th before being released on Blu-ray and DVD on September 30. The OVA is centered around the character Kishou Arima, who is a High School student by day and a ghoul investigator by night. The story is also set in and revolves around the 13th ward.
In addition to this, a new visual was revealed: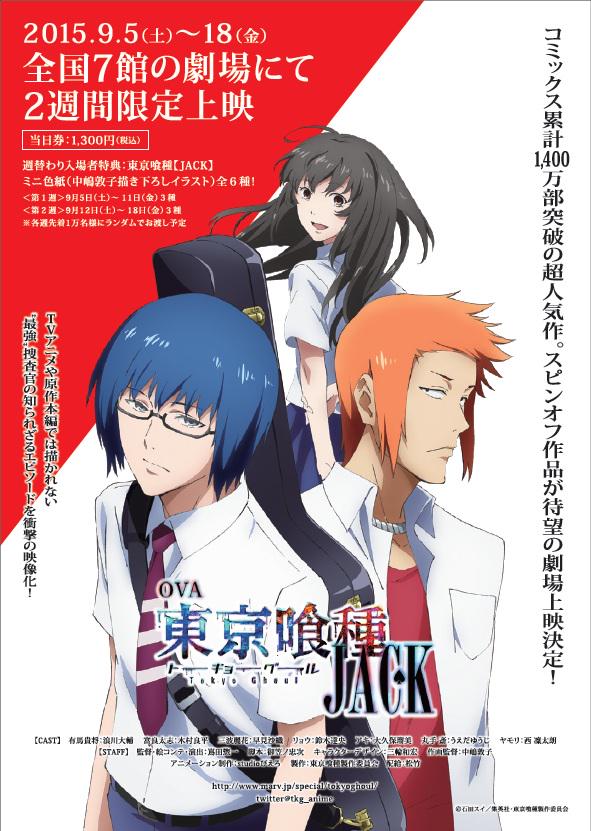 The cast is as follows:
Daisuke Namikawa (Narsus from Arslan Senki) as Kishou Arima
Ryohei Kimura (Kodaka Hasegawa from Boku wa Tomodachi ga Sukunai) as Taishi Fura
Saori Hayami (Saki Morimi from Higashi no Eden) as Uruka Minami
Tatsuhisa Suzuki (Yuuji Sakamoto from Baka to Test to Shoukanjuu) as Ryou
Rumi Okubo (Chinatsu Yoshikawa from Yuru Yuri) as Aki Sasada
Yuji Ueda (Akira from Crystal Blaze) as Itsuki Marude
Rintarou Nishi (Raizou Todoroki from Diamond no Ace) as Yakumo Oomori
The staff:
The first promotional video for the OVA was revealed last May:
Tokyo Ghoul is a manga series by Sui Ishida. It was serialized in Shueisha's seinen manga magazine Weekly Young Jump between September 2011 and September 2014 and has been collected in fourteen tankobon volumes as of August 2014. A sequel titled Tokyo Ghoul:re began serialization in the same magazine in October 2014 and a prequel titled Tokyo Ghoul: JACK is running online on Jump Live. A 12-episode anime television series adaptation by studio Pierrot aired on Tokyo MX between July and September 2014 and a 12 episode second season titled Tokyo Ghoul √A, started airing on January 8, 2015.
Source: Tokyo Ghoul's official Twitter