The official website for the upcoming third anime season of Ichiei Ishibumi and Miyama-Zero's High School DxD has revealed a brand new visual for High School DxD BorN, which will be airing this April.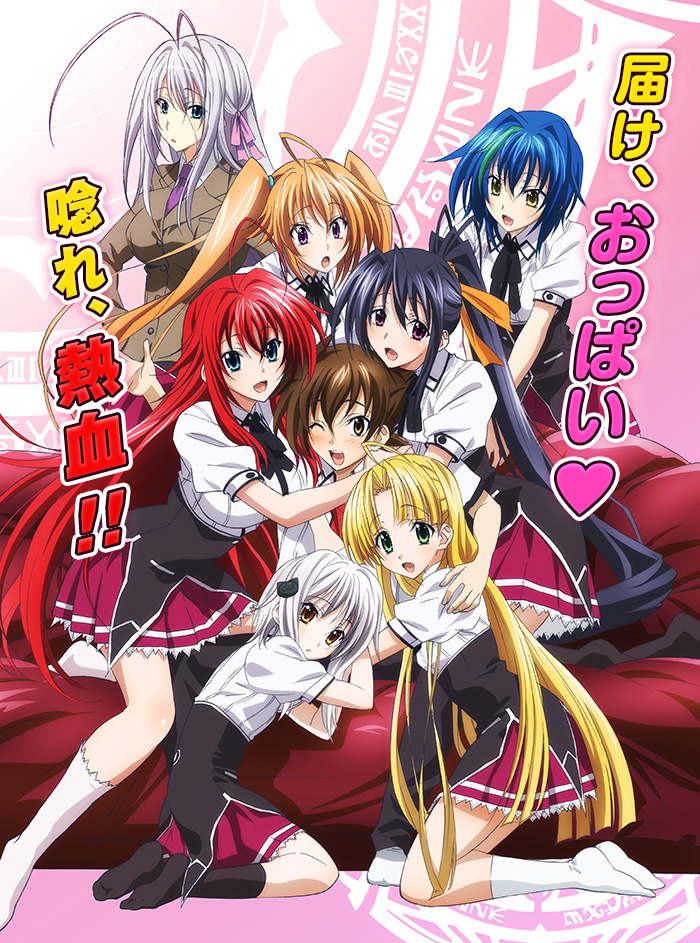 The anime's website has revealed the Opening theme song for the upcoming anime. It was earlier revealed that Japanese female singer ChouCho will be performing the OP. The name of the song will be BLESS YoUr NAME and will be available in stores from April 15th.
Choucho is best known for her 5th single Yasashisa no Riyuu (Hyouka OP), 6th single DreamRiser (Girls und Panzer OP), and 8th single starlog (Fate/kaleid liner Prisma Illya OP).
In addition to this, the site also revealed character information for the upcoming series and subsequently revealing the returning cast members and characters for High School DxD BorN. The returning cast includes:
Yoko Hikasa (Mio Akiyama in K-ON!) reprises her role as Rias Gremory
Ayana Taketatsu (Suguha Kirigaya from Sword Art Online) will be voicing Koneko Toujou
The first promotional video for High School DxD BorN was also released earlier:
Third season anime visual: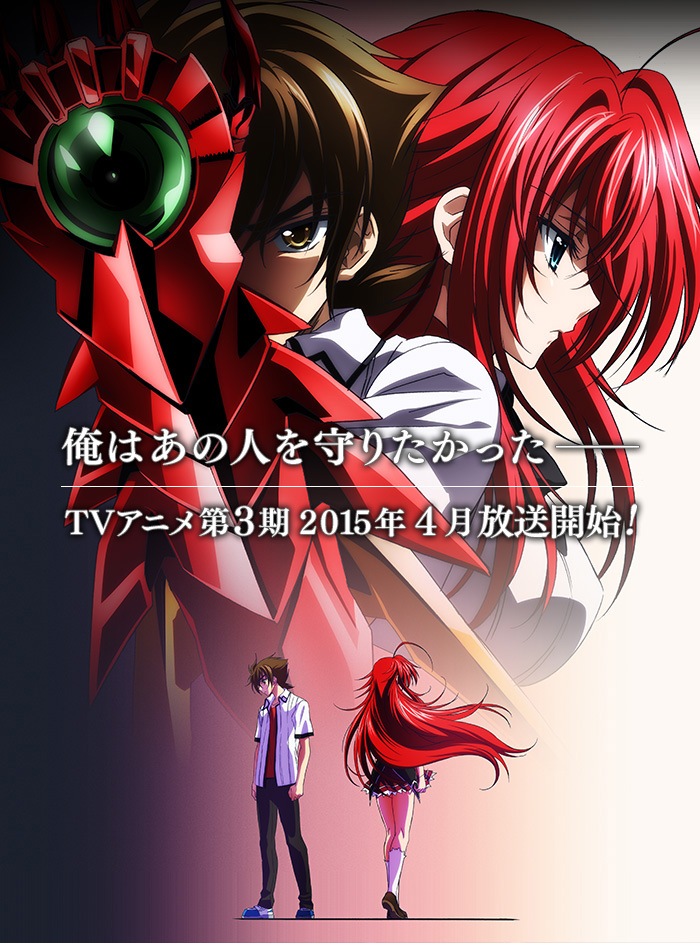 High School DxD is a light novel series written by Ichiei Ishibumi and illustrated by Miyama-Zero. The series began serialization in 2008 in Fujimi Shobo's Dragon Magazine, before being published in their Fujimi Fantasia Bunko imprint. To date, there has been 18 compiled volumes. Three manga adaptation of the series have been published in 2010, 2012 and 2013, all of which have been written by Ishibumi. An anime adaptation was produced in 2012. It was animated by TNK (School Days) and directed by Tetsuya Yanagisawa (Sora no Otoshimono: Tokeijikake no Angeloid, Kyoshiro to Towa no Sora). Two OADs were then released, and were then followed by the second season of the anime in 2013. A Nintendo 3DS game was also released later that year.
Here is a synopsis of the series from Haruhichan:
Issei Hyodo is your average perverted high school student whose one wish in life is to have his own harem, but he's got to be one of the unluckiest guys around. He goes on his first date with a girl only to get brutally attacked and killed when it turns out the girl is really a vicious fallen angel. To top it all off, he's later reincarnated as a devil by his gorgeous senpai who tells him that she is also a devil and now his master! One thing's for sure, his peaceful days are over. In a battle between devils and angels, who will win?
Source: High School DxD official website