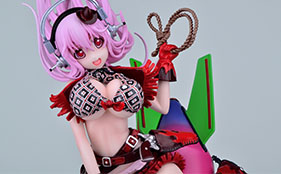 Nitroplus' mascot Super Sonico has joined E2046's Gathering Collection. She's dressed in a cute cowboy outfit while riding a giant rocket. The details on this figure are amazing and the vibrant colors used matches her personality perfectly.
Super Sonico Love Bomber Version – Pre-orders for the pre-painted version and garage-kit version are available on e2046.
Hiya, I'm Yoonah @RizonIRC.
I'm a human being with some casual interests like: music, animations, and games.