A new visual for the collaboration campaign between the two ongoing TV anime series, Noragami Aragoto and Attack on Titan: Junior High has been revealed in a new poster. Both manga run in related magazines (Monthly Shounen Magazine and Bessatsu Shounen Magazine) and the characters share voice actors in the anime series  (Yuuki Kaji plays Eren and Yukine in Attack on Titan, while Hiroshi Kamiya plays Levi and Yato from Noragami).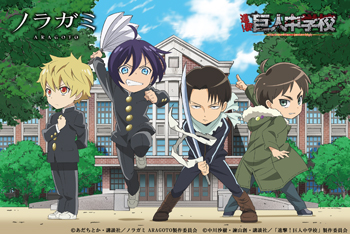 The poster is displayed in Tokyo's Ikebukuro station and within trains on the Seibu Ikebukuro line. Participating manga stores will also give away postcards of this image to customers of either manga series.
Noragami Aragoto Anime visual: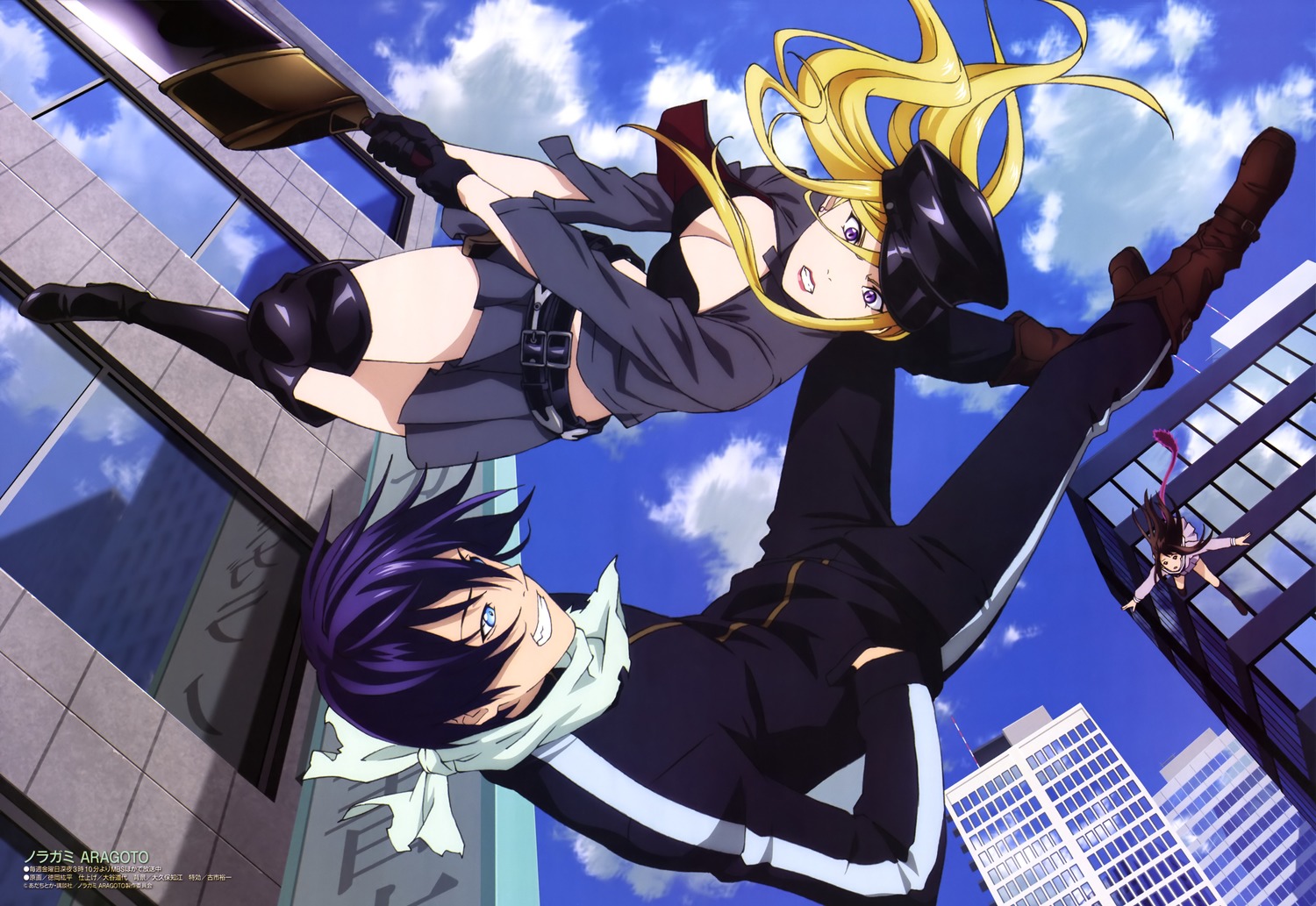 Noragami is a Japanese manga series by Adachitoka that began serialization in Kodansha's Monthly Shounen Magazine in January 2011's issue. It has been collected in fifteen tankobon volumes as of November 2015. An anime television series adaptation by Bones aired in Japan between January 5 and March 23, 2014. A second season, entitled Noragami: Aragoto, premiered on October 2, 2015, and is scheduled to have 12 episodes.
Attack on Titan: Junior High anime visual:
Attack on Titan is a Japanese manga series written and illustrated by Hajime Isayama. The series began in Kodansha's Bessatsu Shounen Magazine on September 9, 2009, and has been collected into 17 tankobon volumes as of August 2015. It is set in a world where humanity lives inside cities surrounded by enormous walls; a defense against the Titans, gigantic humanoids that eat humans seemingly without reason. The story initially centers on Eren Yeager, his adopted sister Mikasa Ackerman and childhood friend Armin Arlert, who joins the military to fight the Titans after their home town is invaded and Eren's mother is eaten. However, as the story progresses and the truths about the Titans are slowly revealed to the reader, the narrative shifts to encompass Historia Reiss, squad leader Levi, and other supporting characters.
A spin-off light novel series began in December 2011, and has received a manga adaptation. An additional light novel series and three additional spin-off manga series are also being serialized. A television anime adaptation produced by Wit Studio and Production I.G aired in Japan on MBS between April and September 2013 and a second season is confirmed to be released in 2016. Four video game adaptations developed by Nitroplus staffers in collaboration with Production I.G were announced to be released as bonus content for the third and sixth volumes of the Blu-ray Disc release of the anime, with another game developed by Spike Chunsoft for the Nintendo 3DS. A two-part live-action film adaptation, Attack on Titan and Attack on Titan: End of the World, was also produced by Toho and premiered in 2015. Attack on Titan and three spin-off manga are published in North America by Kodansha Comics USA, while the novels are published by Vertical. An anime adaptation of the Junior High spin-off manga, produced by Production I.G, began airing in October 2015. The anime has been licensed by Funimation Entertainment for North America, by Manga Entertainment for the UK, and by Madman Entertainment for Australasia.