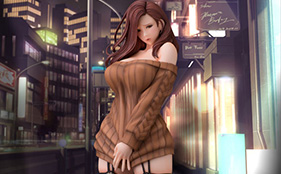 Daiki Kogyo who are known for producing mature adult figures have revealed images of a top-quality figure of a sexy woman with brunette hair, pouty lips, huge breasts, and lovely thighs based on the top notch designs of popular ero illustrator Oda Non. She is wearing a one piece dress that's a little small on size, she's trying her best to cover up. Clothes can be removed but please cast-off at your own risk, parts might be damaged during removal.
Here's a side by side comparison of the illustration and the figure:
Odanon Illustration – Shiho Kujo 1/6 Figure – Pre-orders are currently available on JList and is scheduled to be released in March 2016.