The official website for the Durarara!! anime has been counting down to the first cour of Durarara!!x2 Shou, the second season of the adaptation of Ryohgo Narita and Suzuhito Yasuda's light novel series. The accounts have been releasing new images every day since the New Year counting down to the anime's debut on the 10th.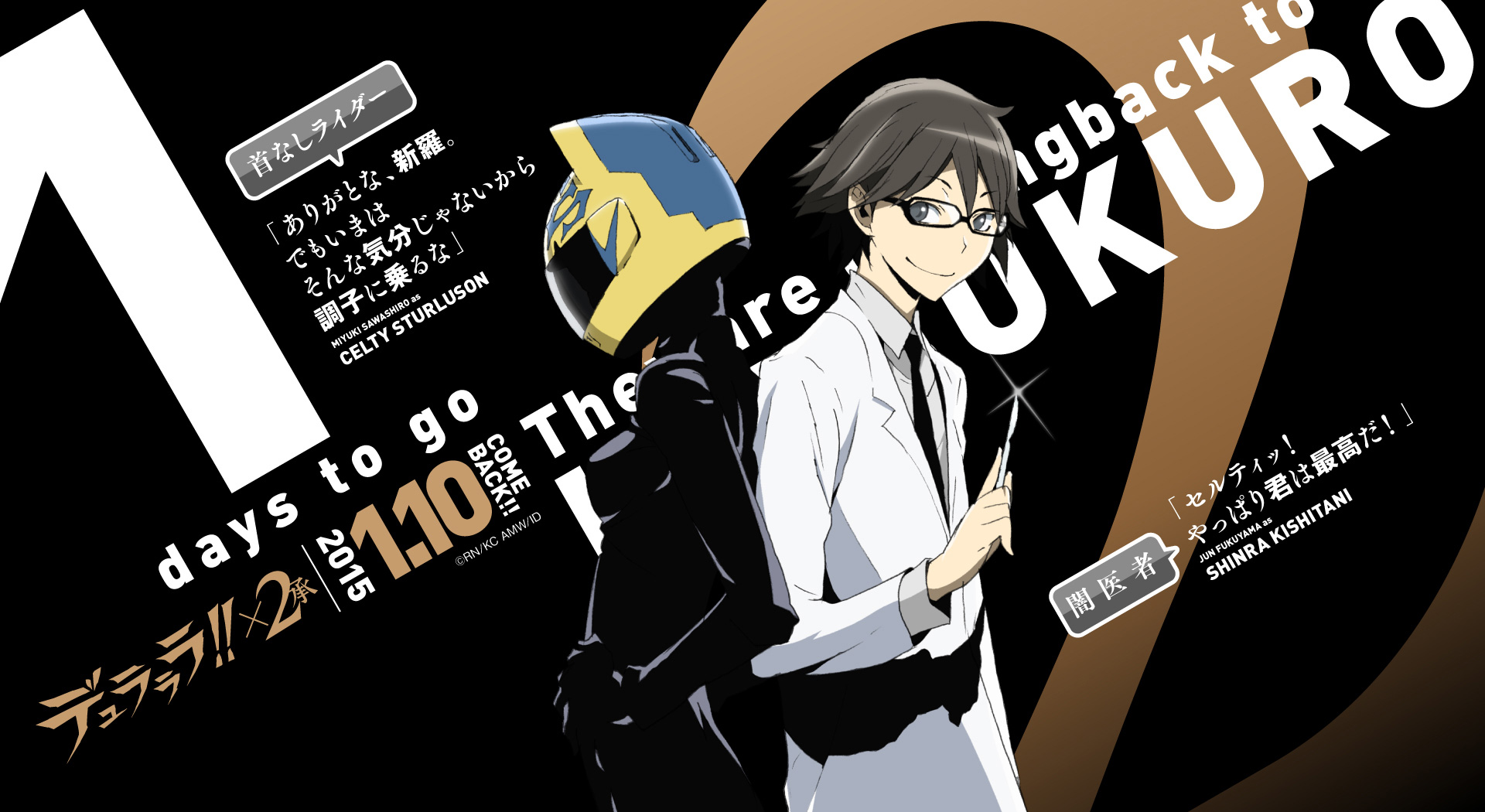 As of this post, there are only 2 days left until the debut of Durarara!!x2 Shou on Tokyo MX at 11:30pm JST. Here are the main images of the countdown starting from 9, which released on New Year's day, and new images release every day at 12:00pm JST.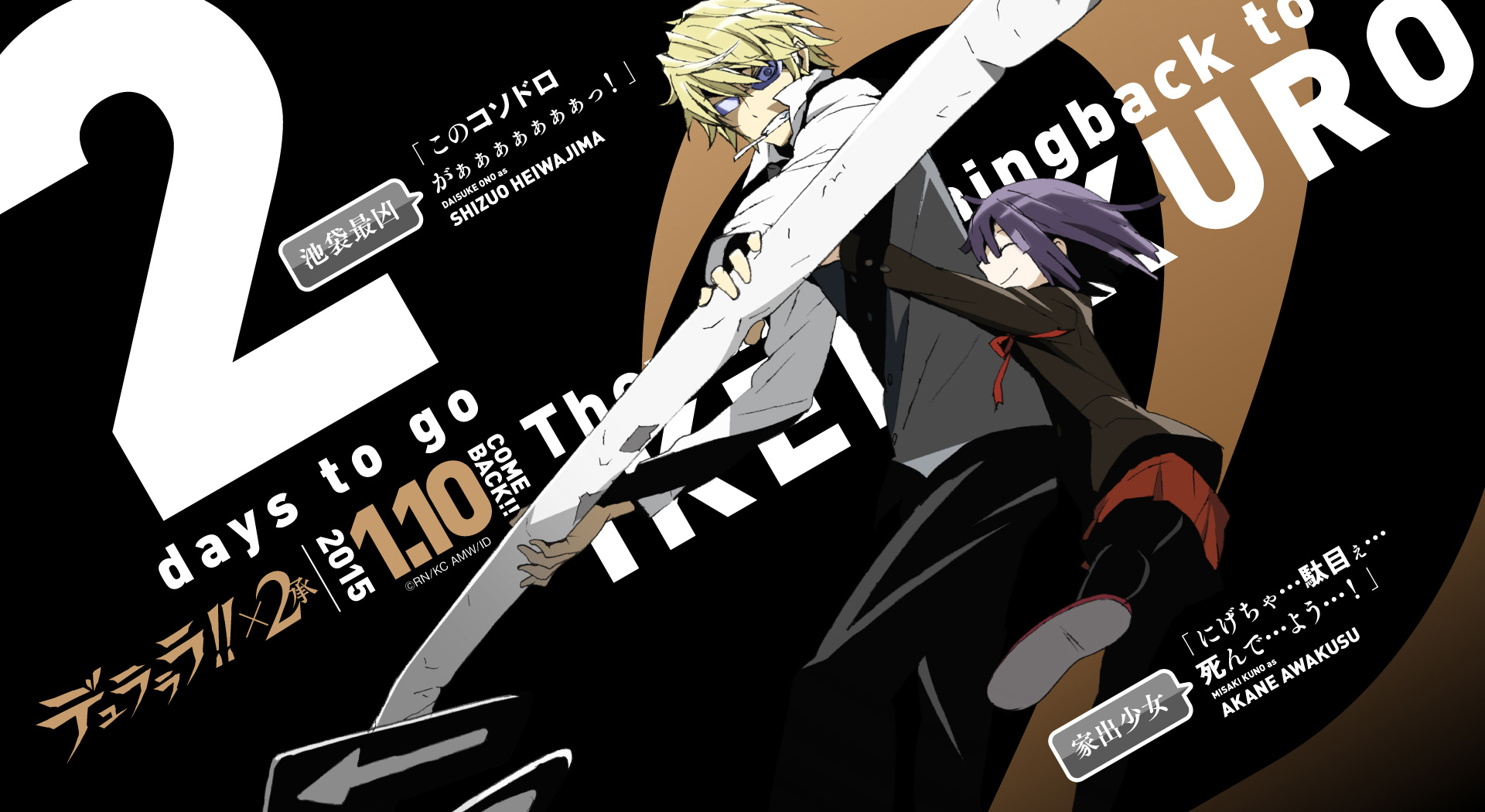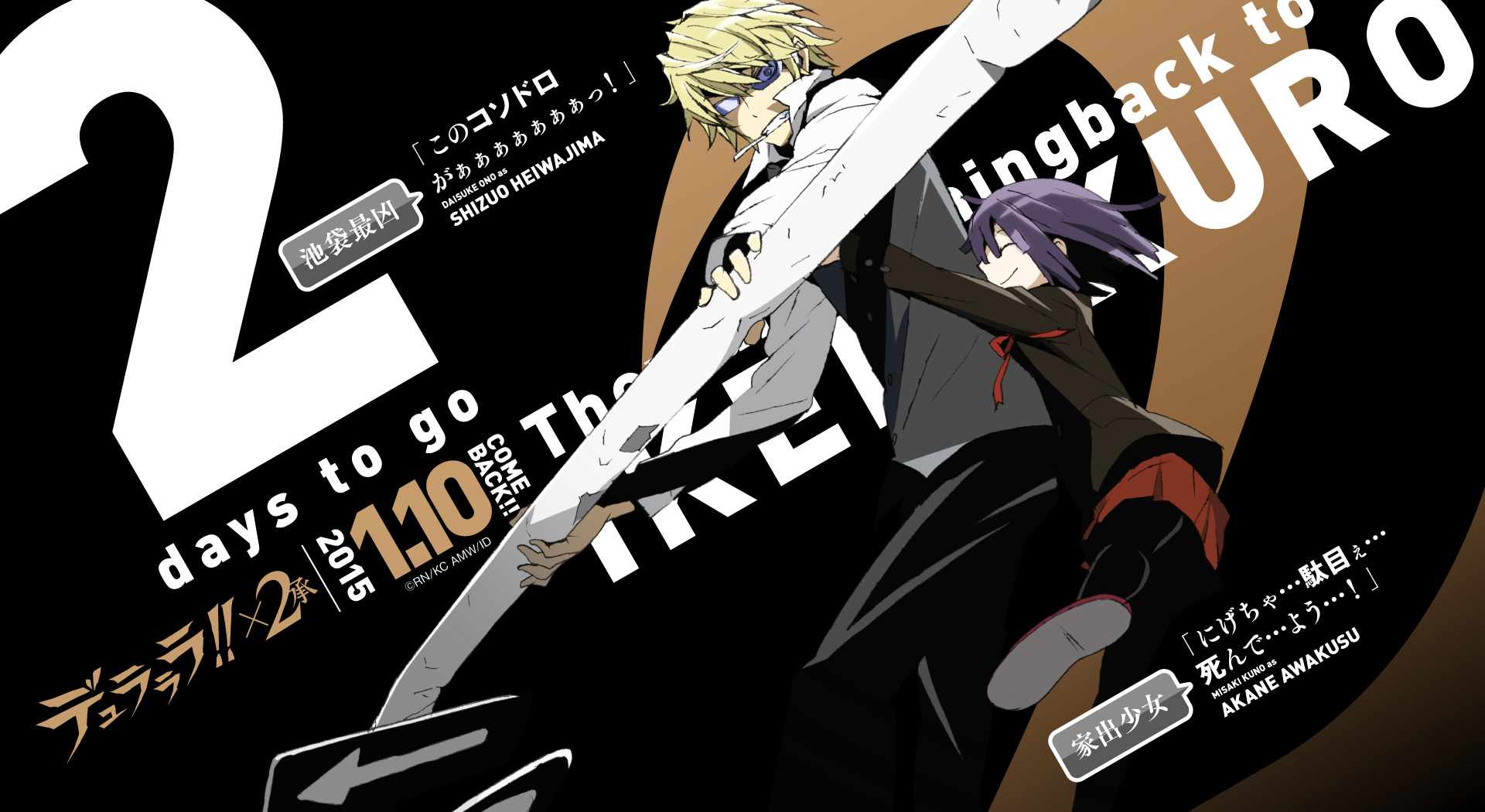 In addition to the images, a countdown video has also been released, which features Celty:
http://www.dailymotion.com/video/x2ebqu2_durarara-x2-shou-countdown-cm2-celty-ver_tv
Durarara!!x2 will be split up into three parts starting with the first season, Durarara!!×2 Shou, airing from January 10th during the Winter 2014/2015 anime season. The next part is Durarara!!×2 Ten, which will be airing in July 2015 during the Summer 2015 anime season. And finally, the final part of the series, Durarara!!×2 Ketsu, will air from January 2016 in the Winter 2015/2016 anime season.
The main cast of Durarara!!x2 has been earlier revealed and consists of mostly returning characters and cast members alongside a few new ones. The cast includes:
Mamoru Miyano as Masaomi Kida
Kana Hanazawa as Anri Sonohara
Daisuke Ono as Shizuo Heiwajima
Hiroshi Kamiya as Izaya Orihara
Sanae Kobayashi as Namie Yagiri
Jun Fukuyama as Shinra Kishitani
Eri Kitamura as Mairu Orihara
Hisako Kanemoto as Kururi Orihara
Houchu Ohtsuka as Haruya Shiki
Ayahi Takagaki as Erika Karisawa
Kazuma Horie as Seiji Yagiri
Mariya Ise as Mika Harima
Takaya Kuroda as Simon Brezhnev
Takuma Terashima as Saburou Togusa
Yūichi Nakamura as Kyōhei Kadota
Yuuki Kaji as Walker Yumasaki
Saki Fujita as Ruri Hijiribe
Daisuke Kishio as Kasuka Heiwajima
Misato Fukuen as Saki Mikajima
Akio Ohtsuka as Shingen Kishitani
Katsuyuki Konishi as Tom Tanaka
Keiji Fujiwara as Kinnosuke Kuzuhara
Masaya Onosaka as Max Sandshelt
Some changes were made to the staff:
Original: Narita Ryohgo "Durarara!!"
Original Illustration: Suzuhito Yasuda (Durarara!!, Hariyama-san, Maid Machinegun)
Director: Takahiro Omori (Durarara!!, Natsume Yuujinchou Shi, Samurai Flamenco)
Series Composition: Noboru Takagi (C: The Money of Soul and Possibility Control, Kuroko no Basket, Sankarea)
Character Design: Takahiro Kishida (Baccano!, Busou Shinki, Haikyuu!)
Music: Makoto Yoshimori (Baccano!, Durarara!!, Hamatora The Animation)
Animation Production: Studio Shuka (Brain's Base division)
Here is the first full promotional video for Durarara!!x2:
http://www.dailymotion.com/video/x27wr9j_%E3%83%87%E3%83%A5%E3%83%A9%E3%83%A9%E3%83%A9-%EF%BC%92-pv01_creation
This new anime is part of the 10th anniversary celebration of the Durarara!! series, which began as a light novel series in 2004 published by ASCII Media Works' Dengeki Bunko. The original light novels ended in January this year, but the creator of the series Ryohgo Narita, has stated that he will be begin a new series of light novels titled Durarara!! SH, set two years after the original's conclusion. The first issue will release on April 10th. The light novels received an anime adaptation in 2010 from animation studio Brains Base. In addition, two manga adaptations were also released and a few visual novels. To date the light novels has a total of 13 volumes. and are illustrated by Suzuhito Yasuda.
A manga adaptation by Akiyo Satorigi started serialization in the shounen manga magazine Monthly GFantasy on April 18, 2009. An anime adaptation began airing in Japan in January 2010. Two games based on the series for the PlayStation Portable were released, and a game for PlayStation Vita was released on June 19, 2014 in Japan.
Here is a synopsis of the series from Haruhichan:
In Tokyo's downtown district of Ikebukuro, amidst many strange rumors and warnings of anonymous gangs and dangerous occupants, one urban legend stands out above the rest—the existence of a headless "Black Rider" who is said to be seen driving a jet-black motorcycle through the city streets.

Ryuugamine Mikado has always longed for the excitement of the city life, and an invitation from a childhood friend convinces him to move to Tokyo. Witnessing the Black Rider on his first day in the city, his wishes already seem to have been granted. But as supernatural events begin to occur, ordinary citizens like himself, along with Ikebukuro's most colorful inhabitants, are mixed up in the commotion breaking out in their city.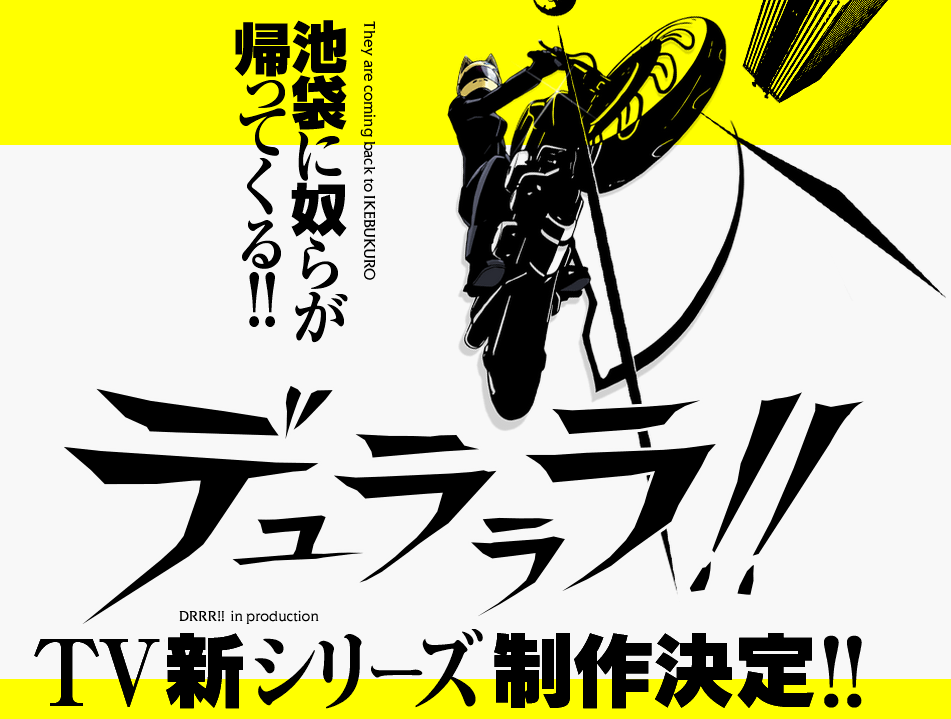 Durarara!!x2 Shou will be airing from January 10th on Tokyo MX at 11:30pm JST during the Winter 2014/2015 anime season. The anime will then return in the Summer 2015 anime season as Durarara!!×2 Ten and then in the Winter 2015/2016 season as Durarara!!×2 Ketsu.
You can visit the anime's website here: http://www.durarara.com/
And follow the anime on Twitter: @drrr_anime
Source  – Durarara!! Anime Website