The official website for the anime adaptation of Eiichiro Oda's One Piece manga series has revealed that One Piece will be receiving a new TV anime special on December 19 titled One Piece ~Adventure of Nevlandia~. The special will be the anime's first winter special and will air on December 19 from 9:00 p.m. to 11:10 p.m. on Fuji TV.
The special will have a new and completely original story that will take place on a "Devil Fruit blocking" fog island in the New World that keeps Devil Fruit users from being able to use their powers. The crew will also again meet and have a rematch with the Foxy Pirates from the Davy Back Fight arc. Foxy now has three new subordinates: Doujack, Kanshou, and Koumei, the latter of whom is a member of a family of genius tacticians.
Koumei devises a plan where Zoro and Sanji take part in an eating contest, and the two eat a strange "good-for-nothing-only" mushroom that turns them into good-for-nothing men. The two are then locked in a jail cell. When the rest of the Straw Hat Pirates chase after their imprisoned crew, they land on the island of Nevlandia, which features a mysterious fog made from sea water, and it has the same effects as seastone. The Straw Hat Pirates' arrival on Nevlandia is also a part of Koumei's plan.
The special will be directed by Konosuke Uda who directed episodes 1-278 of One Piece, One Piece Movie 4: Dead End and One Piece Movie 7: The Giant Mechanical Soldier of Karakuri Castle.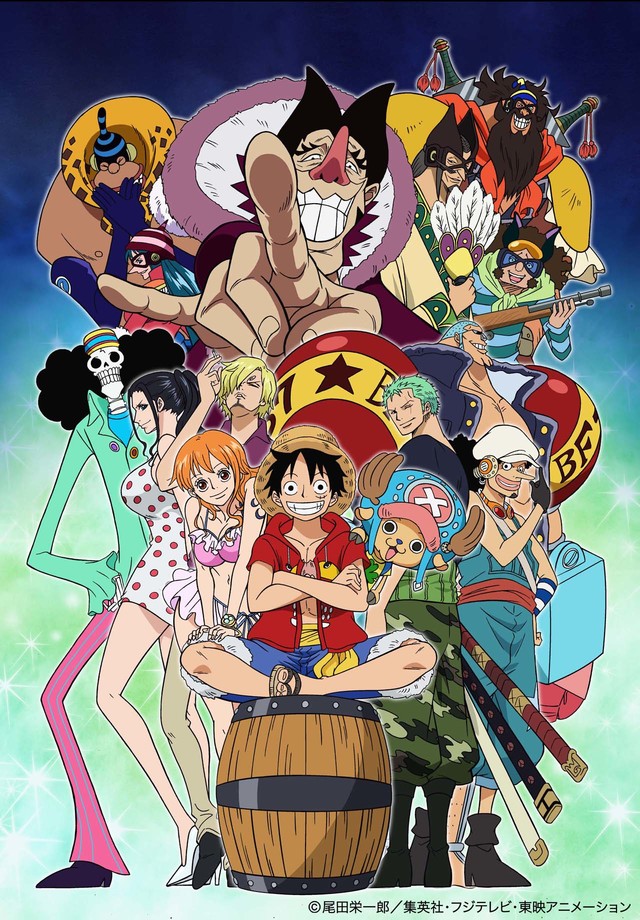 The previous TV special titled, One Piece Episode of Sabo, aired on August 22. The end of the special announced that the 13th anime film in the franchise will open in summer 2016.
Anime visual:
One Piece is a Japanese manga series written and illustrated by Eiichiro Oda. It has been serialized in Weekly Shounen Jump since July 19, 1997; the individual chapters are being published in tankoubon volumes by Shueisha, with the first released on December 24, 1997, and the 75th volume released as of September 2014. One Piece follows the adventures of Monkey D. Luffy, a young man whose body gains the properties of rubber after unintentionally eating a Devil Fruit, and his diverse crew of pirates, named the Straw Hat Pirates. Luffy explores the ocean in search of the world's ultimate treasure known as One Piece in order to become the next Pirate King.
The chapters have been adapted into an original video animation (OVA) produced by Production I.G in 1998, and an anime series produced by Toei Animation, which began broadcasting in Japan in 1999. Since then, the still continuing series has aired over 672 episodes. Additionally, Toei has developed thirteen animated feature films, two OVA's, and five television specials.
One Piece has received wide critical acclaim, primarily for its art, characterization, humor and story. Several volumes of the manga have broken publishing records, including highest initial print run of any book in Japan and the first book to sell over three million copies in Oricon history. As of 2013, the series had over 345 million volumes in circulation worldwide, making it the best-selling manga series in history.
One Piece synopsis from Haruhichan:
Gol D. Roger was known as the Pirate King, the strongest and most infamous being to have sailed the Grand Line. The capture and death of Roger by the World Government brought a change throughout the world. His last words before his death revealed the location of the greatest treasure in the world, One Piece. It was this revelation that brought about the Grand Age of Pirates, men who dreamed of finding One Piece(which promises an unlimited amount of riches and fame), and quite possibly the most coveted of titles for the person who found it, the title of the Pirate King.

Enter Monkey D. Luffy, a 17-year-old boy that defies your standard definition of a pirate. Rather than the popular persona of a wicked, hardened, toothless pirate who ransacks villages for fun, Luffy's reason for being a pirate is one of pure wonder; the thought of an exciting adventure and meeting new and intriguing people, along with finding One Piece, are his reasons of becoming a pirate. Following in the footsteps of his childhood hero, Luffy and his crew travel across the Grand Line, experiencing crazy adventures, unveiling dark mysteries and battling strong enemies, all in order to reach One Piece.
Source: Official One Piece website, ANN