The official website for Sanrio's original TV anime based on a popular smartphone app, Show By Rock!!, announced on Sunday that the show is getting a sequel, as well as a new short anime. The official Twitter account stated that the information on the release date and the number of episodes for the sequel will be announced at a later date.
In addition to this, the official website of the anime revealed a key visual with the tagline: "I believe. In music, and in my friends, and in the future."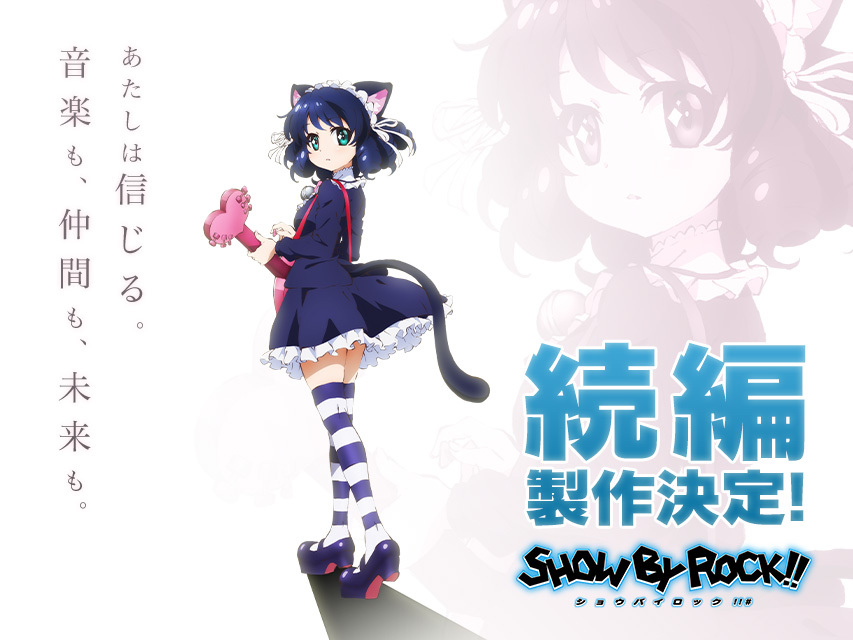 Show By Rock!! (also known as Show By Rock!! Gonna be a Music Millionaire!) is a rhythm video game developed and published by Geechs, in conjunction with Sanrio. It is Sanrio's first ever character project aimed for older males and young adults, as opposed to the main female and child demographic. The game was released on July 30, 2013 for iOS and on June 27, 2014 for Android devices. An anime adaptation by Bones aired in Japan between April and June 2015 on Tokyo MX as the first late night anime based on a Sanrio character or franchise. A second season and a short anime have been announced
Show By Rock!! synopsis from Haruhichan:
Metropolis of music, MIDICITY. A kitty girl wearing gothic lolita clothing named Cyan is scouted by Maple Arisugawa, the president of a music agency. From there, she meets Chuchu (a pun off of the sound that rabbits make) the honor student rabbit girl, a net geek dog girl named Retoree (from "Retriever"), and an alien sheep (?) girl named Moa. Together, they form the band named "Plasmagica," and aim for the top of the world.

However, the path there is long and tough, and keeping in high spirits is important. By battling against other strange bands, Plasmagica slowly grows toward a top-grade band. In the end, they'll be a band that becomes the driving force of MIDICITY's music industry… Maybe?

Gonna be a music millionaire!
Source – ANN