The official website of ONE's Mob Psycho 100 manga has announced that the series will be adapted into a TV anime this July. Additionally, the first visual, main cast, staff and promotional video were also revealed.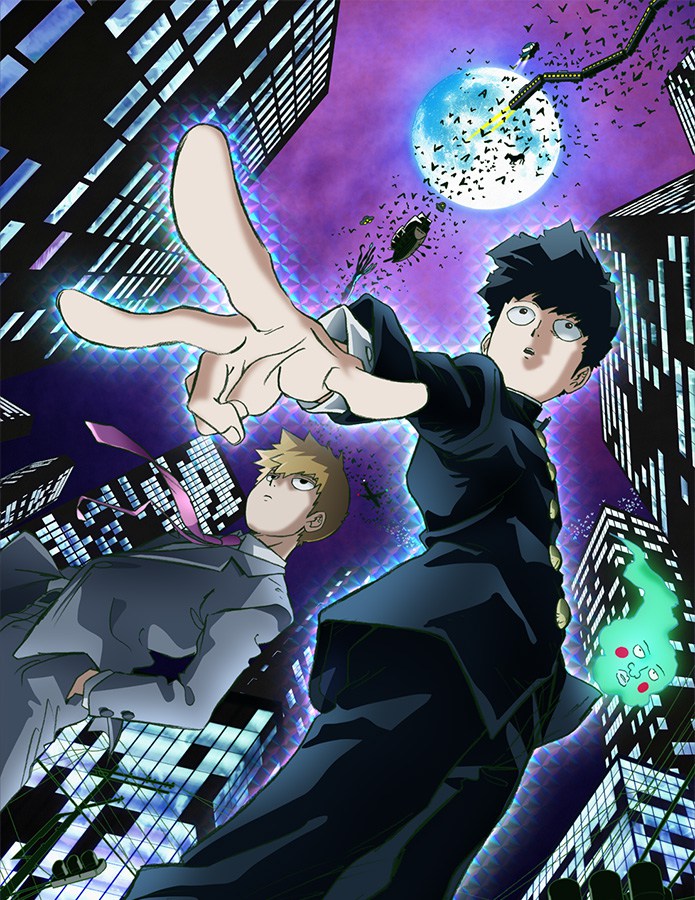 The first character designs for the series' leading characters have been revealed alongside their cast members. The main cast includes:
Setsuo Ito (First Major Role) will voice Shigeo Kageyama
Takahiro Sakurai (Shougo Makishima in Psycho-Pass) as Arataka Reigen
The remainder of the revealed cast includes:
Akio Ohtsuka (Batou in Ghost in the Shell) will voice Ekubo
Miyu Irino (Akito Hyuuga in Code Geass: Boukoku no Akito) is voicing as Ritsu Kageyama
Atsumi Tanezaki (Lisa Mishima from Zankyou no Terror) voices the role of Tome Kurata
Ayumi Fujimura (Misaki Ayuzawa from Kaichou wa Maid-sama!) as Ichi Mezato
Uki Satake (QT in Space☆Dandy) is voicing Tsubomi
Yoshimasa Hosoya (Junpei Hyuuga in Kuroko's Basketball) will voice Tenga Onigawara
Yoshitsugu Matsuoka (Kirito from Sword Art Online) voices Teruki Hanazawa
The first members of the anime's production staff consists of:
Director: Yuzuru Tachikawa (Death Parade, Death Billiards)
Series Composer: Hiroshi Seko (Attack on Titan, Owari no Seraph)
Anime Character Designer: Yoshimichi Kameda (Paroru no Miraijima)
Sound Director: Kazuhiro Wakabayashi (Ghost in the Shell, Soul Eater)
Music Composer: Kenji Kawai (Higashi no Eden, Ghost in the Shell)
Animation Studio: Bones (Fullmetal Alchemist: Brotherhood, Noragami)
Here is the first promotional video, which introduces the main cast and characters:
Mob Psycho 100 is a Japanese webcomic created by One, which began publication on Weekly Shonen Sunday Web Comics on April 18, 2012. A Chinese translation started publication in Taiwan on April 16, 2014. On December 1, 2015, an anime adaption by BONES was announced for release in 2016 and is now scheduled for July.
Mob Psycho 100 synopsis from MAL:
Shigeo Kageyama (a.k.a. "Mob") is a 8th grader with psychic abilities. He could bend spoons and lift objects with his mind from a young age, but he slowly began to withhold from using his abilities in public due to the negative attention he received. Now, the only thing he wants is to become friends with a girl in his class, Tsubomi. With his psychic "mentor" (who has no psychic powers), he continues his daily life, attempting to realize his purpose in life.
You can visit the series' website here: http://mobpsycho100.com/
And follow the anime on Twitter: @mobpsycho_anime
Source: Mob Psycho 100 official website