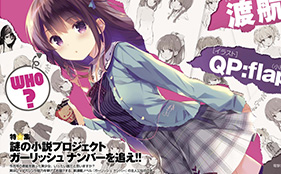 It has been revealed in the stage event schedule of Dengeki Bunko Spring Festival 2016, which will be held on March 13 in Akihabara, that an original anime project titled Girlish Number has been green-lit. The voice cast of the project will be announced at the event.
Girlish Number was previously revealed in the January 2016 issue of Dengeki G's magazine as a new light novel project by author Wataru Watari (Oregairu) and illustrator QP:flapper (MM!). A manga series will also be announced in the March 2016 issue of the magazine, which will go on sale on January 30.
The series follows Chitose Karasuma, a university student who aims to become a voice actress. The stage event listing further indicates that it focuses on the profession of idol voice actresses.
Source: YusaAni, MAL