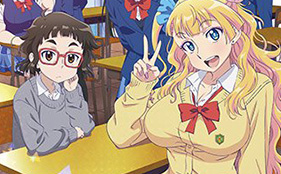 The official website for the anime adaptation of Kenya Suzuki's comedy manga Oshiete! Galko-chan began streaming a new promotional video on Saturday. In addition to this, additional cast, staff members and a second key visual was revealed.
The new video previews the opening theme "YPMA☆GIRLS" performed by the main cast.
The newly revealed cast members include:
Takahiro Sakurai (Atsumu Matsuyuki  from Anohana) as Charao
Daisuke Ono (Shizuo Heiwajima from Durarara!!) as Supoo
Yoshitsugu Matsuoka (Tooru Kokonoe from Absolute Duo) as Otao
Juri Kimura (Aoi Miyamori  from Shirobako) as Nikuko
Ayaka Suwa (Tokaku Azuma from Akuma no Riddle) as Iincho
Shizuka Ishigami (Stella Vermillion from Rakudai Kishi no Cavalry) as Agemi
Kaede Hondo (Tomoko from Noragami Aragoto) as Yabana
Yuko Iida (Saki Iwasawa from Aiura) as Okako
Yuna Yoshino (Seekvaira Agares from High School DxD BorN) as Ouji
Ai Kakuma (Isuzu Sento from Amagi Brilliant Park) as Metako
Yurika Kubo (Hanayo Koizumi from Love Live! School Idol Project) as Fushigi-chan
Eri Suzuki (Sanae Higashihongan from Rokujouma no Shinryakusha!?) as Budoko
Makoto Furukawa (Saitama from One Punch Man) as Bomuo
Taku Yashiro (Scott from Danmachi) as Norisuke
Kouhei Amasaki (Takaki Uno from Mobile Suit Gundam: Iron-Blooded Orphans) as Konta
Kentarou Kumagai (Sougo Amagi from Comet Lucifer) as Hakase
Yuusuke Kobayashi (Arslan from Arslan Senki) as Futsuo
Taishi Murata (Eiichirou Maruo from Baby Steps) as Netoro
Yuuichi Nakamura (Tomoya Okazaki from Clannad) as Abesen
Yukiyo Fujii (Latifa Fleuranza from Amagi Brilliant Park) as Kuseta
Saori Oonishi (Eriri Spencer Sawamura from Saenai Heroine no Sodatekata) as Tsunno
Sayaka Senbongi (Yuu Mononobe from Juuou Mujin no Fafnir) as Kibami
Mamiko Noto (Satellizer el Bridget from Freezing) as Narrator
The main cast is as follows:
Additional staff were revealed and includes:
Prop design: Kuniaki Masuda
Chief animation director: Kenji Fujisaki
Art: Atelier PLATZ
Art director: Hiroki Matsumoto (Ame-iro Cocoa, Saki, Valkyrie Drive: Mermaid)
Background Art: Yuka Hirama
Color design: Sari Tagawa
3DCG: Tsubasa Takagi
Director of photography: Rieko Koike
Editing: Daisuke Hiraki
Sound director: Jin Aketagawa (AKB0048, Aldnoah.Zero, Shakugan no Shana)
The main staff include:
The website also revealed a new visual:
Previous visual: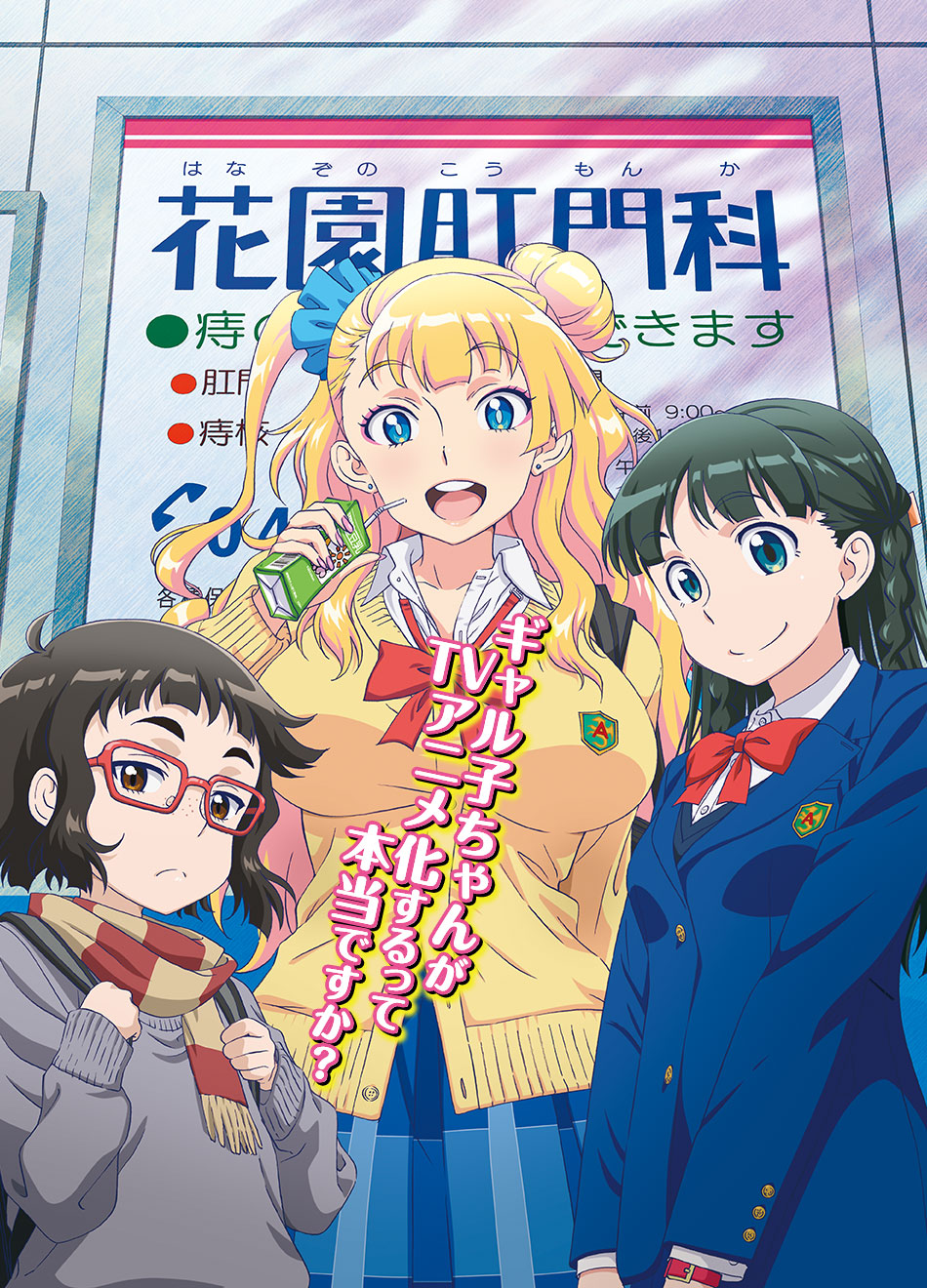 Oshiete! Galko-chan is a Japanese manga series written and illustrated by Kenya Suzuki. An anime television series adaptation will begin in January 2016.
Oshiete! Galko-chan synopsis from Haruhichan:
Follow the daily school life of Gyaruko-chan, Otako, and Ojyo in this series of comedic short stories. Gyaruko-chan has a tendency to speak rudely, but she's basically friends with everyone. Otako is the quiet loner of the class, but she is good friends with Gyaruko-chan. Ojyo speaks her mind freely and naturally.
Oshiete! Galko-chan will broadcast on Tokyo MX on January 8.