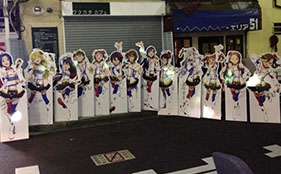 With The [email protected] Movie: Kagayaki no Mukougawa e recently being shown in cinemas earlier this year across Japan, they have released a set of 13 different idols cardboard cutouts which are valued at roughly ¥15000 ($148) a piece.
An otaku who goes by the twitter username @kaneko_hk has bought every single THE [email protected] idol cutout for a total of ¥195000 ($1924).
Are you a fan of The [email protected]? Would you be willing to spend this much on an idol harem? Let us know in the comments below!