On July 6th, 2015, the announcement came that the so called "Final Season" of NisiOisin's Monogatari Series, Owarimonogatari, is scheduled to be released as a TV anime in October of 2015, during the 2015 Fall anime season. The Shosen Book Tower book store, located in Tokyo, put up a display that revealed this news to the public.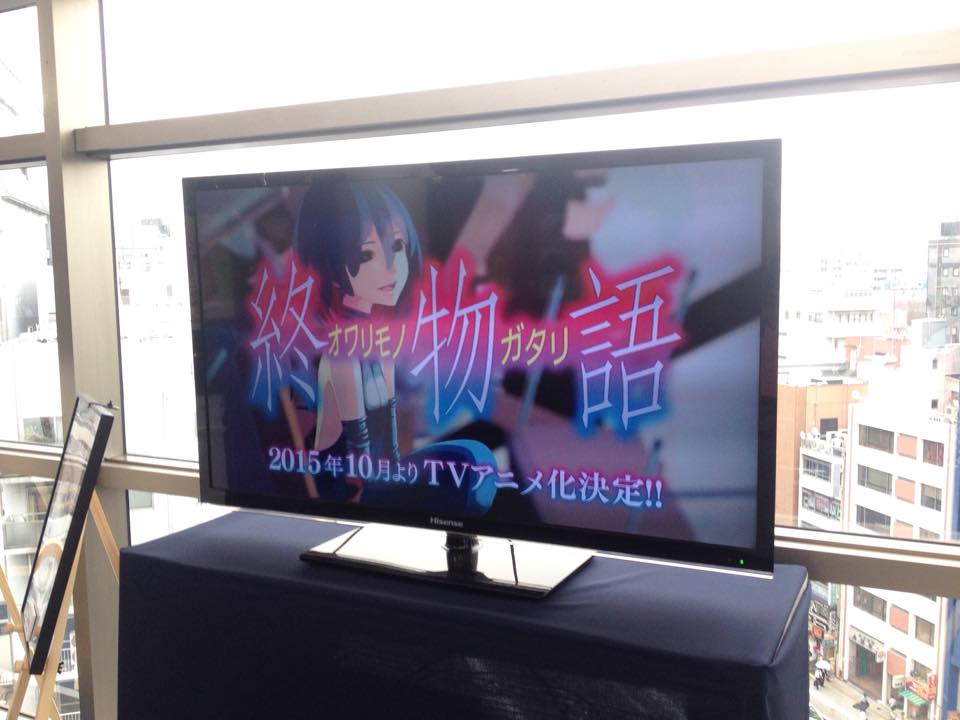 Earlier in the year, the official website for animator Hiroko Kazui was updated to include storyboard work on the anime adaptation of Monogatari Series: Final Season's Owarimonogatari which has been listed for 2015. Her previous work includes storyboards for Hanamonogatari and various arcs of Monogatari Series: Second Season.
The first light novel volume in Nisio Isin's Mongatari Series: Final Season, Tsukimonogatari, was announced to be in-production in October 2014, and aired as a 4-episode New Year's Eve TV Special that year. The short story collection Koyomimonogatari is the second volume, Owarimonogatari spans volumes 3-5, and the final volume Zoku Owarimonogatari completes the series. Official announcements regarding the anime adaptations of Koyomimonogatari have yet to be made.
In 2012, Shaft announced it would be animating all of Nisio Isin's Monogatari Series. At this time, the studio had already animated the 15-episode TV series Bakemonogatari starting in Summer 2009 and the 11-episode Nisemonogatari in Winter 2012.
Since the announcement, the 4-episode New Year's Eve special Nekomonogatari: Kuro, 26-episode Monogatari Series: Second Season, and 5-episode Summer special Hanamonogatari have also been broadcast. Kizumonogatari is the only skipped adaptation in volume-order, despite its initial announcement in 2010 and a subsequent movie premiere date for 2012. Kizumonogatari's anime adaptation is still in production, no given date as of yet.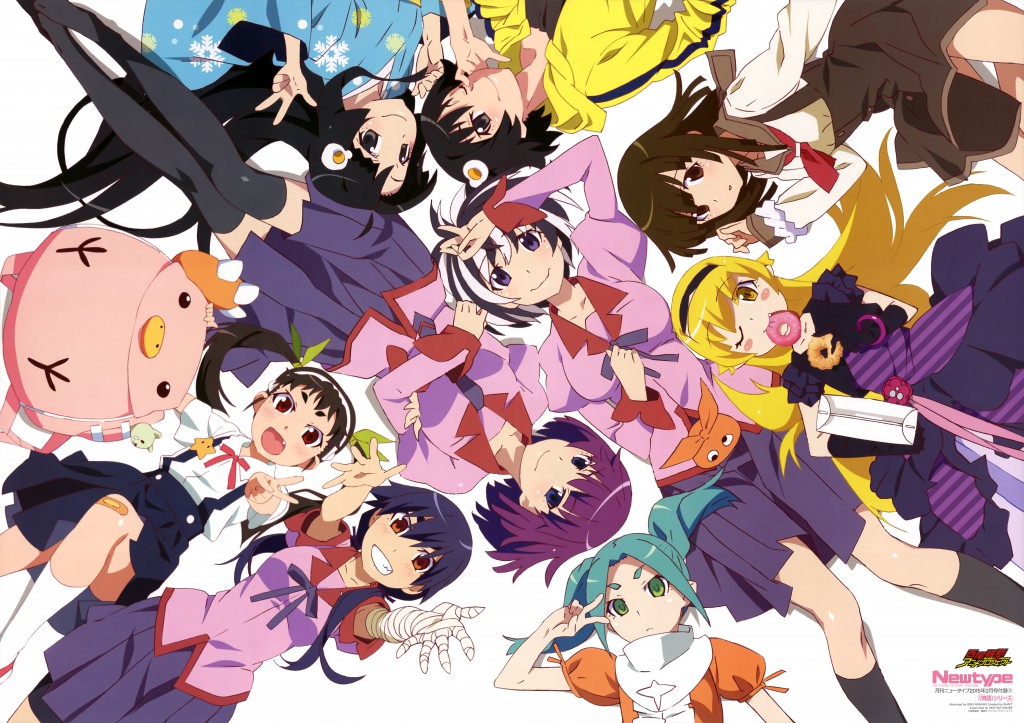 Bakemonogatari synopsis from Haruhichan:
The Monogatari series centers on Koyomi Araragi, a third year high school student who is almost human again after briefly becoming a vampire. One day, a classmate named Hitagi Senjōgahara, who infamously never talks to anyone, falls down the stairs into Koyomi's arms. He discovers that Hitagi weighs next to nothing, in defiance of physics. Despite being threatened by her, Koyomi offers his help, and introduces her to Meme Oshino, a middle-aged homeless man who helped him stop being a vampire.
Source: Otakomu