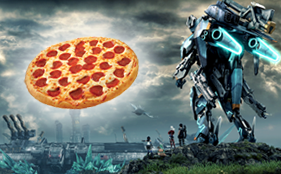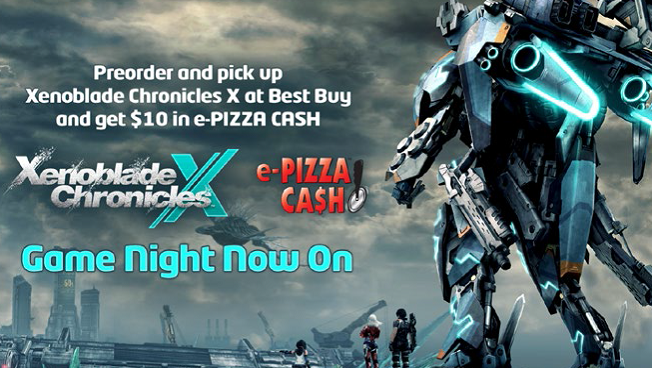 For what seems like years, retailers and publishers have been spicing up your pre-order decision with tantalizing bonuses such as extra in-game content and even physical collectibles. Best Buy is hoping to add little… flavor to your decision to reserve Xenoblade Chronicles X, the upcoming JRPG developed by Monolith Soft (Xenosaga trilogy) and published by Nintendo.
Excluding the enamoring Collector's Edition, for  Xenoblade Chronicles X, if you pre-order by December 3rd, 2015, you will receive… a $10 virtual gift card for pizza. You heard it right, purchase the game, in full, by December 10th and you'll have some sweet munchies to go with your brand new game.
A code will be provided for you, thus you will have to register that code by January 14th, 2016, at XCXPizzaCash.com where you'll get your access to a $10 virtual prepaid Mastercard to slam down on some cheesy goodness. Better be quick, though, because if you hold off on that pizza for too long – January 31st, to be exact – all funds will be forfeited.
It's certainly a more perplexing incentive to purchase what could arguably be one of the most anticipated follow-ups to Monolith Soft's ever-expanding Xeno series. How can you say no to pizza, though?
If pre-ordering Xenoblade Chronicles X, launching exclusively on the Nintendo Wii U on December 4th, 2015, has you itching for a slice, you can pre-order here.
(Disclosure: Haruhichan is not affiliated or sponsored by Best Buy or Nintendo.)
Source: Crunchyroll
Erik is a 22 year-old streamer on Twitch who occasionally rants about professional wrestling, 2D girls, and his love for Super Sonico; and by occasionally, I mean a lot.