On the 14th manga volume of Akira Hiramoto's manga series Prison School (Kangoku Gakuen) there will be a wraparound jacket band announcement revealing that it will be receiving a TV animation adaptation.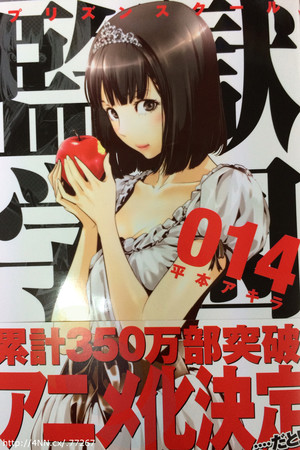 Akira Hiramoto first launched his manga in the Kodansha's Young Magazine Weekly in February 2011. The manga won the best General Manga award alongside Yūji Moritaka and Keiji Adachi's Gurazeni manga at Kodansha's 37th Annual Manga Awards in May. The same wraparound band on the 14th volume also notes that the manga has more than 3.5 million copies in print.
Hiramoto's Ago Nashi Gen to Ore Monogatari manga received a mobile phone anime adaptation in 2010. Hiramoto's Yarisugi Companion to Atashi Monogatari manga inspired a live-action film in 2011.
Hiramoto also wrote the award-winning supernatural drama manga Me and the Devil Blues, which Del Rey published in North America.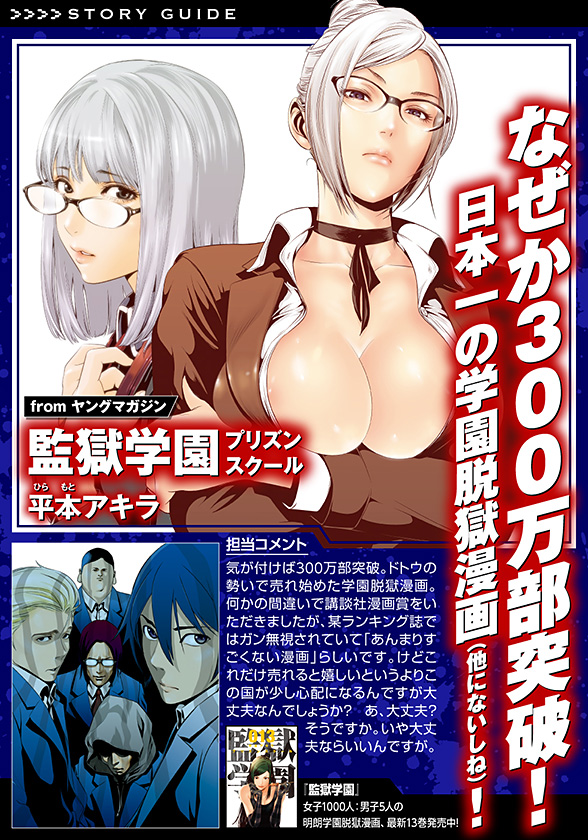 Prison School (Kangoku Gakuen) synopsis from Haruhichan:
Hachimitsu Academy, known for its strict academic standards and even stricter school code, is making a giant change this year. In the first time in school history, they are allowing boys to be admitted. As Fujino Kiyoshi starts his first day at Hachimitsu Academy he is shocked to find out that there are only 4 other guys in the entire school, making the ratio of girls to boys 200:1. And to their dismay, not one of the thousand girls will talk to them or even acknowledge them. But Kiyoshi and the guys are about to find out about the shadow student council that has been threatening the female students about interacting with male students.