According to the official website a fully 3D anime titled Zephyr, a collaboration between game developer Rejet (Diabolik Lovers) and studio Satelight (Fairy Tail,Log Horizon, M3: Sono Kuroki Hagane) has been announced to stream during Rejet Fes 2014 on October 11th and 12th.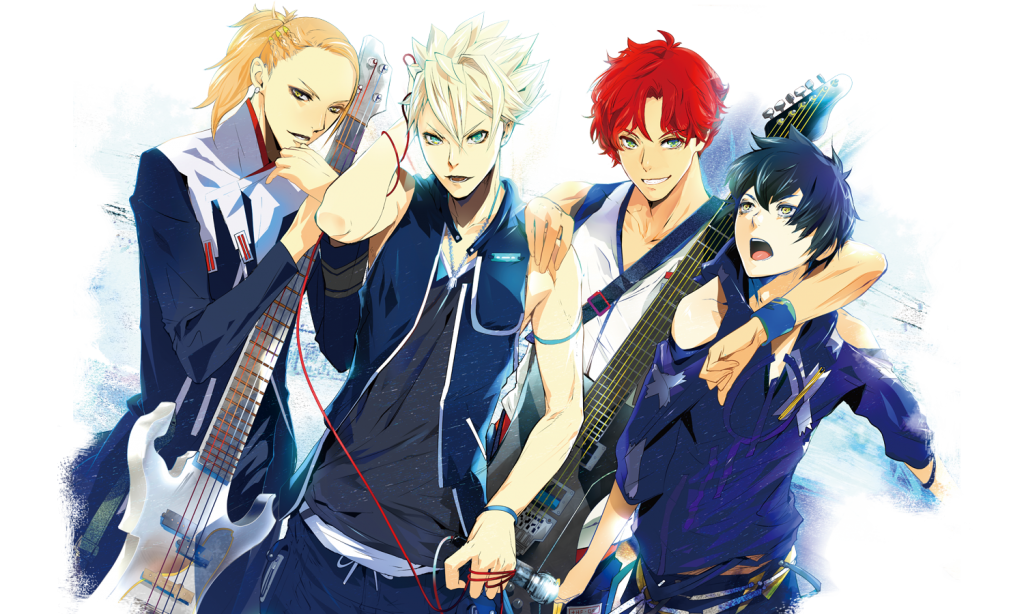 Staff:
Original Plan, General Director: Daisuke Iwasaki
Character Design: Hirotaka Maeda
Director: Watari Akio
Animation Character Design, Art Director: Yae Oozuka
Studio: Satelight (Fairy Tail,Log Horizon, M3: Sono Kuroki Hagane)
Animation Director: Yae Ootsuka
Art Director: Kunihiro Shinoda
Color Desiger: Shigeru Saisho
Storyboard: Susumu Nishizawa
Producer: Tatsuya Abe
Sound Production: Junichi Inaba, Takuma Takai, Ai Addiction
Supervisor: Eiichi Sato
3DCG Producer: Tomisaburou Hashimoto
Producer: Taichi Hashimoto
Cast:
Ned (Vocal): Tatsuhisa Suzuki (Shinsaku Takasugi from Bakumatsu Rock, Makoto Tachibana from Free!, Hiroomi Nase from Kyoukai no Kanata)
Kal (Bass): Hiroshi Kamiya (Yuzuru Otonashi from Angel Beats!, Kou Ichinomiya from Arakawa Under the Bridge, Koyomi Araragi from Bakemonogatari)
Uran (Guitar): Daisuke Ono (Shizuo Heiwajima from Durarara!!, Joutarou "JoJo" Kuujou from JoJo's Bizarre Adventure (2012), Sebastian Michaelis from Kuroshitsuji)
Meisa (Drum): Yuki Kaji (Haruyuki Arita from Accel World, Rentarou Satomi from Black Bullet, Shu Ouma from Guilty Crown)
Zephyr character designs:
Zyphyr Promotional Video:
Zyphyr synopsis:
The story revolves around the boy band named Zephyr, who lives in the slums of Tokyo in the near future. They stopped producing music after a war. One day Ned, the lead vocalist, receives a message on his phone from his girlfriend who he thought died in the war.
Source: nekonotemo