At the Amagi Brilliant Park anime panel during the 2014 TBS Anime Festa event this weekend, the cast and air date of Kyoto Animation's anime adaptation of the series was revealed. Additionally, a new image of the anime was released in the recent issue of Newtype magazine.
Here is the scan: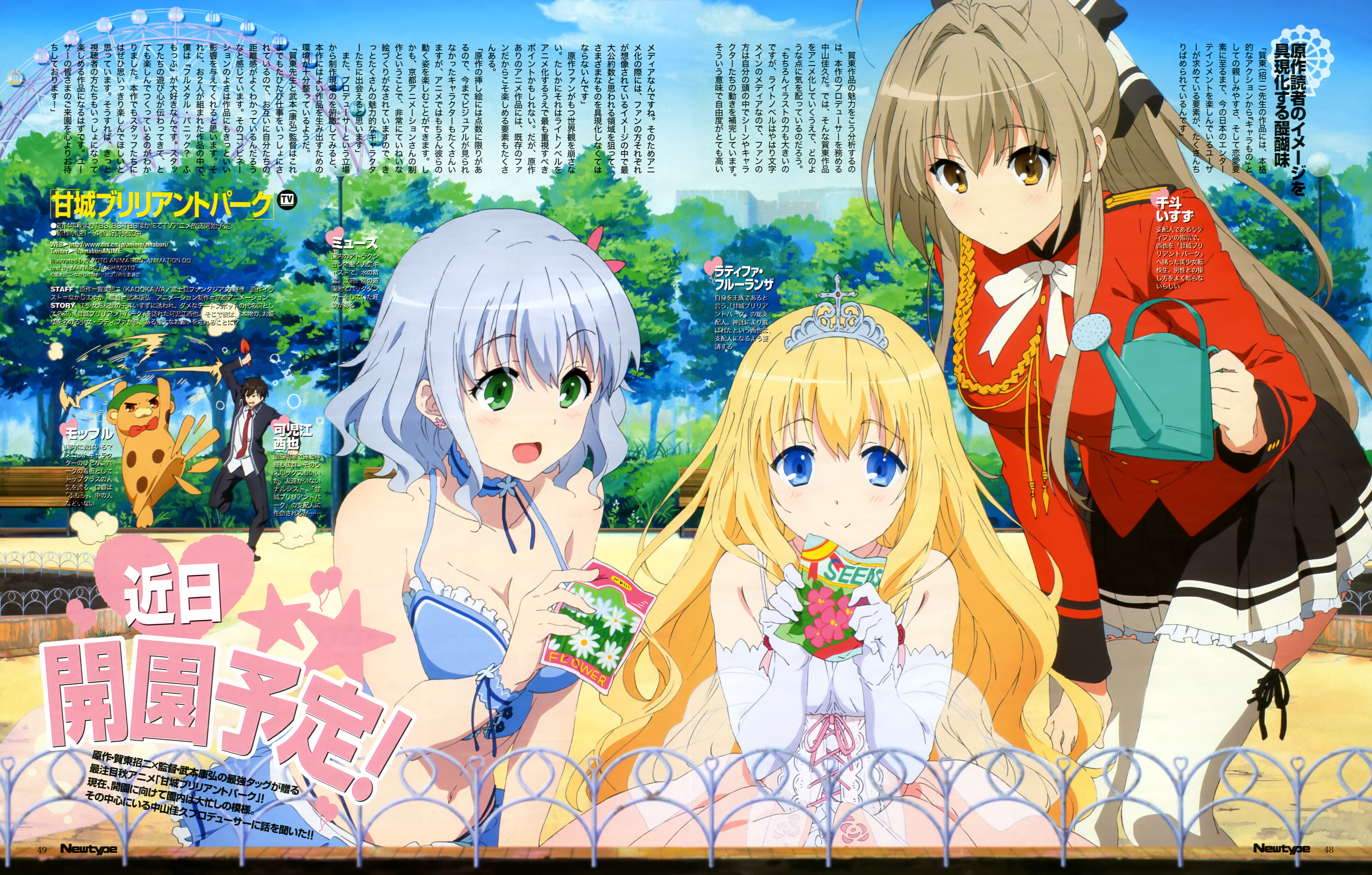 The event has revealed that the cast for Kyoto Animation's Amagi Brilliant Park. They are as follows:
Kouki Uchiyama (Ichika Orimura in IS: Infinite Stratos) will voice the main character of the series Seiya Kanie
Ai Kakuma (Ruuko Kominato in Selector Infected WIXOSS) is voicing Isuzu Sento
Yukiyo Fujii (Patema from Sakasama no Patema) will be voicing Latifah Fleuranza
Ayako Kawasumi (Saber in Fate/stay night) will voice the mascot Moffle
Yuuka Aisaka (Kotone Noda in Sakura Trick) voices Muse
Tomoyo Kurosawa (Tina Sprout from Black Bullet) as Milfa
Shiori Mikami (Akari Akaza in Yuru Yuri) will voice Chloe
Minami Tsuda (Yui Funami in Yuru Yuri) will be voicing as Salama
Shiraishi Ryoko (Hayate Ayasaki from Hayate no Gotoku!) will voice Macaron
Ai Nonaka (Kyouko Sakura from Mahou Shoujo Madoka★Magica) will voice Tirami
At the event, the first trailer was streamed. Additionally, it was revealed that the anime will be debuting on TBS on October 2nd at 26:03 (effectively October 3rd 02:03).
Here are the previous visuals for Amagi Brilliant Park: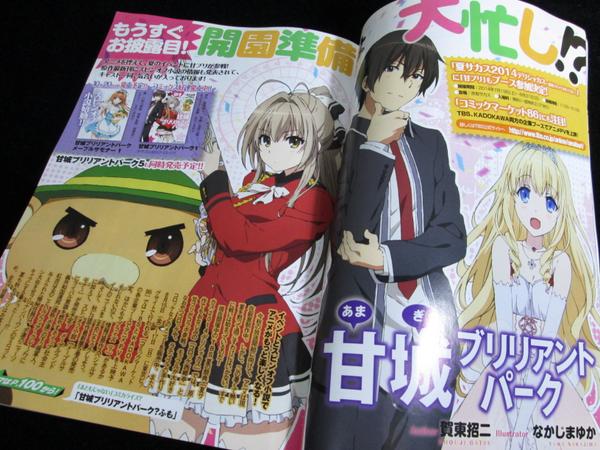 The anime adaptation of Shoji Gatoh's light novel series Amagi Brilliant Park will be directed by Yasuhiro Takemoto, who directed Hyouka and Full Metal Panic? Fumoffu – the latter is another anime based on Gatoh's works. Shoji Gatoh is most known for his popular light novel series Full Metal Panic!, which received an anime adaptation by Kyoto Animation and another by Gonzo. Amagi Brilliant Park began in February 2013 and currently has 4 volumes released. The light novels are illustrated by Yuka Nakajima, who did the character designs for the 2012 anime Papa no Iukoto wo Kikinasai! (Listen to Me, Girls. I Am Your Father!). In addition to the light novel, Gatoh is also producing the manga adaptation of the series, which started earlier this year.
Amagi Brilliant Park synopsis from Haruhichan:
The story centers around a highschool student Seiya Kanie. On a Sunday, a mysterious transfer student who carries a musket gun Isuzu Sento takes him to an old and deserted amusement park Amagi Brilliant Park in Amagi-city, which is located in the western part of Tokyo. He is told that if the park can't attract 100,000 visitors in the next two weeks, it will be closed immediately. For some reason, Seiya has to save the park as an acting manager.
The Amagi Brilliant Park anime will be airing on October 2nd, during the Fall/Autumn 2014 anime season. Additional information on the series will release at comiket.
You can also check out the anime's official site: http://www.tbs.co.jp/anime/amaburi/
And follow their Twitter: @amaburiANIME
Source – Otakomu