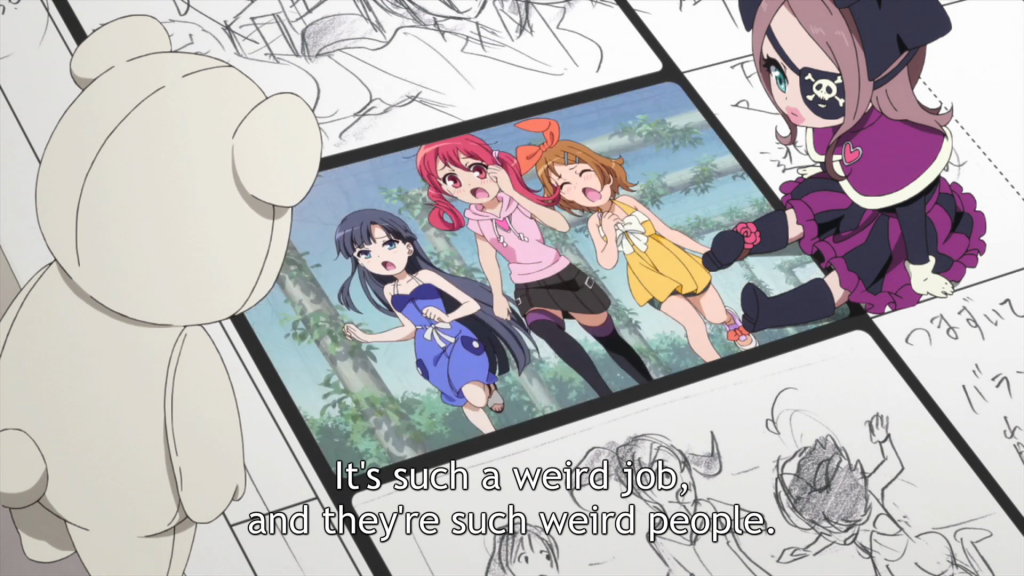 Title (English): Shirobako
Title (Japanese): SHIROBAKO
Animation Studio: P.A Works
Genres: Comedy, Drama
Episodes: 24
So, you like anime right? If you don't, you probably wouldn't be on this site right now. If you like anime, you're probably somewhat knowledgeable when it comes to anime names, studios, voice actors, etc. However, how much do you really know? Do you know how much it takes to just get one episode to air, let alone an entire anime? Do you know how many people are involved in creating just one scene? Do you know the pains people go through to create an anime, and the tempers that flare when things go wrong? If you were ever curious about finding the answers to these questions, you should probably check out Shirobako. This is an anime about making anime, and a story about five girls whose dream it is to work on an anime together when they graduate from high school.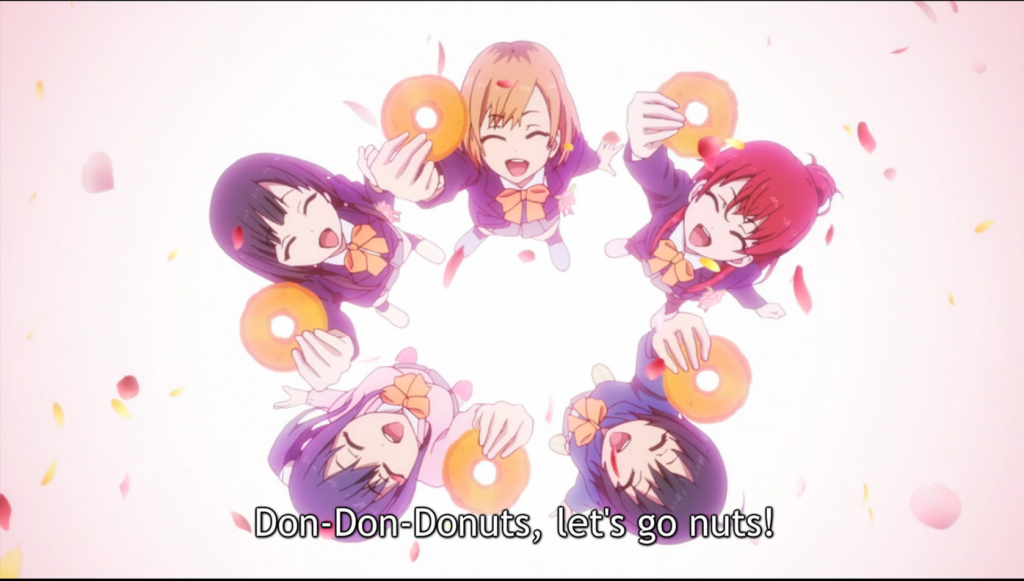 Story and Characters:
Shirobako starts with the introduction of the five main leads in their high school anime club: Aoi Miyamori (director), Ema Yasuhara (key animator), Shizuka Sakaki (voice actress), Midori Imai (scriptwriter), and Misa Toudou (3D animator). After the production of their anime in high school, they vow to work together in the future to create an anime as professionals. Fast forward two and a half years and for some of them, they couldn't be farther from their goals. Aoi and Ema manage to secure jobs at an anime production studio, Musashino Animation, as a production assistant and a key animator respectively. However, the other three have their own struggles. Shizuka is unable to find work in the highly competitive voice acting industry, Midori is going through university, and Misa is working at a company whose job it is to produce tires. The story follows Aoi as she works through her job as a production assistant as she oversees the production of individual episodes and generally helps out around the studio.
Right off the bat, this anime sets itself apart from other anime of its kind because of its setting. While I consider this slice of life for the most part, this is an anime that takes place outside of high school and in the realm of the workforce. So this anime isn't trying to be cute or appeal to the moe fans. This is an anime that showcases what life is like in the anime industry, and the trials and tribulations of the people who work on anime. The anime splits its 24 episodes into 12 episodes that each focus on the studio making an anime. In between the work on the anime, Aoi and her friends slowly work their way towards their goals of making an anime together. The story can be slow at times, but the pace picks up in the second half. Being an original anime, the writers were able to do things at their own pace, and that also means they were in charge of the ending. The last few episodes were especially notable for being highly enjoyable and the ending was very satisfying.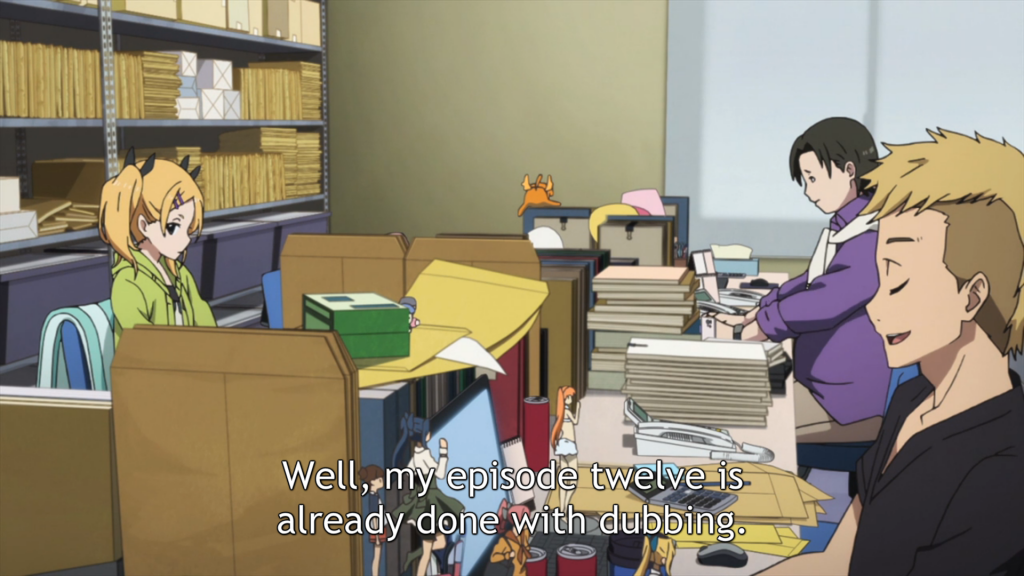 Part of the fun of the anime itself was getting to know the quirky cast of characters. With Shirobako taking place in an anime studio, there's plenty of characters to get to know. Admittedly, there's so many that it is initially hard to keep track of them all and the cast of characters continued to increase with each episode. However, the anime does well with giving all of these characters their own personalities and making all of them distinct from one another. As a result, the anime has a large and diverse cast of characters. It's easy to find your favourite characters, as a lot of them are easy to like for their unique personalities. The characters grow alongside what happens in the story, and by the end of the anime, you have pretty much every character developed which is an incredible task, given that the anime probably has about 50 or so characters by its end. The characters are definitely what makes this anime, and seeing them grow only makes it better.
Shirobako delivers on a good story, if a bit slow at times, and an excellent set of characters.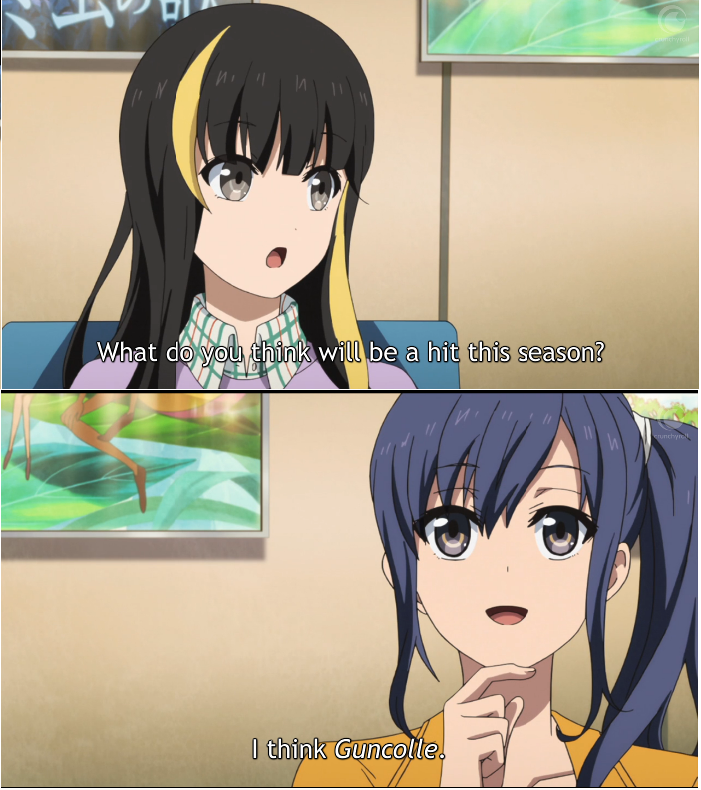 Visuals and Animation:
With an anime that is about making anime, they did focus a bit on the evolution of anime, particularly 3D animation. As such, in order to show this new split between 2D and 3D anime, they did have a few scenes showing off what 3D animation can do compared to 2D. Unlike other anime that have a 2D and 3D split, the 3D scenes work well where they're used, for the most part anyway. When they were making an anime scene where they were using 3D, those scenes work well. There are a couple of driving scenes in Shirobako that look a bit awkward. Other than that, the 2D scenes look good, especially the characters. I kind of wish P.A Works had put in the same amount of detail into Shirobako's backgrounds as that they did with Nagi no Asukara and Glasslip, but it still looks appealing.
Sound and Music:
Shirobako isn't a big hit in the sound department. A lot of the music doesn't particularly stand out, at least in my mind anyway. The only times I really took notice of the background music was during the more dramatic scenes and some of the music towards the end. The OPs and EDs, while they did suit the anime itself, they were rather plain. The voice actors were good, given the fact that most of them, the main characters especially, are new. Given how well they did here, it's nice to see that we will have some good future voice actors. Juri Kimura as Aoi Miyamori, and Haruka Chisuga as Shizuka Sakaki were my personal favourites from this show.
Final Verdict:
Shirobako is an easy recommendation for anyone looking to find out more about the anime industry or anyone just looking to sit down and enjoy a nice, relaxing anime with a good story and great characters. This is easily the most underrated anime of the last couple of seasons and I did enjoy it quite a bit. I'm not sure if the premise just didn't appeal to people of if people are distrusting of a P.A Works original anime after Glasslip (which you can find my review of here). Regardless, I would tell people to check it out if they're curious.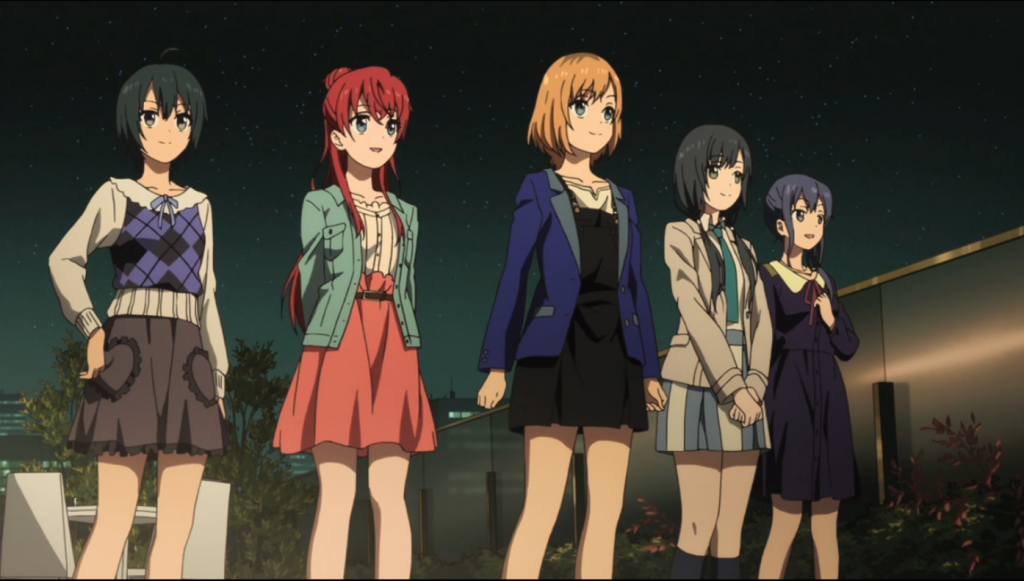 + Well-developed and great set of characters
+ Very good second half with a very satisfying ending
+ Good art
– Story can be slow at first
If any of you guys watched Shirobako, did you enjoy learning about the inner workings of the anime industry? Let me see what you thought in the comments!