If this image isn't Photoshopped, then the Japanese publication of the final volume of Tsutomu Nihei's sci-fi manga, Knights of Sidonia features a wrap-around banner announcing the creation of a theatrical anime film adaptation of Blame, an earlier science fiction manga also made by Nihei.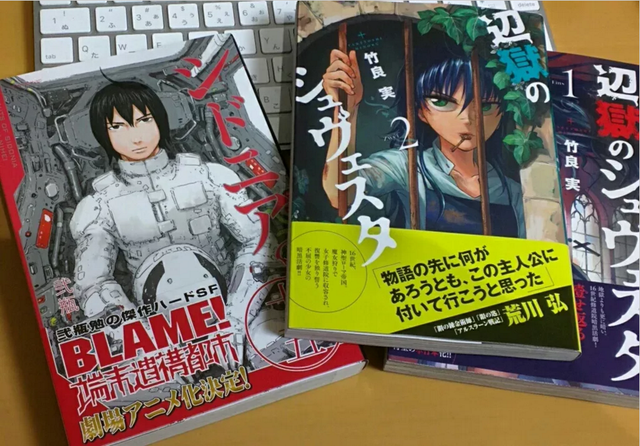 Tsutomu Nihei's Blame! manga was produced and shown within Sidonia no Kishi: Daikyuu Wakusei Seneki. Nihei produced the manga before Sidonia no Kishi, which ran from 1998 till 2003 for a total of 10 volumes. It also received an anime adaptation in the form of 6 web specials in 2003 from Group TAC (Igano Kabamaru , Tantei Gakuen Q).
Blame! synopsis from MAL:
Killy is a man of few words. He wanders, seemingly endlessly, through a lonely, gargantuan labyrinth of concrete and steel, fighting off cyborgs and other futuristic nightmares, searching only for something called Net Terminal Genes. And he has a very powerful gun, which he uses without hesitation whenever anything resembling danger rears its ugly head.

Who is this quiet, violent, determined man and what are these Genes he seeks? The small communities he finds tucked into the crevices of this towering, dystopic ruin hardly give him leads on his treasure, driving him to find larger enclaves of civilization where people can reveal more about the world he lives in and the quarry he seeks.
Blame!, is a ten-volume 1998 cyberpunk manga by Tsutomu Nihei published by Kodansha. A six part original net animation was produced in 2003, with a seventh episode included on the DVD release.
Source: Crunchyroll