Saber and Saber Extra from the Fate/Stay night series has been featured as a poster in the April 2016 issue of NewType. This issue can be purchased here (get 5% off with coupon code MOE-N3Y-4YW0QK).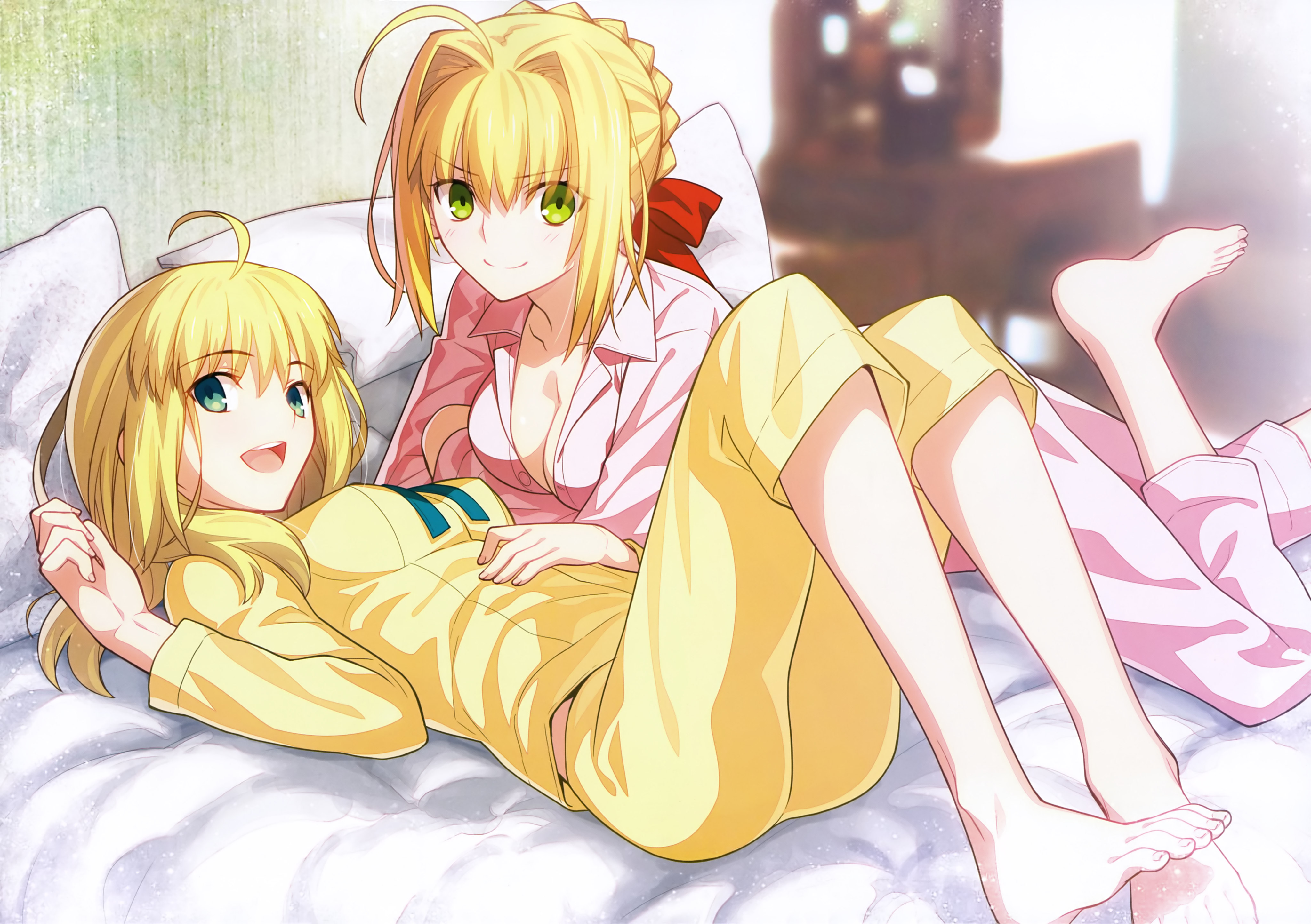 Fate/stay night is a Japanese visual novel developed by Type-Moon, which was originally released as an adult game for Windows. A version of Fate/stay night rated for ages 15 and up titled Fate/stay night Réalta Nua (Irish for "new stars"), which features the Japanese voice actors from the anime series, was released for the PlayStation 2 and later for download on Windows as a trilogy covering the three main story lines. Réalta Nua is also ported to the PlayStation Vita. On October 28, 2005, Type-Moon released a sequel to Fate/stay night, titled Fate/hollow ataraxia. Its plot is set half a year after the events of Fate/stay night.
A manga series adaptation by Datto Nishiwaki was serialized in Kadokawa Shoten's Shōnen Ace magazine between the February 2006 and December 2012 issues. In 2007, the manga was licensed for an English-language release in North America by Tokyopop. A 24-episode anime series created by Studio Deen aired in Japan between January 6 and June 16, 2006. Sentai Filmworks has licensed the television series and re-released the series on DVD and for the first time on Blu-ray Disc. A Fate/stay night film was also created by Studio Deen and was released in Japanese theaters on January 23, 2010. A new Fate/stay night anime was produced by Ufotable, the first season of which aired from October 4 to December 27, 2014 and the second season of which aired from April 4 to June 27, 2015. Another Fate/stay night film has also been green-lit.
A series of light novels titled Fate/Zero, set as a prequel to Fate/stay night, were produced from 2006 to 2007. Three fighting games have been released: Fate/unlimited codes for arcades and PlayStation 2, Fate/tiger colosseum and its sequel Fate/tiger colosseum Upper for PSP. A PSP RPG titled Fate/Extra was released on July 22, 2010, and a sequel and companion game, Fate/Extra CCC, was released on March 28, 2013.
Fate/Stay night synopsis:
Rescued from a hellish inferno as a child and taught the art of magecraft by Kiritsugu Emiya, Shirou Emiya idolized his adoptive father. After his father's untimely death, Shirou vowed to follow in his footsteps and fight for the good of the world.

Years later, Shirou lingers at his school after nightfall and comes across a battle being waged by two superhuman beings known as Servants. When one of these Servants tries to kill him, Shirou ends up summoning a Servant of his own, a knight by the name of Saber. Together, they become the final participants in the fifth Holy Grail War, a free-for-all battle carried out by seven Servants and their summoners, with the prize being a magical device that can grant any wish.

Based off the famous visual novel by Type-Moon, Fate/Stay Night chronicles the trials and challenges that Shirou faces as he enters a battle that he knew nothing about, but that may very well lead him towards the path of becoming a hero like his father… if he survives, that is.