The official website for Sailor Moon Crystal has updated with information about the upcoming third season including a new PV, which promises to show us the steamy romance of the stellar lesbian couple, Sailor Uranus and Neptune, a detail, which was censored in the 90's anime, that many fans were anxious to see animated.
Tokyo MX will begin airing the new season on April 4, at 11:00pm. The opening song titled "New Moon ni Aishite," will be performed by Etsuko Yakushimaru, and the Ending song titled "eternal eternity," will be a duet performed by the voice actresses for Sailor Uranus and Neptune, Junko Minagawa and Sayaka Ohara.
The new cast consists of:
Junko Minagawa (Ryouma Echizen from Prince of Tennis) will voice Haruka Tenou (Sailor Uranus)
Sayaka Ohara (Urtori from Utawarerumono) as Michiru Kaiou (Sailor Neptune)
Yukiyo Fujii (Patema from Sakasama no Patema) as Hotaru Tomoe (Sailor Saturn)
Takuya Kirimoto (Gazelle from Eureka Seven AO) as Souichi Tomoe:
Hikari Yono (Yoshino Uehara from Gantz) as Kaolinite
Takaya Hashi (Sadri from Last Exile: Ginyoku no Fam) as Pharaoh 90
Yuki Nagaku (Ichigo Moesaki from Sore ga Seiyuu!) as Mimete
Chiaki Takahashi (Azusa Miura from The

[email protected]

) as Eudial
Rina Honnizumi (Rinne Rokudou from Kyoukai no Rinne (TV)) as Viluy
Umeka Shouji (Inazuma from One Piece) as Cyprine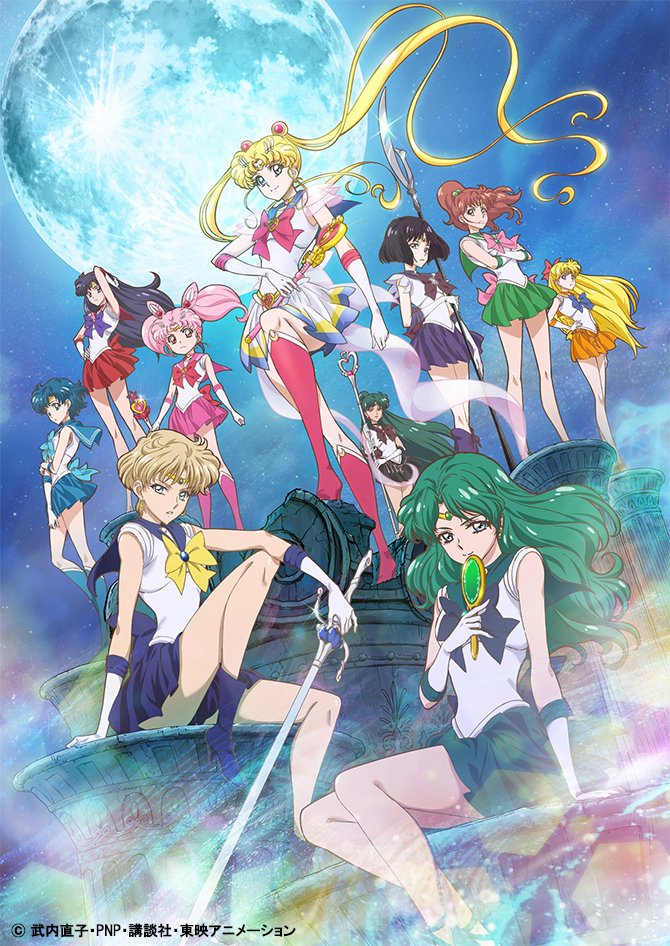 The anime will have a stage program at the AnimeJapan 2016 event on March 26. The stage program will announce more information on the third season, as well as a new project.
Chiaki Kon (Junjou Romantica, Golden Time) will be taking over for Munehisa Sakai in directing the anime, while Akira Takahashi (Dokidoki! Precure, Suite Precure) will take over for Yukie Sako in creating the character's designs. Yuji Kobayashi will still be in charge of the script, so we can continue to expect wonderfully constructed writing, brilliantly sewn characters, and the overall great appeal of this favorite arc. Takashi Kurahashi is returning as art director, and Yasuharu Takanashi is returning to compose music for the series. King Records will produce the music, and Toei Animation will continue animation
Previous visual:
Sailor Moon Crystal, known in Japan as Pretty Guardian Sailor Moon Crystal, is a 2014 original net animation series produced in commemoration of the twentieth anniversary of the shoujo manga series Sailor Moon. Produced by Toei Animation and directed by Munehisa Sakai, the series was streamed worldwide on Niconico from July 5, 2014 to July 18, 2015, with new episodes being released twice a month. Instead of remaking the 1992–97 anime series preceding it, Toei produced Crystal as a reboot of Sailor Moon and was a more faithful adaptation of Naoko Takeuchi's original manga, omitting much of the original material from the first series. The story focuses on Usagi Tsukino, a young girl who is granted the power to become the titular character and is joined by fellow Sailor Guardians in search of Princess Serenity and the Legendary Silver Crystal.
The first episode had an advanced screening on June 30, 2014 to celebrate Usagi's birthday. The first limited edition Blu-ray box set was released in Japan on October 15, 2014, with the regular Blu-ray and DVD compilations set for release the following month; individual volumes are to be released monthly. In May 2014, Viz Media licensed Crystal for an English-language release in North America, and is simulcasting the series on Neon Alley and Hulu to coincide with the worldwide streaming. Crunchyroll is also simulcasting the series in a separate contract with Toei Animation. Viz also premiered the first episode as part of their "Sailor Moon Day" celebration at the Anime Expo Convention in Los Angeles.
The music for Sailor Moon Crystal is composed by Yasuharu Takanashi. The series uses two pieces of theme music: an opening theme and an ending theme. The opening theme is titled "Moon Pride". The ending theme is "Gekko". The opening and ending themes are performed by Momoiro Clover Z.
Bishoujo Senshi Sailor Moon: Crystal synopsis from Haruhichan:
New Sailor Moon anime commemorating the 20th anniversary of Sailor Moon.

Usagi Tsukino is a second-year middle school girl who is a little clumsy and a crybaby, but she is full of energy. One day, she meets Luna, a black cat with a crescent moon on her forehead, and she transforms into Sailor Moon, a sailor-uniformed pretty guardian of love and justice! As a chosen guardian of justice, Usagi seems to have a mission to find the Illusionary Silver Crystal with the other guardians and to protect the princess.

Meanwhile, the queen of the Dark Kingdom, Queen Beryl, also sends minions to the town where Usagi lives to obtain the Illusionary Silver Crystal, which has immense power. This causes strange events to unfold…

Can Sailor Moon really find the Illusionary Silver Crystal with the other Sailor guardians, and protect the princess…?!
You can visit the anime's official website: http://sailormoon-official.com/animation/
You can also follow their Twitter: @sailormoon_20th