Update: The original Tweet was deleted by the user. We have provided a screenshot instead.
Update 2: The User of the Tweet has stated that he/she had deleted the Tweet since it was misinformation. The second season/cour of Knights of Sidonia is not releasing as we have reported below:
Japanese news site Yaraon has reported that the anime Knights of Sidonia (Sidonia no Kishi) will be receiving a second season. They also reported that the anime was originally a 2 cour series, with 13 episodes airing one season and the other 13 airing two seasons over.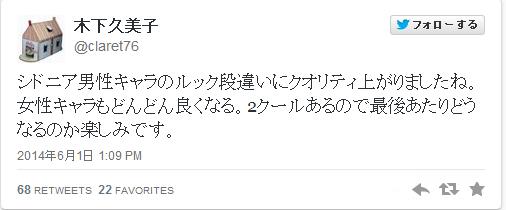 This is considered a rumour at the time of writing. No official confirmation or announcement has been released. While the website has a good record of reporting accurate news please take it with a grain of salt.
The official website of the anime adaptation of Knights of Sidonia had released three visuals for the first season:
Knights of Sidonia (Sidonia no Kishi) is a manga series from Tsutomu Nihei. The series debuted in April 2009 in Kodansha's Afternoon magazine. To date there has been 12 volumes released. An anime adaptation of the series was produced in April this year, and is currently still airing. The anime is produced by Polygon Pictures, in their first full TV anime production. The series is directed by Koubun Shizuno (Detective Conan, Hyakka Ryouran: Samurai Bride) with Sadayuki Murai (Natsume Yuujinchou, Mouryou no Hako) handling the series composition and screenplay, with Noriyuki Asakura (Rurouni Kenshin: Meiji Kenkaku Romantan) composing the music.
Here is a synopsis of Knights of Sidonia from Haruhichan:
It's been a thousand years since the Gauna, a strange alien race with no known method of communication, destroyed the solar system. A portion of humanity managed to escape using enormous "seed ships" like the Sidonia, which have allowed them to maintain the population while drifting through space. Nagate Tanikaze is a young man who has been raised deep in the bowels of the ship. When he goes into training to pilot the huge robotic weapons known as Gardes, Nagate is entrusted with piloting the legendary unit known as Tsugumori. Nagate and his fellow pilots put their lives on the line against the Gauna, in the ultimate battle for the survival of humanity!
The second season of the Knights of Sidonia anime is currently unconfirmed. We will update you if an official confirmation is made from Polygon Pictures, or at the end of the first season's finale.
You can also keep up to date at the anime's official website: http://www.knightsofsidonia.com/