A new visual was released for the upcoming Tokyo ESP anime series which will air this July, during the summer 2014 anime season. In addition to the new visual, the cast crew that will be working on the series has also been revealed along with some new character designs.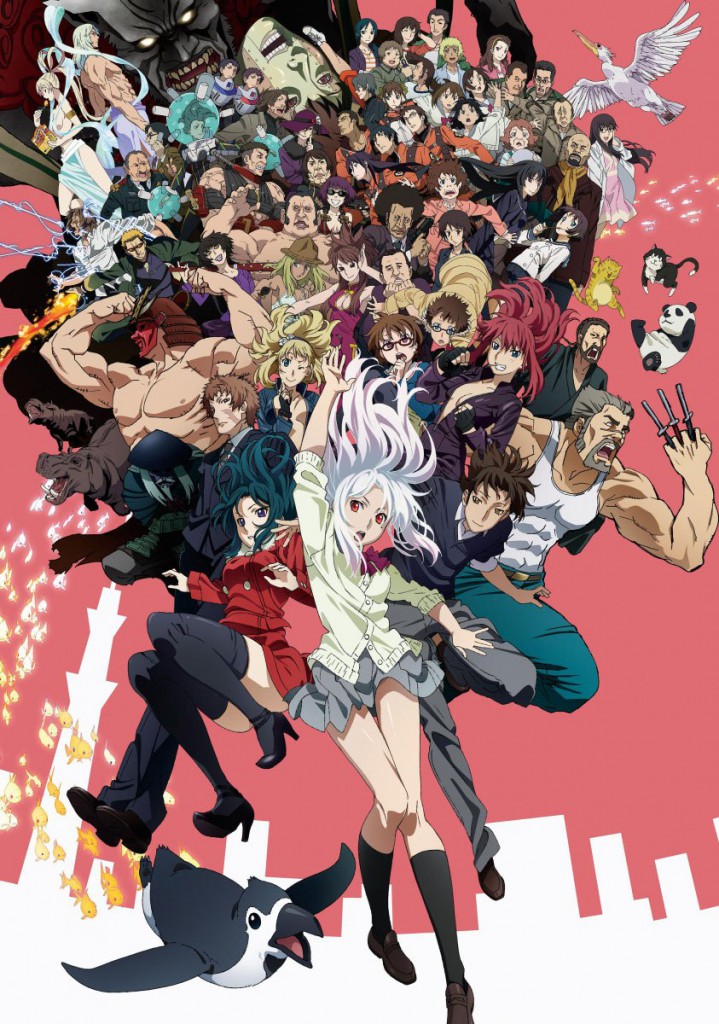 The official website for the anime has revealed the cast members of Tokyo ESP. The main cast and characters are as follows:
Ibuki Kido (Nanami Knight Bladefield from Kanojo ga Flag wo Oraretara, Akiko Himenokouji from Onii-chan Dakedo Ai Sae Areba Kankeinai yo ne!) will be voicing the main heroine Rinka Urushiba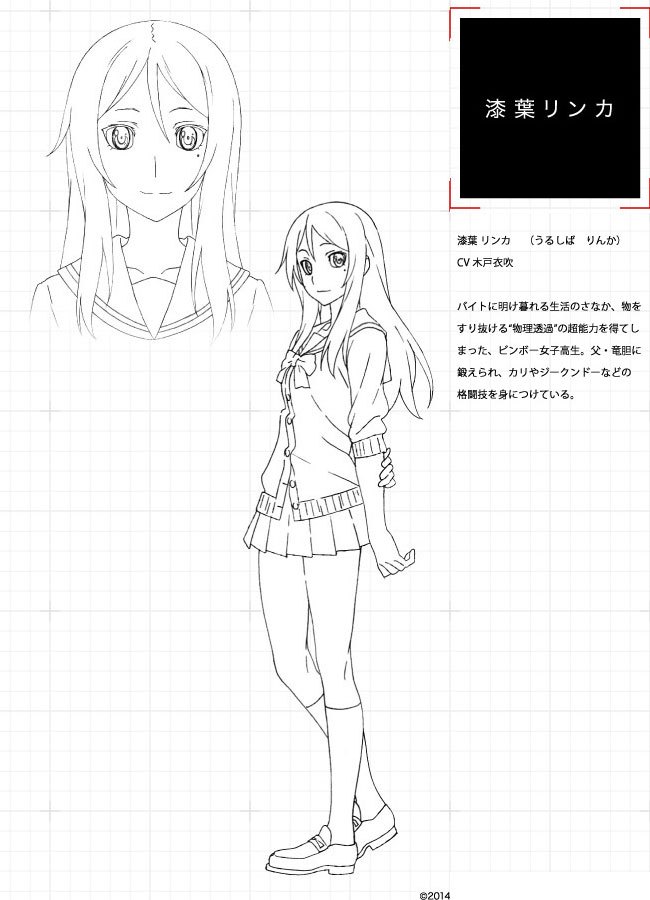 Keisuke Koumoto (Kyoutarou Azuma from Yuushibu, Manabu Maejima from Another) will voice the main hero Kyoutarou Azuma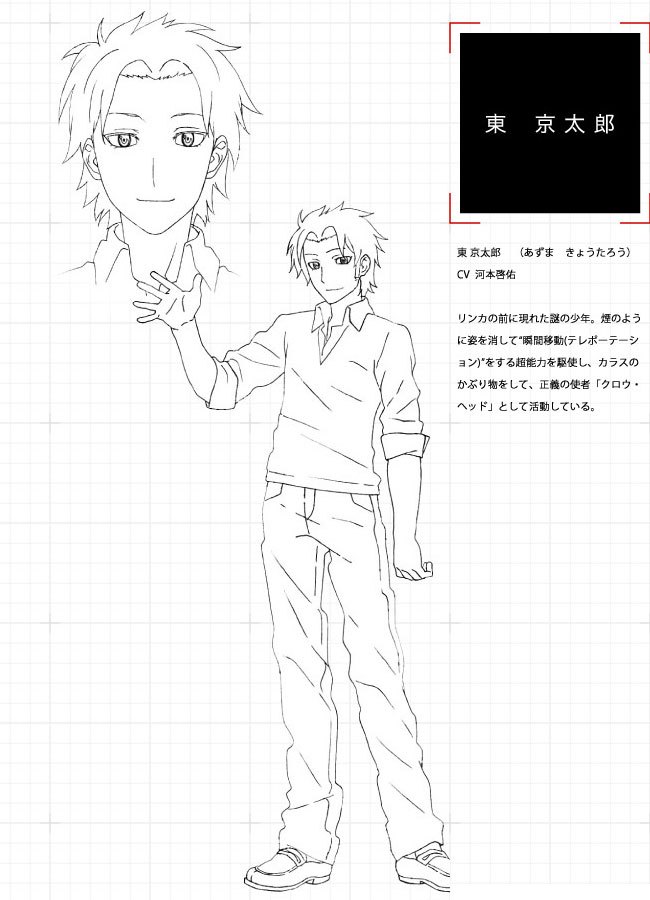 Sachika Misawa (Kuroyukihime from Accel World, Kagami Totori/A.S./Deadline from Fantasista Doll) is voicing Minami Azumi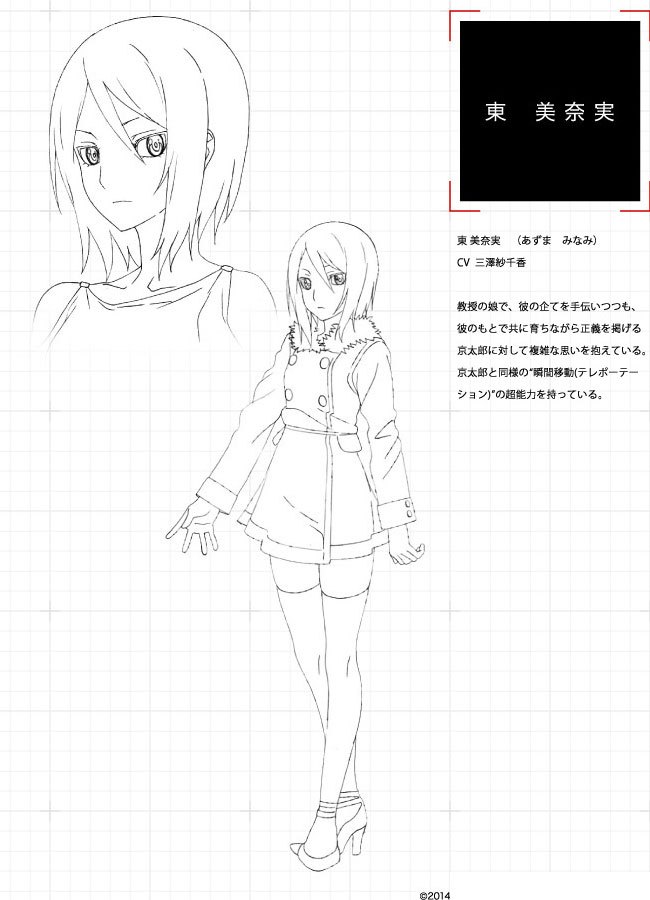 Azusa Tadokoro (Fino Bloodstone in Yuushibu, Kotori Takatori from Gokukoku no Brynhildr) will voice Murasaki Edoyama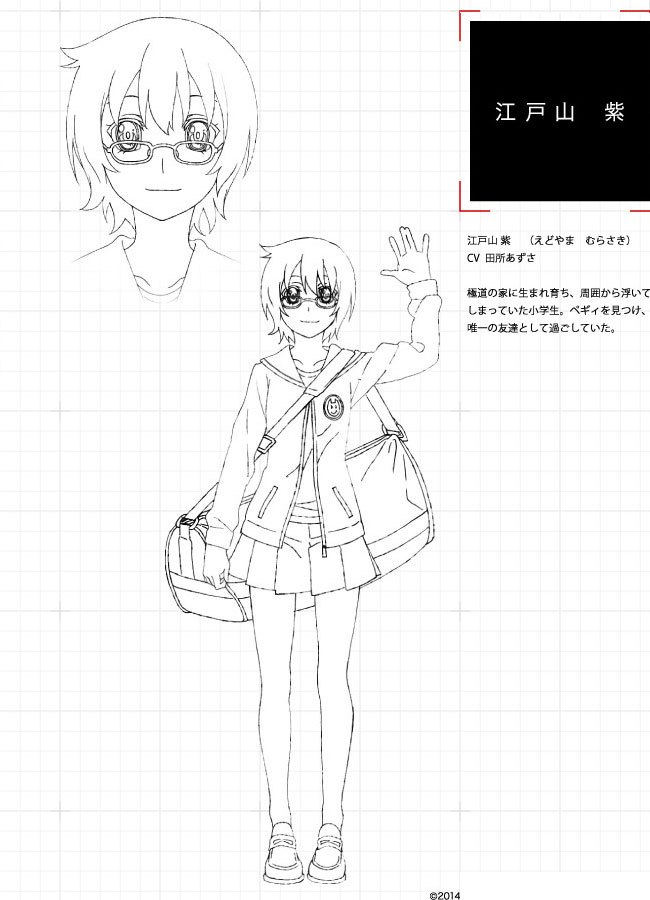 Megumi Ogata (Shinji Ikari from Neon Genesis Evangelion, Kurama from Yu Yu Hakusho) as Ayumu Oozora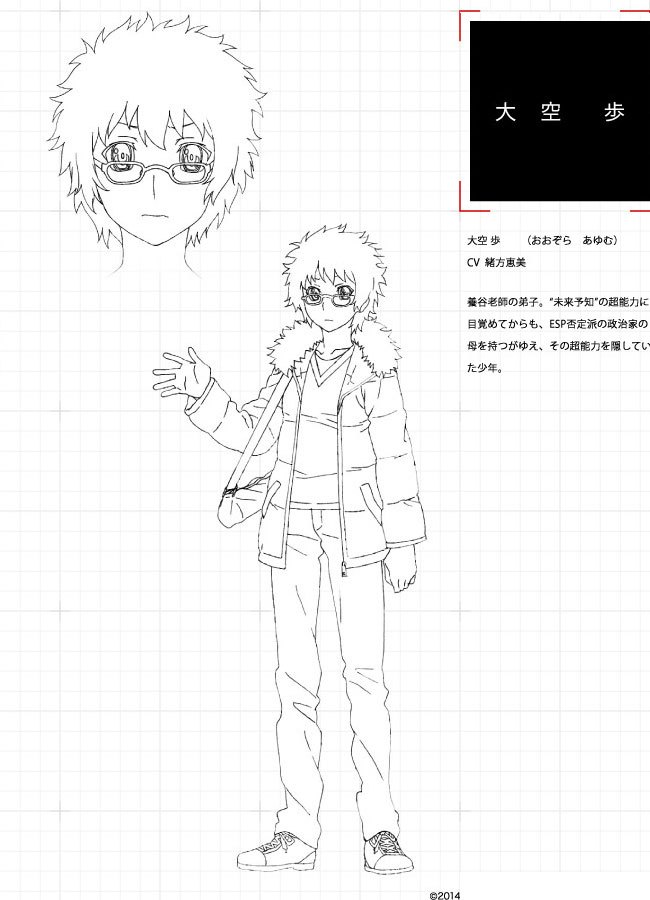 Mai Aizawa (Mio Naganohara in Nichijou, Neris Filiam from Shining Hearts: Shiawase no Pan) will be voicing Kobushi Kuroi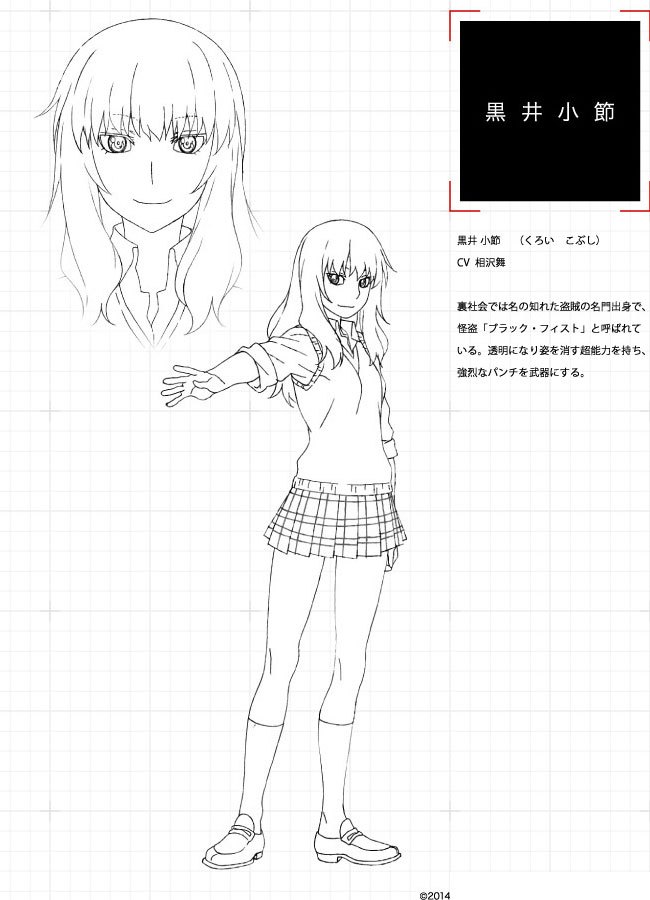 Yoshihisa Kawahara (Yomotsu Hirasaka in Mirai Nikki, Hiromi Yasuoka from Bakuman 2) is playing as the Professor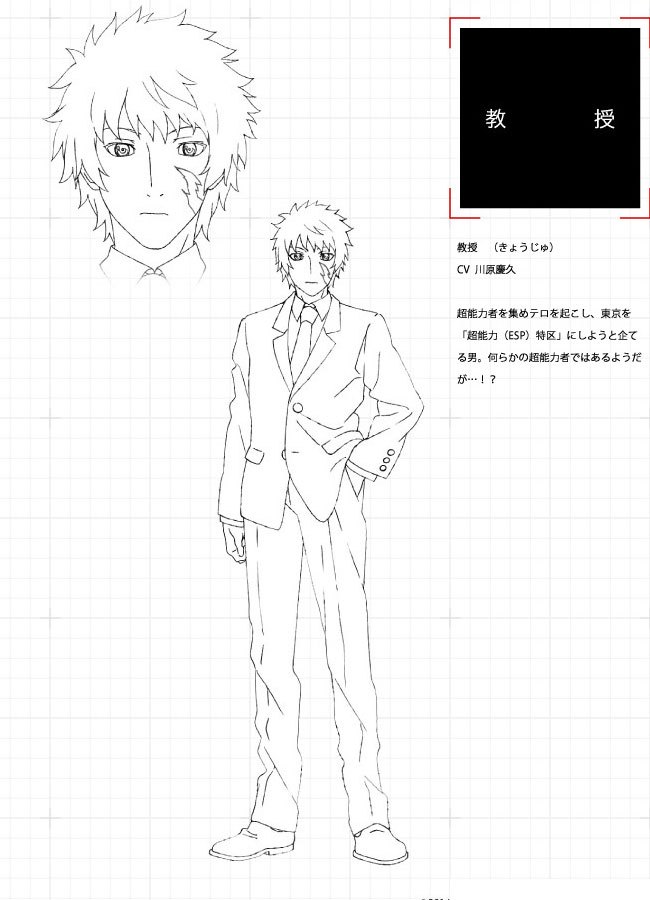 The supporting cast and characters includes:
Tetsu Inada (Ira Gamagoori from Kill la Kill) will voice Rindo Urushiba
Yoshito Yasuhara (Aoshi Shinomori in Rurouni Kenshin: Meiji Kenkaku Romantan) as Inspector Nabeshima
Kazuhiko Inoue (Kakashi Hatake from Naruto) as Master Yodani
Jouji Nakata (Alucard in Hellsing) voices Chairman Edoyama
Tessho Genda (Kurama from Naruto) plays Hotokeda
Masashi Ebara (Guy Might from Naruto) voicing Shin Kakuno
Mugihito (Kinzo Ushiromiya in Umineko no Naku Koro ni) as Sukesaburo
Fuyuka Oura (Run Elsie Jewelria from To LOVE-Ru) voices Reia Oozora
Hirokazu Hiramatsu (Soujirou Izumi in Lucky☆Star) voicing as Casey
The production crew of the anime was also revealed. The main staff working on Tokyo ESP are:
Director: Shigehito Takayanagi (The World God Only Knows, Galaxy Angel)
Series Composer and Script Writer: Hideyuki Kurata (Oreimo, The World God Only Knows)
Script Writers: Katsuhiko Takayama (Mirai Nikki, Baka to Test to Shoukanjuu), Yasuko Kamo (First role)
Character Designer and Chief Animation Director: Mitsuru Ishihara (Seikimatsu Occult Gakuin)
Music Composer: Evan Call (Mouretsu Pirates) – part of Elements Garden
Music Production: Lantis (Another, Fate/kaleid liner Prisma Illya)
Art Director: Ryoka Kinoshita (Upotte!!, Ixion Saga DT)
Animation Studio: XEBEC (To LOVE-Ru, Pokemon: The Origin)
The first visual released for Tokyo ESP: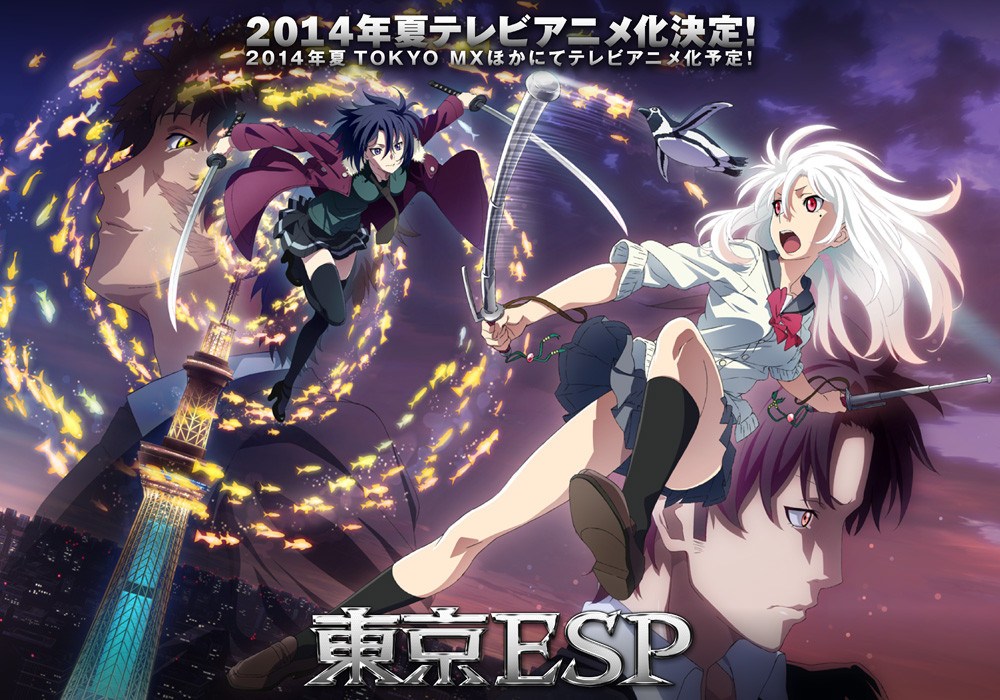 The Tokyo ESP anime series will be airing from the 12th of July this year, during the Summer 2014 anime season.
Synopsis from Haruhichan:
The science fantasy story Tokyo ESP begins with Rinka, an extremely poor high school girl who lives with just her father in modern Tokyo. One day, she is going home from school when she chases a "flying penguin" to the top of New Tokyo Tower—only to have "fish swimming in the air" suddenly appear before her. One of the fish goes through Rinka and gives her extraordinary powers beyond those of normal humans, particularly the ability to slip through solid objects.
Source: Crunchyroll, Moca, Tokyo ESP Website, OtakuTale