The promotional video for Sega Hard Girls (Hi☆sCoool! Seha Girls) project has been uploaded. Sega Hard Girls (Hi☆sCoool! Seha Girls) personifies Sega game consoles of the past into 17 girls. The project already has a novel and the characters support the game Samurai & Dragons. KEI did the original character design for the girls, the artist who also did the original design for Miku Hatsune.
The series is being animated in CG at TMS Entertainment and Jinnis, with Sōta Sugahara (gdgd Fairies character design, animation director) directing the project off scripts written by himself and Masayuki Kibe. The production uses the MikuMikuDance software that has also been used for Minarai Diva, Tesagure! Bukatsu-mono, and KEI's Straight Title Robot Anime. Sōta Sugahara and Kio designed the CG characters, and Shigeyuki Watanabe serves as CG director.
The remaining staff includes:
Original work, supervision: Sega
Miku Miku Dance Director: Ponpoko P (6DAnimation)
CG Backgrounds: Fireball
Game Cast:
Sega Hard Girls (Hi☆sCoool! Seha Girls) will be airing this October during the Fall/Autumn 2014 anime season.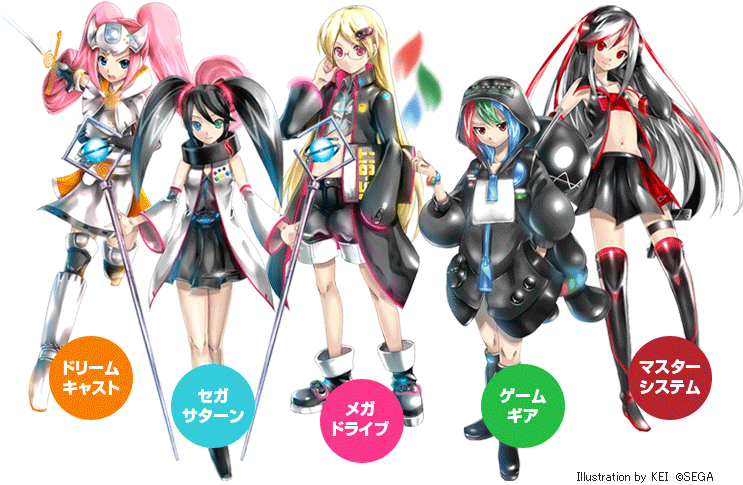 The first characters – Dreamcast, Sega Saturn, Mega Drive, Game Gear, and Master System (pictured above from left to right) – were all featured before in the Samurai & Dragons PS Vita game's "Segakko 13 ~Yume Kanaeshi Mono" event, as well as on T-shirts and other goods. Kei, the original illustrator of the girls and the artist famous for designing Hatsune Miku, returned to create updated illustrations for the novel, while Tōru Shiwasu (Boku to Kanojo no Game Sensō) has been writing it.
Sega Hard Girls (Hi☆sCoool! Seha Girls) synopsis from Haruhichan:
Sega Hard Girls re-imagines video game consoles released by Sega as anthropomorphized goddesses who appear all over modern Japan.