Amazon Japan has listed the Blu-ray Disc and DVD original video anime (OVA) releases of Seitokai Yakuindomo 2, the second Seitokai Yakuindomo anime. Both the Blu-ray Disc and DVD versions will ship with a drama CD and special booklet on October 22. The third Seitokai Yakuindomo 2 OVA is set to be released on February 17, 2015.
Amazon Japan has also listed a Blu-ray Disc box set for the first season of Seitokai Yakuindomo. The set will bundle a new drama CD, booklet, and bonus disc with footage from a fan event held in Tokyo in June. The set is slated to ship on December 24 for 31,849 yen (US$306).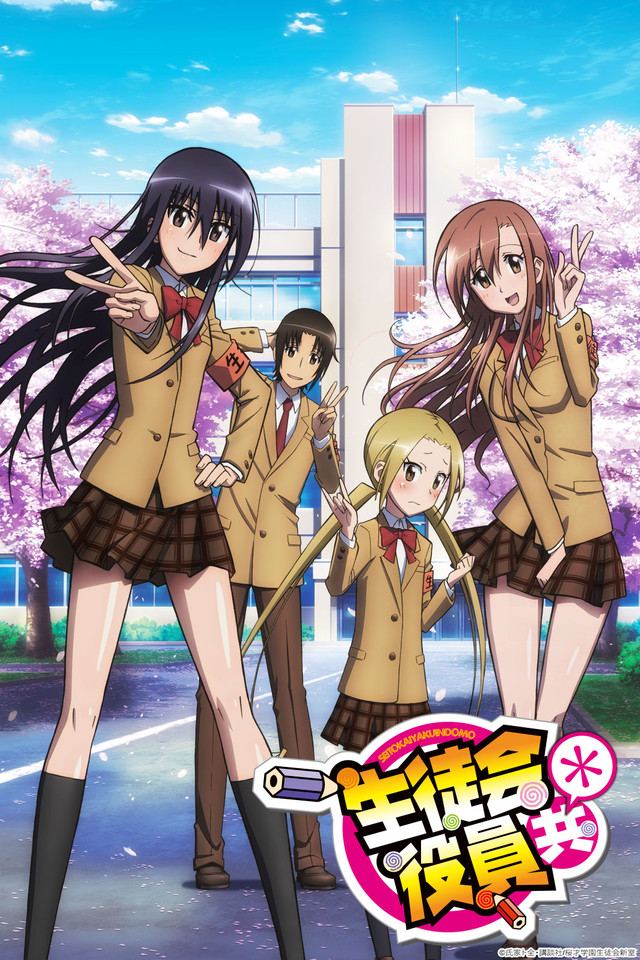 Seitokai Yakuindomo is a shonen four-panel comic strip manga series written and illustrated by Tozen Ujiie. The series began serialization in the June 2007 issue of Kodansha's Magazine Special and ran in that magazine until the July 2008 issue, where it was thereafter transferred to Kodansha's Weekly Shonen Magazine in September 2008, and has been running there since. Chapters are collected and published in collected volumes by Kodansha, with ten volumes released as of May 2014 in Japan. A 13-episode anime adaptation produced by GoHands aired in Japan on TV Kanagawa between July 4 and September 26, 2010. A second television anime season debuted in January 2014 with a total of 13 episodes.
Seitokai Yakuindomo synopsis from Haruhichan:
Tsuda Takatoshi is about to begin his first year in Ousai Academy. His decision to enter Ousai was based upon it being close to his home and he paid no heed to the fact he'd be among the first boys to enter the recently gender-integrated school.

On his first trip to school, Takatoshi is surrounded by girls; the train has nothing but girls, the walk to school has nothing but girls and once he finally arrives he is approached by a group of girls and summarily appointed vice-president of the student council and, as expected, he is the only boy there.

Now Takatoshi finds himself surrounded by crazy girls who do nothing but horrify him with their candid conversations about feminine hygiene products and, what's worse, assume he's the worst kind of man, the kind who doesn't clean himself and watches porn all day long.
Source: ANN