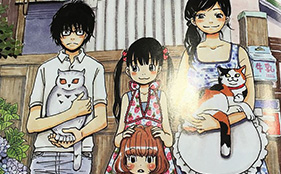 The February 2016 of Hakusensha's Young Animal magazine will be revealing on Friday that the television anime of Chika Umino's March Comes in Like a Lion (Sangatsu no Lion) manga is slated to premiere in fall on NHK.
The magazine also revealed that director Akiyuki Simbo (Bakemonogatari, Mahou Shoujo Madoka Magica) is directing the anime at studio SHAFT.
March Comes in Like a Lion is an ongoing manga series by Chica Umino, best known for Honey and Clover. It began serialization in Hakusensha's seinen manga magazine Young Animal from its fourteenth issue in 2007 (published on July 13, 2007). A television commercial announcing the series was aired by Hakusensha on numerous Japanese television stations, which was also posted on its official website. Eleven tankobon volumes of the series have been released. A television anime adaptation has been announced and is scheduled to air in October 2016.
March Comes in Like a Lion synopsis from MAL:
Rei Kiriyama is a 17-year-old boy who recently started living alone, financed by his salary as a professional Shogi player. Despite his independence, however, he's yet to mature emotionally, and his problems continue to haunt him in his daily life. His relationship with his adoptive family is strained, and he has difficulties interacting with his fellow high school students. Meanwhile, his professional career has entered a slump. Burdened with the heavy expectations placed on him as the fifth to become pro in middle school, his wins and losses are fluctuating as his record and progression into the ranks begin to stagnate.

Acquainted with Rei are the three Kawamoto sisters: Akari, Hinata, and Momo. Unlike Rei, they live happily in their modest home, which they warmly welcome Rei into as if he were one of their own. Despite his reservations about becoming too close to the family, he frequently visits, interacting with them and receiving the kind of care and affection he never quite had while under his foster home.

This is the story of Rei's triumphs and failures, relationships new and old, and his growth as a person.
Source: Yaraon