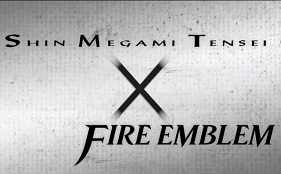 During the Nintendo Direct event today, Nintendo and Atlus finally revealed the trailer for their collaborative game, Shin Megami Tensei x Fire Emblem for the Wii U. Initially announced two years ago in a Nintendo Direct, nothing has been said about this game until now, aside from a quote from an Atlus spokersperson at E3 last year saying "we're working on it". Here's the trailer for the game:
The Shin Megami Tensei series is Atlus' main RPG series that has been going ongoing since 1992. The Shin Megami Tensei series spinoff, Persona, has received critical acclaim from gamers and critics alike for its rewarding gameplay and well-constructed characters.
The Fire Emblem series is Nintendo's strategy RPG series that has been ongoing since 1990. It is known for creating the strategy RPG genre, as well as its demanding difficulty level and well-developed characters. The Fire Emblem series is also getting another new game, set to release in 2016. There was also a new trailer for this game in today's Nintendo Direct.
So what do you guys think of Shin Megami Tensei crossing over with Fire Emblem? Let me know in the comments!
I am a hardcore gamer and an anime fan. I have been a gamer for over fifteen years, but my anime career is a little short at four years.
I am a history major in university, but I am planning on taking a minor in Japanese studies, which includes learning the Japanese language.
Gaming Preferences: Any kind of RPG, Nintendo games, simulation games, strategy games
Anime Preferences: Slice of life, comedy, romance, drama, school
I also have my own blog which I run separate from this site. Find it by clicking on my name above.