One of the things many anime fans have trouble doing is showing that they're a part of the fandom in public. While there are several of us who are thoroughly unashamed of our (admittedly superior) taste in entertainment, many still struggle with things like reading manga, watching anime on their devices, or wearing anime related gear for fear of being thought of as a creepy, tentacle hentai watching pedophile. No offense to the creepy, tentacle hentai wearing pedophiles out there!
Fortunately for us, shirt designers are beginning to notice this, and one such designer is our friend Shoukochan! It is a part of Shoukochan's mantra to design clothing anime fans can proudly wear in public – their goal is for us to be able to show our love for it with stylish clothing that isn't gaudy or overbearing like most anime merchandise out there. They have even provided us with some free shirts!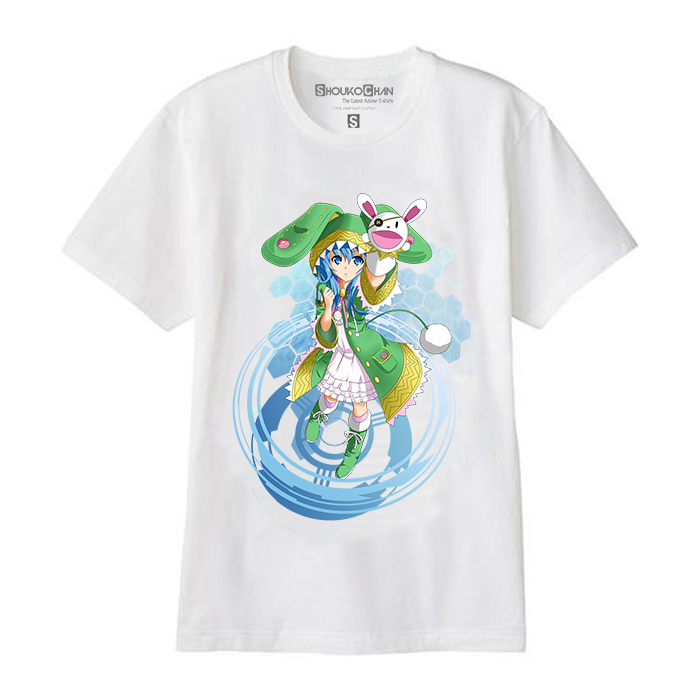 It is none other than the cute blue haired spirit Yoshino from the popular show Date A Live! For those who are unfamiliar with the show, it is recommended that you check it out now. For those who are fans however, we'll gladly remind you that the second season Date A Live II is coming April 2014. So it's the perfect time to get your hands on this!
This is one of the two shirts we've been given to review thus far. After a reasonable waiting period, I got the package in the mail and opened it to find my very own Yoshino tee shirt! The colors are vibrant and beautiful and the shirt's material is pretty comfortable to wear. Their website comes with a size chart with dimensions to let you know what size would fit you best, so there's no guessing involved and you won't end up finding out that their idea of large isn't the same as your idea of it, thus leaving you high and dry with an unwearable shirt.
This feature in addition to the fact that they ship globally within an understandable period alone makes it worth it. The designs however are certainly tasteful and not too in-your-face to not be worn out in public. I wouldn't feel uncomfortable in the least wearing this out. Wear a button up shirt over it, leaving it open and it makes for a pretty fashionable outfit!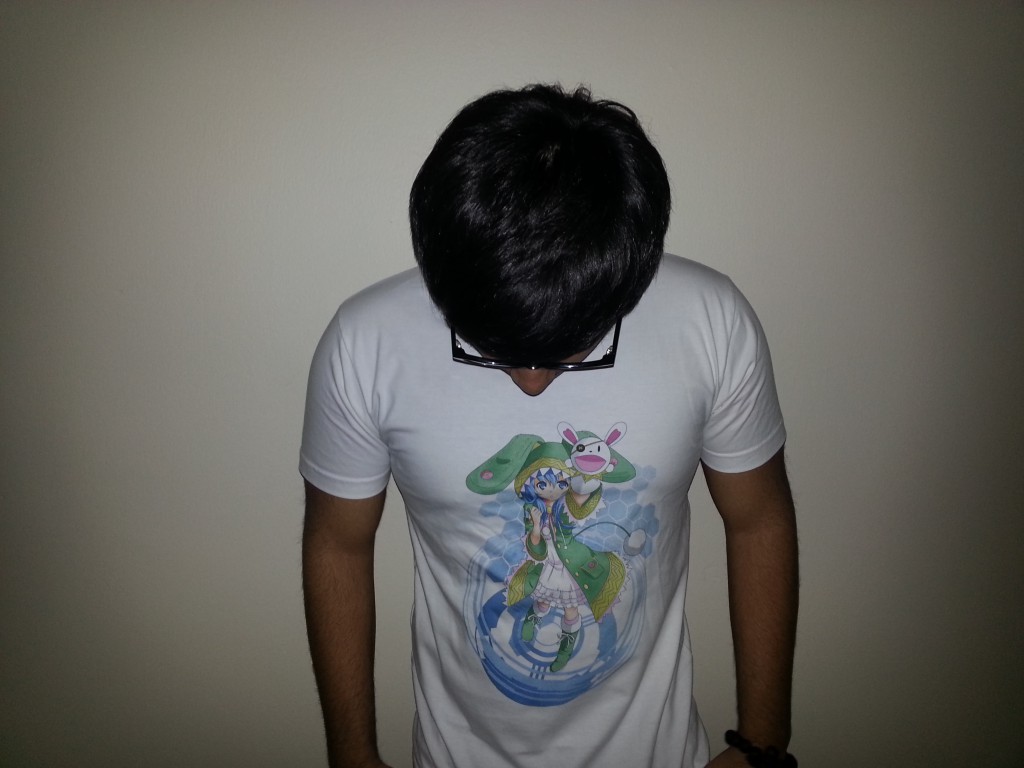 You'll have to build the bod on your own, but the shirt encompasses mine great! I personally prefer to wear fitted shirts, but Shoukochan offers a variety of different sizes for otakus big and small alike. Being relatively a short guy, the "small" size works great for me, but different people have different body types and different heights.
I've been complimented on the outfit several times at my university campus already, as it's a bold move to make for a guy, but thankfully Shoukochan allows me to pull the look off without making an enourmous anime girl face cover the shirt or something of the like. As mentioned before, their purpose is to make shirts that are understated and can still be worn around town without us having to be concious about it all the time. In fact, I wouldn't even mind making my Facebook display picture a photo of myself in one of these!
This particular shirt can be found here for $45 but luckily for Haruhichan readers, you'll be given a promotional 10% discount using the following code:
Haruhi10%off
So be sure to get yourself that discount and buy now! Check the site for other cool designs as they update it periodically with more cool content. Keep yourselves tuned in for more shirt reviews and for more photos of the shirts (or me… or me in the shirts) check out my Twitter and Instagram linked below!