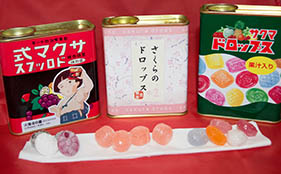 Are you a candy lover? Do you love candy? Last time we took a look at the Dagashi Bento Pack as well as various chip-style snacks Japan has to offer.
Today we'll be taking a look and tasting some well known Japanese candies that JList stock. Hopefully we'll help you decide on new candies to try so you can get your sugar rush. and no, I'm not talking about AKB48's type of sugar rush.
Kompeito ~ Five Color Traditional Japanese Candy
Kompeito (also written Konpeito) is a well known kind of hard candy that looks like stars, exploding out in all directions. It has also made an appearance in various anime series. If you're a big fan of Studio Ghibli films by Hayao Miyazaki, you may remember the scene where Kamaji feeds Kompeito to the little soot sprites (Susuwatari) in Spirited Away.
If you're a fan of Downtown no Gaki no Tsukai ya Arahende!! (No-Laughing Batsu Game) like me, you will remember this part from 2011's No-Laughing Airport where Kompeito were used. A judo expert flipped one of the actors onto the mat which was covered in Kompeito. All in order to make Hitoshi Matsumoto, Masatoshi Hamada, Hōsei Tsukitei, Naoki Tanaka and Shōzō Endō laugh and get punished for laughing (Zane! OUTO!!).
These candies have a sweet coating and are quite hard. After a minute or two of sucking, you can bite into them with no fear of maybe breaking a tooth. When crunching into these, they remind me of what I said above. Stars exploding out in all directions. That's what I get from eating these. They shatter and explode like a star shooting through the night and leave a powdery trial in the process.
Despite coming in five different colors, they all taste the same – like sugar. I was kind of shocked since I thought they would be different flavors since the different colors. I would recommend to try these just for the thrill of trying something new. They've been around for more than a century so that is saying something.
If you want to try these, you can buy them here.
Sakuma Drop ~ Grave of the Fireflies Limited Edition, Sakuma Drops Candy (Normal Edition) and Sakura Canned Drop Candies
Sakuma Drops hard candy are a lot like boiled candy. I used to eat similar candies as a kid, although they weren't Japanese. They come in a wide variety of flavors and shapes. They've been around since 1908, making them more than a century old.
Sakuma Drops have appeared in many anime series, one of them being the famous and well loved movie by Studio Ghilbi, Grave of the Fireflies.
Lick these drops.  Mom had seven thousand yen saved in the bank.  Seven thousand yen! If there's that much, we can manage plenty. There's no need to worry anymore.

– Seita, Grave of the Fireflies
They even made an appearance in Tasogare Otome x Amnesia, Yuuko has a can of Sakuma drops during her visit to Asa's house (Episode 10).
These are quite unique (not just because of the limited edition Graves of Fireflies tin), the taste is sourish, fruity and tingles your tongue. These are really great if you like new tastes. As I am writing this I have a strawberry flavored one on my tongue, mainly because I can't decide if I would personally recommend them or not. When I first tried them I was shocked by the sour taste and instantly thought they were all like that. Once the sourish coat is gone they're actually really nice tasting. I would recommend just to try these, I mean who wouldn't? If you're a collector you'll love the Grave of the Fireflies tin.
The tin contains various flavored candies. If you're a collector and want them badly, you can buy them here.
These would have to be my favorite out of all the sakuma drops. Upon opening them, you are greeted by an enjoyable strong aroma of fruit juice. It's so overwhelming but so good. The taste is stronger than the aroma. When placing a sakuma drop on your tongue, you are welcomed by a pure fruit juice taste, which makes you want to eat them all in one go. Out of all the sakuma drops I have tried in my life, these are the best so far.
The tin contains various flavored candies. If you want to try these, you can buy them here.
Hmm, these are very different compared to the ones above. The taste is a very faint cherry, the taste is there but it is not overwhelming. They're nice if you like to just have something sitting in your mouth and giving off a little bit of flavor. I would take these with me if I were planning to travel. That way my taste buds aren't coated and overwhelmed in various flavors.
Each tin contains approximately 40 candies. You can buy from here.
The packet represents a Japanese drink machine. Which is quite awesome because each candy represents a different drink. The different drinks included in this packet are: Dakara, C C Lemon, Natchan, Aserora, and Dekavita. When you see a drink machine in Japan (whether you've visited Japan or seen them in an anime/J-Drama) you want to try them all, with this packet of candy you get to chance to do so!
There are 5 drinks and 5 individually wrapped candies for each flavor, totaling to 25 candies in the bag.
Dakara
This has the refreshing taste of white grapefruit. It only has a small hint of sweetness and is quite sour.
C.C. Lemon
Has a fizze texture, which is really nice and a hint of lemon tart flavor. The candy is quite hard so I wouldn't recommend trying to chew it. The flavor is very consistent with the actual drink.
Natchan! Orange
Who thought a drink packaging could be so cute? Not only is it cute, it's really tasty. It has a smooth flavor just like a cold glass of concentrate orange juice. Magically, it has the same texture as the drink. The candy is smooth in texture and the taste is sweet and orangey.
Dekavita
This comes in a brown bottle in Japan, just like Supermalt and looks deadly. It's very fizzy, sour and has no real sweetness at all. It reminds me of a really sour lemon candy. The texture is rough just like the taste. If you like sour candies, this one is for you.
Aserora
The taste of this reminds me of expensive cough medicine which tastes like honey and lemon. It's really sweet and tastes so good. It tastes like pure honey with a hint of lemon. I would definitely recommend these out of them all. It's a shame only 5 of these came in the pack…
If you're brave enough to buy these and try the Dekavita, you can buy the packet here.
Fujiya is well known for there brand of cake shops, biscuits, snacks, chocolates and candies.
What I have here is a packet of Peko-chan Milky Candy, Peko-chan is the company's mascot which you can see on the front making the 'Mmm… donuts!' or 'Tee hee' face.
Inside the bag are 40 individually wrapped pieces. The candy is hard, not soft and chewy as I expected. The taste reminds me of milk bottles, quite bland but the milk taste is there. I believe these are mainly loved by the Japanese because it reminds them of their childhood. I don't have that nostalgia so I would not buy these if I saw them. Since they're only $3.50 for a bag, I would say give them a shot and let me know your thoughts on them.
If you want to try these, you can buy them here.
Kasugai Charcoal Roasted Coffee Candy
Let me just say this before I give my thoughts on these. I am a huge coffee lover, it's my main beverage of choice and what keeps me going.
These are stone roasted coffee bean flavored candy. Once opening the main packet, a strong smell of coffee sneaks out of the bag. It's like I just brewed a fresh pot of coffee and have walked out of my room to go get it from my kitchen. That is the smell you are welcomed by when opening the packet.
Each piece of candy has its own individual packet which keeps the coffee candy fresh and pure. Once opening the packet, you are welcomed by a stone roasted coffee bean piece of candy which smells like you've just grinded a bag of beans for the coffee pot.
The Japanese sure do know how to make a good coffee. From what I can tell, there is no milk. Just pure delicious black coffee. If you've ever ate coffee beans alone, this is what it tastes like but in a candy form. It's very strong tasting, packed with caffeine with a hint of roasted/sweet beans taste.
Each bag has approximately 30 pieces per bag and only costs $2.80 per bag. I think you all know I'm going to buy a few more bags since I'm almost out… You can buy this delicious bag of coffee goodness here.
Japan has a wide variety of DIY candy kits, and this is one of them. This is a grape flavored 'Coris Mystery Neri Ame', which comes with soda, strawberry and lemon flavored mizuame (liquid candy), each flavor can be eaten on its own but it tastes even better when you combine all 3 flavors together. Which results in the 'mysterious' 4th flavor, which is grape.
This little kit is quite messy if you don't pay attention while mixing the flavors together. It's very sweet and sugary. I personally enjoyed the 4th flavor (grape) smell the best, it was too sugary for me to finish so I only had a tiny spoonful worth. I didn't document the mixing but you can view the video below to get an idea of how they're made.
This was my first DIY candy kit, it was quite fun because I've never done something like this before. You can buy this product here.
Next time I'll make sure to try out the original Neri Ame which everyone knows thanks to Mugi from K-ON!
Well that wraps up this candy review. What candy from this post do you now want to try? and if you've tried Japanese snacks/candy before, which have you tried? Let us know in the comments below!