The staff of Space Dandy television anime unveiled a new promotional video and TV commercial for the second season of the anime via a Niconico live stream on Thursday. The official website has also revealed that the second season will be airing from the 6th of July. Additionally FUNimation has also announced that the dub of the second season will be airing from the 5th of July.
Good news, everyone! #SpaceDandy Season 2 begins July 5th on #Toonami! It'll then air Saturday nights at 12:30am ET. pic.twitter.com/6OyhibjTer

— Funimation (@FUNimation) June 5, 2014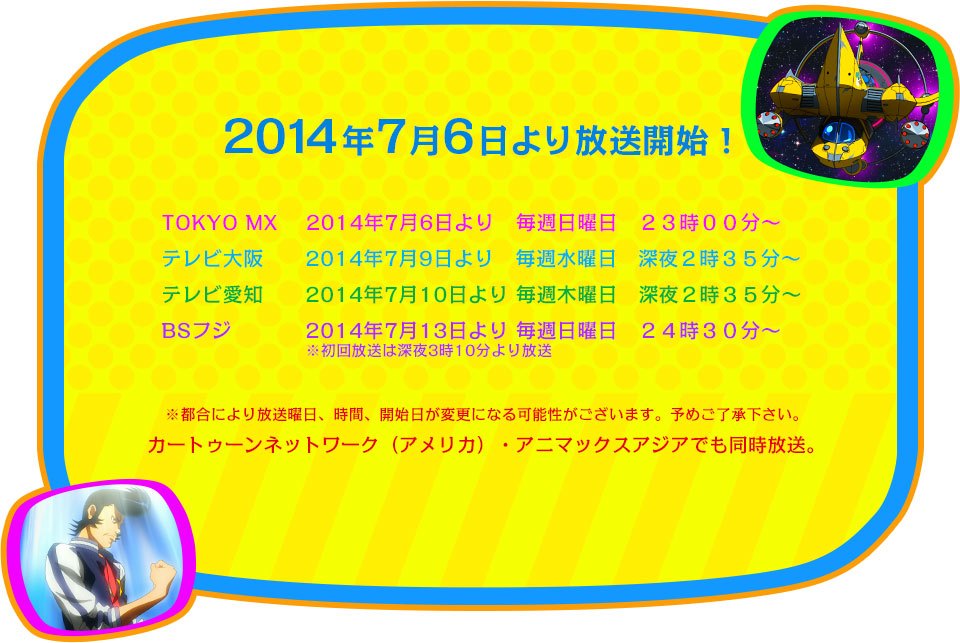 The website has also revealed that guest cast members will join the anime:
Kazuhiko Inoue
Sayaka Ohara
Hiroshi Kamiya
Iemasa Kayumi
Sayaka Kitahara
Ryohei Kimura
Taiten Kusunoki
Kenn
Seiran Kobayashi
Miyuki Sawashiro
Hidekatsu Shibata
Fuyumi Shiraishi
Sumiko Shirakawa
Takayuki Sugo
Toshihiko Seki
Shinpachi Tsuji
Kenjiro Tsuda
Shoko Tsuda
Miina Tominaga
Kazuya Nakai
Ryusei Nakao
Kaori Nazuka
Daisuke Namikawa
Yuuka Nanri
Megumi Hayashibara
Aya Hisakawa
Toshio Furukawa
Yui Makino
Yuji Mitsuya
Kouichi Yamadera
The creators contributing the second season are as follows:
Hiroyuki Aoyama
Naoyuki Asano
Masashi Ikeda
Makoto Ishido (Nitroplus)
Kazumi Inari
Kimiko Ueno
Toh Enjoe
Kunio Okawara
Katsuhiro Otomo
Tomoaki Okada
Gakuo Okada (Nitroplus)
Kiyotaka Oshiyama
Atsushi Kamijou
Yoshimichi Kameda
Toshihiro Kawamoto
Toshiaki Kidokoro
Kinrikimantō (Nitroplus)
Takuhito Kusanagi
Chikashi Kubota
Yuka Koiso
Shigeto Koyama
Tsunenori Saito
Satoshi Saga
Dai Satō
Santiago Montiel
Hiroshi Shimizu
Atsushi Takahashi
Fumihiko Takayama (J.C.STAFF)
Shou Tajima
Goro Taniguchi
Jun'ichirō Tamamori
Kotaro Tamura
Yuriko Chiba
Shintarou Douge
Eiji Nakada
Yutaka Nakamura
Yasuhiro Nakura
Nama Niku ATK (Nitroplus)
Iho Narita (Kusanagi)
NiΘ
Keiko Nobumoto
Yuichi Higuchi
Akitsugu Hisagi
Michio Mihara
Masato Miyoshi
Masahiro Naoi
Atsushi Morikawa
Hayashi Mori
Sayo Yamamoto
Masaaki Yuasa
Yoshitomo Yonetani
Takaaki Wada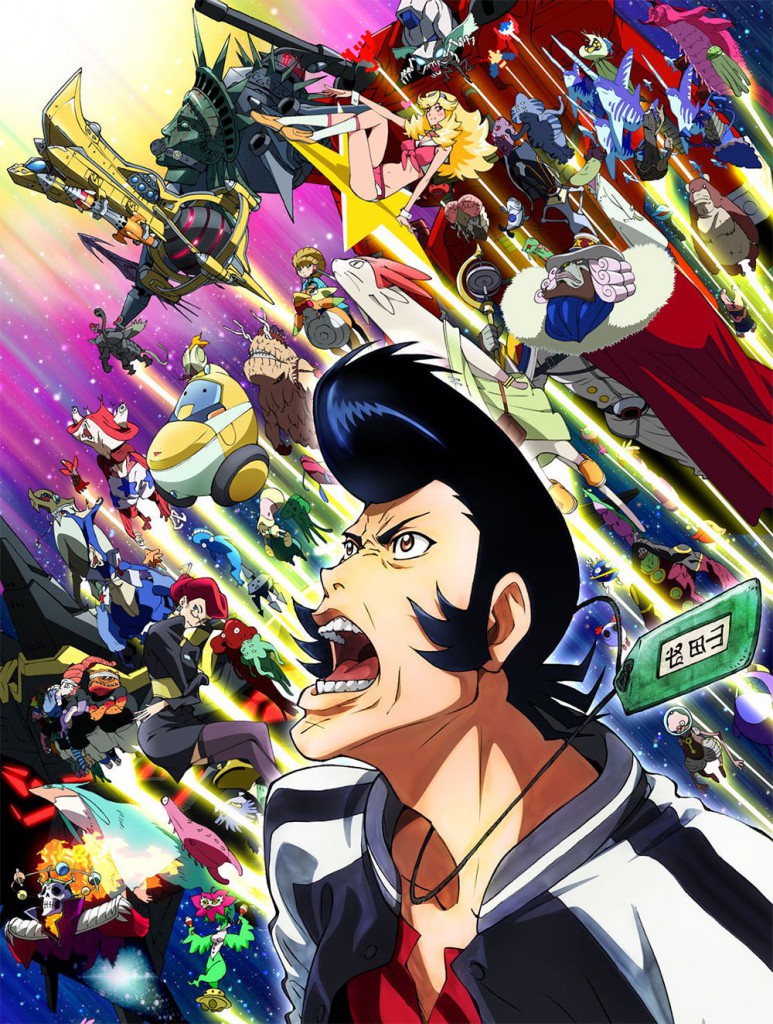 The second season/cour of Space Dandy will begin airing in Japan from July 6th, and in North America on Toonami from July 5th, during the Summer 2014 anime season.
Synopsis for the first season from Haruhichan.
Space Dandy is a dandy guy, in space! This dreamy adventurer with a to-die-for pompadour travels across the galaxy in search of aliens no one has ever laid eyes on. Each new species he discovers earns him a hefty reward, but this dandy has to be quick on his feet because it's first come, first served! Accompanied by his sidekicks, a rundown robot named QT and Meow the cat-looking space alien, Dandy bravely explores unknown worlds inhabited by a variety of aliens. Join the best dressed alien hunter in all of space and time as he embarks on an adventure that ends at the edge of the universe!
Source: ANN, Space Dandy Website