At the San Diego Comic Con International which was held last weekend, many manga panelists announced new licenses for their line-up, and Udon Entertainment announced three new manga titles to be published in North America: Nitro+'s (Togainu no Chi, DRAMAtical Murder) Steins;Gate, Riyoko Ikeda's (Orpheus no Mado, Oniisama e…) Rose of Versailles (Versailles no Bara) and Moyoco Anno's (Hataraki Man, Kantoku Fuyuki Todoki) Sugar Sugar Rune.
.@UdonEnt @ #SDCC15 get ready! pic.twitter.com/lAzcqxVz5r

— Deb Aoki (@debaoki) July 11, 2015
The first license was the three-volume sci-fi manga adaptation by Nitro+ and Yomi Sarachi (Touryou Gakuin no Hanayome, Kamioroshi), Steins;Gate. The manga was published on September 26, 2009 to July 27, 2013 under Media Factory's Comic Alive magazine. It has received a 24-episode anime adaptation produced by White Fox (Akame ga Kill!, Hataraku Maou-sama!). The series was based on a visual novel developed by 5pb. and Nitroplus.
Udon Entertainment will release the first volume of the manga on August 2015.
.@UdonEnt @ #SDCC15 stein's gate manga ! August 2015 pic.twitter.com/qXGZ5tH8QD

— Deb Aoki (@debaoki) July 11, 2015
Synopsis of Steins;Gate manga from MAL:
The story of Steins;Gate takes place in Akihabara and is about a group of friends who have managed to customize their microwave into a device that can send text messages to the past. As they perform different experiments, an organization named SERN who has been doing their own research on time travel tracks them down and now the characters have to find a way to avoid being captured by them.
The second license was a 1972 to 1973 shoujo manga classic by Riyoko Ikeda, Rose of Versailles. The manga was serialized under Shueisha's Margaret magazine and has 10 compiled manga volumes. It has two anime adaptations, one 40-episode TV anime produced by Tokyo Movie Shinsha (Doraemon, Lupin III) that was aired on October 10, 1979 to September 3, 1980 and a 4-minute special by Toei Animation (One Piece, Slam Dunk) that was released on 2007. The manga will be published in English in a 2-in-1 omnibus format slated for Spring 2016.
.@UdonEnt @ #SDCC2015 new! The Rose of Versailles by Riyoko Ikeda – Spring/Summer 2016! a classic historic romance! pic.twitter.com/1Lv01lYlCE — Deb Aoki (@debaoki) July 12, 2015
Synopsis of Rose of Versailles from MAL:
Raised from birth as a man, the Lady Oscar commands the palace guards at Versailles in the years before the French Revolution. Her beauty and noble spirit make her a shining figure in the eyes of both men and women but she is torn between her chosen life of service and duty to class and country and her own heart and desires. She lives as a noble amidst the opulence of Versailles but her keen senses and compassion are not blinded to the poverty of the French people.
The final license was a magical girl shoujo manga series, Sugar Sugar Rune, by the wife of the infamous anime director, Hideaki Anno, Moyoco Anno. The manga was published on August 2, 2003 to April 3, 2007 under Kodansha's Nakayoshi magazine and Comics World's Comic Fans magazine. It has 8 compiled manga volumes. The manga received a 51-episode anime adaptation produced by Studio Pierrot (Akatsuki no Yona, Yume-iro Pâtissière) and it aired on July 2, 2005 to June 24, 2006.
North American publisher, Del Rey Manga, has acquired the license for the manga before but Udon Entertainment took it over. The new first English volume of Sugar Sugar Rune will be published on Summer 2016.
@UdonEnt @ #SDCC2015 return of @anno_moyoco 's Sugar Sugar Rune! two young witches' friendship is tested-Summer 2016 pic.twitter.com/B2zqhACtTx

— Deb Aoki (@debaoki) July 12, 2015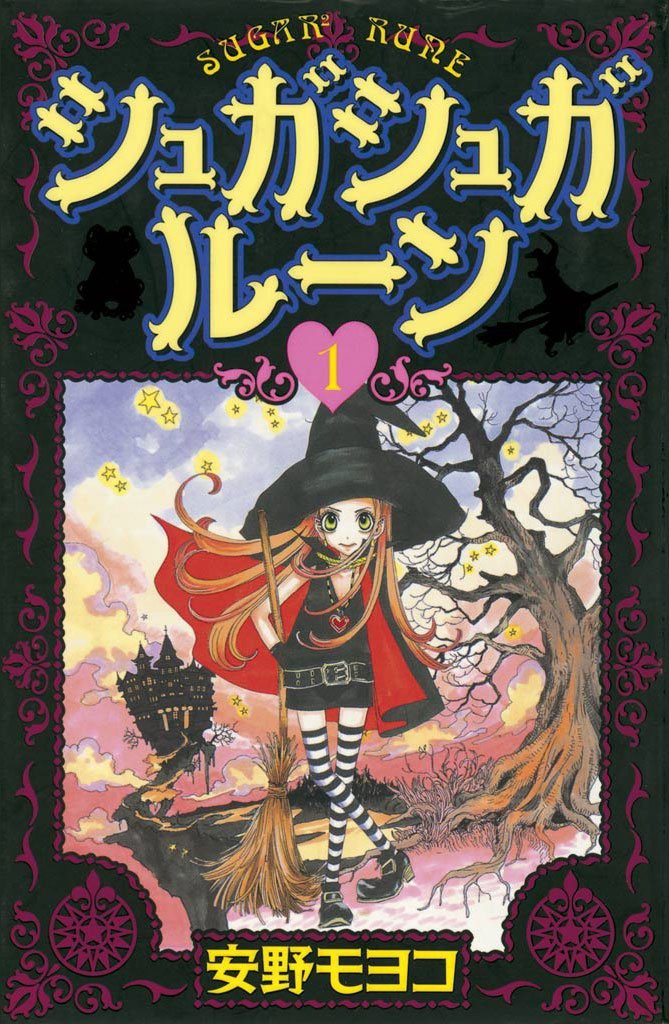 Synopsis of Sugar Sugar Rune by MAL:
Little witch-girls Chocolat and Vanilla are best friends, but only one of them can be Queen of the Magic World. To determine who deserves the title, they must go to the Human World and enter a strange competition. Whoever attracts the most human boys . . . wins!

Here's how it works: When a boy falls for a witch-girl, she utters a few mystic words and the boy's heart will be hers in jewel-like form. It may sound simple, but winning hearts is tricky business. While Chocolat had no problem enticing witch-boys with her forthright personality, human boys seem to be drawn to shy and modest girls like Vanilla. And to make matters worse, Chocolat is finding herself increasingly drawn to the cool and mysterious Pierre-who feels nothing for her! The girls had planned to be best friends forever, but both of them want to be Queen. Will their rivalry ruin their friendship?