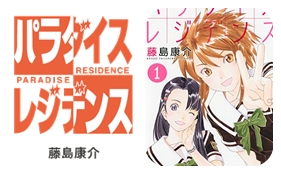 During Kodansha Comics' panel at the San Diego Comic Con last weekend, the hosts announced that the North American manga publisher has licensed Kosuke Fujishima's (Aa! Megami-sama!, Taiho Shichau zo) Paradise Residence manga. The first English-translated volume of the manga is slated for March 2016.
.@KodanshaUSA @ #SDCC2015 new! paradise residence by Kosuke Fujishima, creator of Oh My Goddess – March 2016 pic.twitter.com/QrfGOhfONA

— Deb Aoki (@debaoki) July 11, 2015
On May 24, 2014, the first chapter of the comedy, slice-of-life seinen manga was published under Kodansha's Afternoon magazine and is also featured on good! Afternoon magazine. The manga has currently one compiled volume that was published on February 23, 2015. The second volume will be published on August 21, 2015. A prequel manga titled Paradise Residence 0 was published on November 7, 2008 to March 7, 2012 with one volume shipped on the same date as the sequel's first volume.
The manga received a light novel adaptation written by Kanan Norihara (Maruta Sagi wa Tantei desu ka?, Tenshi kara Hyakunen) on December 2, 2011. It has two compiled light novel volumes serialized under Kodansha.
Synopsis of Paradise Residence manga from MAL:
The new title of Kosuke Fujishima, the creator of Ah! My Goddess. Paradise Residence is about the battles in the first dormitory of the Kikka Institute, where the dorm mother is a grade school girl. The main character is Hatsune Takanashi, a student at the Kikka Academy girls' dormitory. She's active and straightforward, has trouble waking up, hates natto, and one of her main three urges is the lust for conquest!
Read Paradise Residence's first chapter in Japanese here.