The official website for the upcoming anime adaptation of Akira Hiyoshimaru's Hatsukoi Monster (First Love Monster) manga has revealed that it will premiere this July. The anime announcement was first revealed in the April issue of Kodansha's ARIA magazine.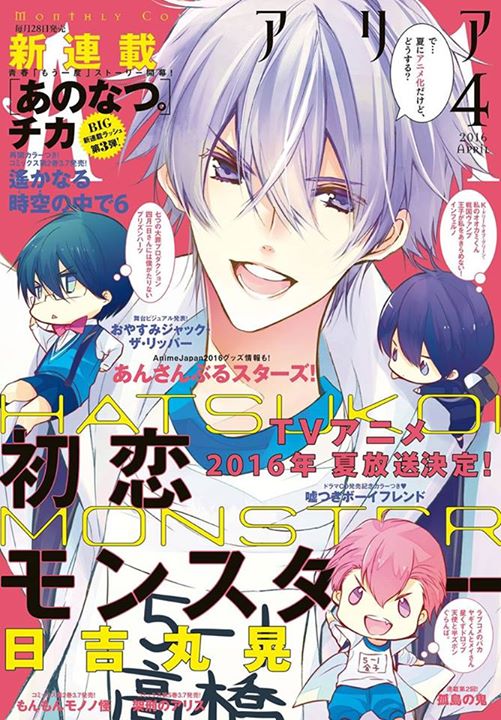 In addition to this, the cast and staff were revealed. The cast includes:
Takahiro Sakurai (Kyouya Sata from Ookami Shoujo to Kuro Ouji) will voice Kanade Takahashi
Yui Horie (Tsubasa Hanekawa from Bakemonogatari) as Kaho Nikaidou
Tomokazu Sugita (Hidenori Tabata from Danshi Koukousei no Nichijou) as Ginjirou Sannomiya
Showtaro Morikubo (Souji Okita from Hakuouki) as Tomu Kaneko
Ayumu Murase (Worick Arcangelo from Gangsta) as Kazuo Noguchi
Nobuhiko Okamoto (Accelerator from Toaru Majutsu no Index) as Kouta Shinohara
Kaito Ishikawa (Tobio Kageyama from Haikyuu!!) as Atsushi Taga
Kenichi Suzumura (Mikiya Kokutou from Kara no Kyoukai) as Jouji Takahashi
Kenjirou Tsuda (Mikoto Suou from K) as Arashi Nagasawa
Hikaru Midorikawa (Kyousuke Natsume from Little Busters!) as Daikoku Nikaidou
The staff consist of:
Director: Takayuki Inagaki (Kuusen Madoushi Kouhosei no Kyoukan, NouCome, Rosario to Vampire)
Character Design: Mariko Oka (Hetalia: The Beautiful World, Jigoku Shoujo, Nurarihyon no Mago)
Studio: Studio Deen (Fate/stay night, Log Horizon 2nd Season, Kono Subarashii Sekai ni Shukufuku wo!)
Hatsukoi Monster is a Japanese shoujo manga series written by Akira Hiyoshimaru and published in Kodansha's Aria magazine. A television anime adaptation has been announced to air in July 2016.
Hatsukoi Monster synopsis from MAL:
Nikaido Kaho is a daughter of a rich family and her whole life everyone's been nice to her. When moving to her new high school dormitory, she almost gets hit by a truck but is saved by a boy. It's love at first sight for Kaho but when asking him his name, he tells her she's weird. Kaho is shocked since it's the first time anyone's ever said mean things to her. Soon enough, she finds out that the boy who saved her lives in the same dormitory and so she bravely confesses her love. The boy says his name is Kanade and agrees to go out with her. Unfortunately, the following day Kaho finds out that her first boyfriend is a 5th grader.
Source: Comic Natalie