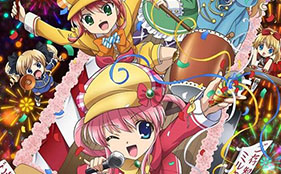 The official website for the Tantei Kageki Milky Holmes TD TV anime has announced that the fifth episode that was scheduled for broadcast this Saturday night, is cancelled. The official website states that it has been cancelled due to the current situation in Japan and the first episode will be re-broadcasted in the time slot.
The fifth episode is titled "Ransom for Carol" and includes a kidnapping situation in the story. The fifth episode is being delayed due to ongoing Japanese hostage case, where the Islamic State group demanded a $200 million ransom from the Japanese government.
What do you think of this decision? Do you think the media is going on a witch hunt for the medium to blame it on? or are they right with delaying the fifth episode in Japan?
Key visual:
Tantei Opera Milky Holmes is a media franchise owned by the Japanese trading card game company Bushiroad. The first release was an Internet radio drama, released in December 2009. An anime adaptation by J.C.Staff aired between October and December 2010, with a special episode aired on August 26, 2011. The second anime season aired between January and March 2012 with another special aired on August 25, 2012. A third series, titled Futari wa Milky Holmes, aired between July and September 2013. A fourth series titled Tantei Kageki Milky Holmes TD is scheduled to air from January 2015. Other media includes a manga adaptation serialized in Comp Ace between May 2010 and January 2011; two visual novels, released for the PlayStation Portable in December 2010 and August 2012 respectively; a trading card game tie-in with Bushiroad's Weiß Schwarz; and a light novel series published by ASCII Media Works under their Dengeki Bunko label.
The series is a homage to the detective fiction genre, with the four female leads named after famous fictional detectives: Sherlock Holmes, Nero Wolfe, Hercule Poirot and Cordelia Gray. Milky Holmes is also the name of a voice acting unit consisting of the series' four main voice actresses; Suzuko Mimori, Sora Tokui, Mikoi Sasaki and Izumi Kitta.
Tantei Kageki Milky Holmes TD synopsis from Haruhichan:
There have been many cases of stolen songs happening among the idols in Yokohama District recently. Even super idol Marine Amagi's hit song "Kiseki no Uta" was taken away. At the request of Marine, the Milky Holmes team starts investigating the case.
Source: Crunchyroll, Tantei Kageki Milky Holmes TD Official website