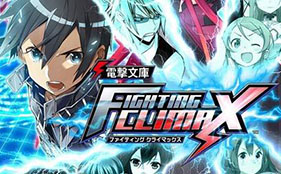 Sega announced on Thursday that they will be releasing the highly anticipated two-dimensional fighting game Dengeki Bunko Fighting Climax in North America and Europe on PlayStation 3 and PS Vita this summer.
Here's the Japanese promotional video which features gameplay and more:
Dengeki Bunko Fighting Climax is the ultimate classical anime arcade style  fighting game that uses a partner assist system. A gorgeous 2D game featuring all your favorite characters, including Asuna and Kirito from Sword Art Online, Mikoto fromToaru Kagaku no Railgun, Shana from Shakugan no Shana, Shizuo from Durarara!!, Taiga Asuka from Toradora!, Tomoka from Ro-Kyu-Bu!, Kuroyukihime from Accel World, Kirino from Oreimo and more! There are 14 playable characters, along with 23 "assist characters" (like Leafa from Sword Art Online, Alicia from Valkyria Chronicles, and Kuroneko from Oreimo.) The game supports an original story campaign made called Dream Duel Story, plus online multiplayer mode, and save game functionality across PS3 and PSVita are supported.
Gameplay screenshots: