The official website for the anime adaptation of Yu Sasuga and Kenichi Tachibana's popular sci-fi action Terra Formars manga series has updated with a main visual for the upcoming second season of Terraformars, titled Terraformars Revenge. The series is expected to broadcast in April 2016.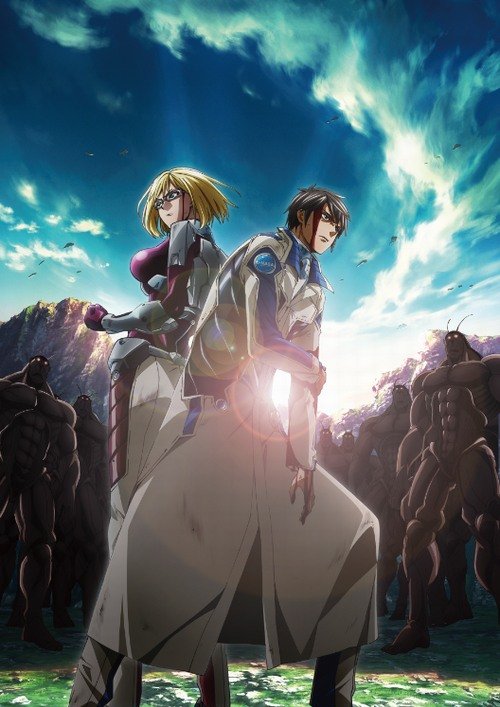 The second season of the anime will have new staff members replacing the staff of the first season and OVAs. The new staff will have:
Director: Michio Fukuda (Hyakko, Nurarihyon no Mago: Sennen Makyou)
Series Composer: Naruhisa Arakawa (Kingdom, Maoyuu Maou Yuusha)
Anime Character Designer: Cagetzu Aizawa (Shingeki no Bahamut Genesis, Date A Live II Chief Animation Director) and Atsushi Ikariya (Fate/stay night: Unlimited Blade Works, Hataraku Maou-sama!)
Animation Studios: Liden Films (Miss Monochrome, Terra Formars) and TYO Animations
By comparison, here is the staff of the first season:
Director: Hiroshi Hamasaki (Steins;Gate, Blade & Soul)
Series Composer: Shougo Yasukawa (Choujigen Game Neptune: The Animation, Rokujouma no Shinryakusha!?)
Anime Character Designers: Masanori Shino (Black Lagoon) and Satoshi Kimura (Buddy Complex)
Animation Studio: Liden Films (Miss Monochrome, Senyuu)
Here's a trailer that looks back at the Terra Formars anime series which aired in 2014:
Anime visual: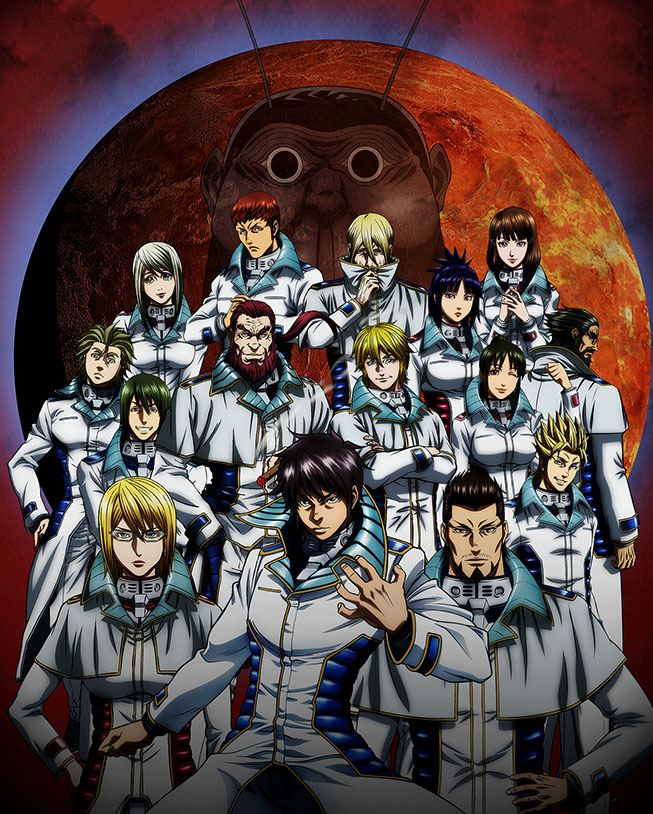 Terra Formars is a Japanese manga series written by Yu Sasuga and illustrated by Kenichi Tachibana. It is serialized in Shueisha's magazine Weekly Young Jump since 2011. Viz Media began publishing an English translation in 2014. Two original video animations (OVAs), abridging the Bugs 2 arc were released in 2014, and an animated television series, covering the Annex 1 arc was also shown in 2014; Also, a spin-off manga titled Terra For Police started on May 10, 2014 in Jump Kai. A live action film adaptation will be directed by Takashi Miike.
Terra Formars synopsis from Haruhichan:
With the space program attempting to travel to Mars, 21st century scientists were tasked with warming up the planet so that humans could survive on its surface. They came up with an efficient and cost-effective plan of sending cockroaches and mold to the surface so that the mold would absorb the sunlight and the insect corpses would serve as a food source for the mold.

It is now the year 2577 and the first manned ship to Mars has landed on the planet and the six crew members are ready for their mission. But what they find are giant mutated humanoid cockroaches with incredible physical strength. The crew members are easily wiped out, but not before sending a transmission back to Earth. Now, humanity will send elite warriors to exterminate the mutated bugs and claim back Mars.
The second season of the Terra Formars TV anime series, titled Terra Formars: Revenge, will air during April next year in the Spring 2016 anime season. Further information about the anime will be revelead in the near future.
You can visit the anime's official site here: http://terraformars.tv/
And follow their Twitter: @_terraformars
Source: Terraformars official website