Saki Kinumiya, Mayu Shimada, Shiho Iwasaki and Moka Suzuki from the Wake Up, Girls! anime has been featured in the February 2016 issue of Animedia as a poster. You can purchase this issue here (get 5% off with coupon code MOE-N3Y-4YW0QK).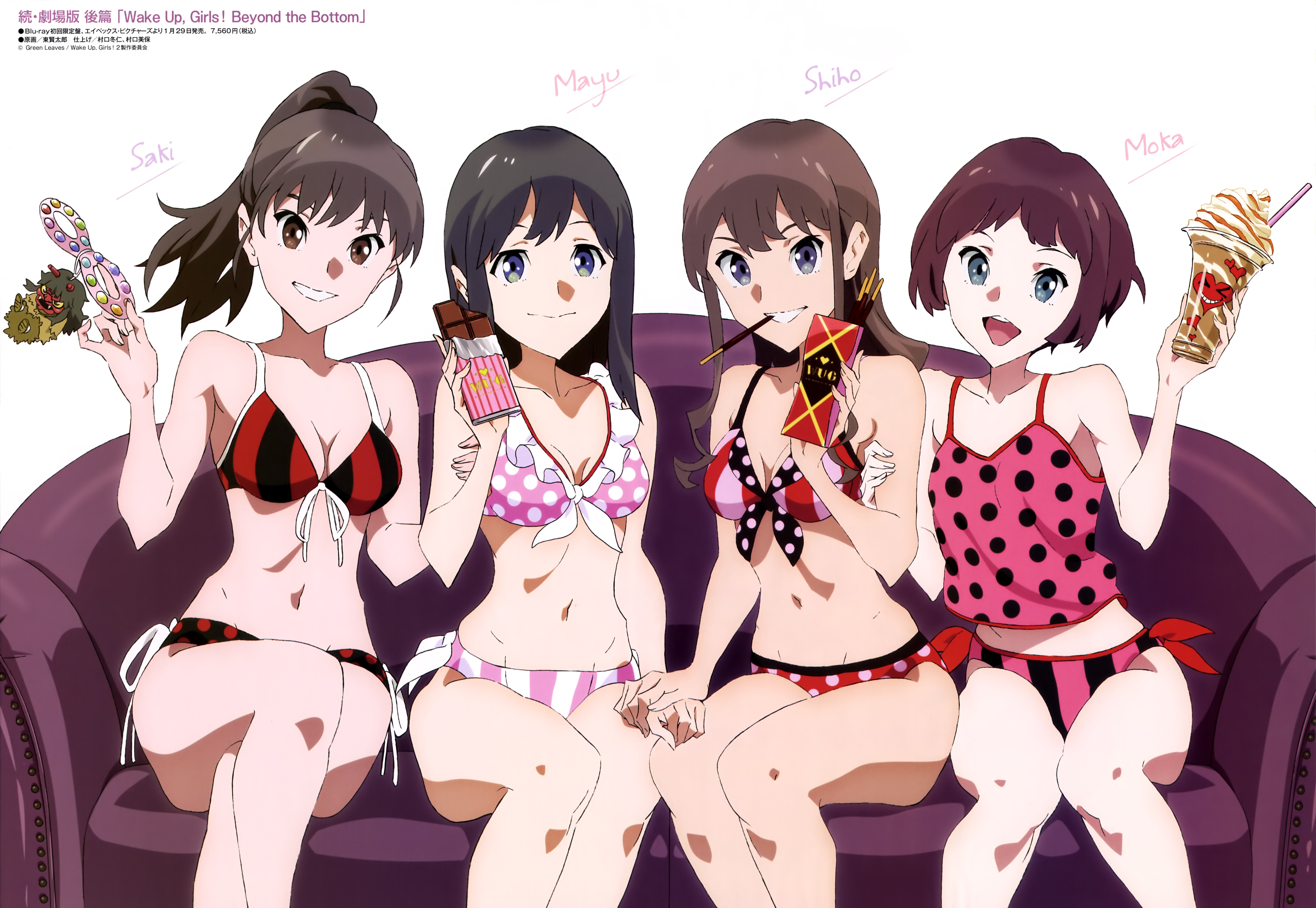 In addition to this, the official website of the Wake Up, Girls! anime has revealed a new visual for the sequel films.
Fans were able to order advance copies of the films at selected cinemas on release. Each film will have a limited edition 3 disc set that will contain the film on Blu-ray, the OST and special short drama CD. Each set will be sold for ¥8,640 ($70.00). The films will then go on sale with a Blu-ray of the film and the OST, costing ¥7,560 ($61.10) each. The Blu-ray release of Wake Up, Girls! The Shadow of Youth released on October 30th and the Blu-ray release of Wake Up, Girls! Beyond the Bottom is out on January 19th this year.
The first trailer for the film:
Visual:
Wake Up, Girls! is an original anime series project produced by animation studios Ordet (Senyuu., Black Rock Shooter) and Tatsunoko Productions (Ping Pong The Animation, SKET Dance). The series aired in January 2014 for a total of 12 episodes, in conjunction with the animated prequel film Wake Up, Girls! Shichinin no Idol. The idol anime was directed by Yutaka Yamamoto (Senyuu., Miyakawa-ke no Kuufuku) with Touko Machida (Lucky Star, Amnesia) handling the series composition and Sunao Chikaoka (Kyo no Gononi, Hen Semi) designing the characters.
Wake Up, Girls! synopsis from Haruhichan:
Green Leaves Entertainment is a tiny production company on the verge of going out of business in Sendai, the biggest city in Japan's northeastern Tohoku region. The agency once managed the careers of magicians, photo idols, fortune-tellers, and other entertainers, but its last remaining client finally quit. In danger of having zero talent (literally), the president Tange hatches an idea of producing an idol group. On the brash president's orders, the dissatisfied manager Matsuda heads out to scout raw talent. Matsuda makes a fateful encounter with a certain girl…