The official website for the upcoming original animation Mobile Suit Gundam: The Origin by Yoshikazu Yasuhiko has revealed that the third installment of the OVA series will screen in 15 theaters in Japan between May 21 and June 3, 2016. Titled "Akatsuki no Houki" (Dawn of Rebellion), it tells the story of Char Aznable's days in Zeon Military Academy, where he meets Garma Zabi.
The official website has also been updated with additional voice cast and new staff members for this installment.
The cast is as follows:
Tetsuya Kakihara (Akane from Divine Gate) will voice Garma Zabi
Rino Fernandes: Tomoaki Maeno (Decim from Death Parade) as Rino Fernandes
Naoki Bando (Naoto Fukuda from Uchuu Kyoudai) as Trenov Y. Minovky
Ai Kayano (Raratina Dustiness Ford from Kono Subarashii Sekai ni Shukufuku wo!) as Zenna Mia
The staff consist of:
Episode Director: Kiyoshi Egami (Mobile Suit Gundam: The Origin I)
Art Director: Junichi Higashi (Cowboy Bebop)
Visual: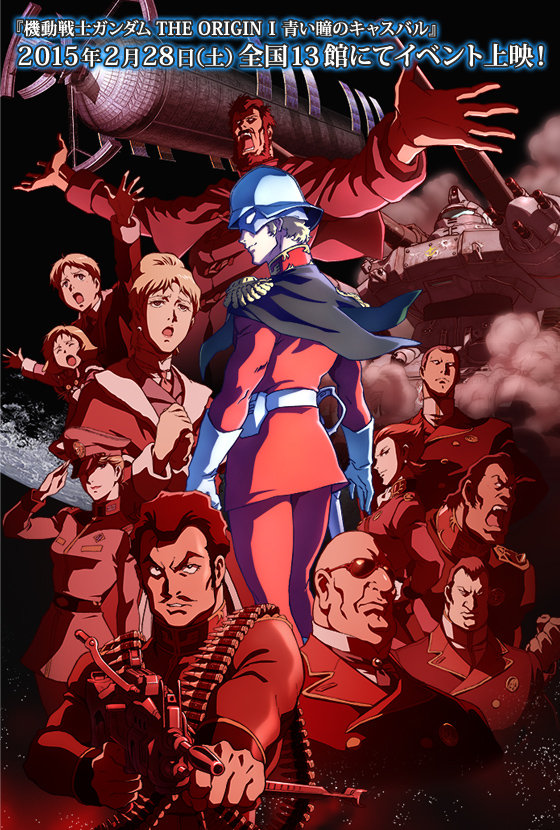 Mobile Suit Gundam: The Origin is a manga written and illustrated by Yoshikazu Yasuhiko. It is an adaptation and retelling of the story from the anime television series Mobile Suit Gundam, of which Yasuhiko was the original character designer.
An anime adaptation of the manga, focusing on the stories of Casval Rem Deikun (more famously known as Char Aznable) and his sister Artesia (aka Sayla Mass), is under production by Sunrise for release in 2015. Yasuhiko is the chief director of the adaptation, with Sunrise veteran Takashi Imanishi (Mobile Suit Gundam 0083: Stardust Memory, Mobile Suit Gundam MS IGLOO) as director, and Katsuyuki Sumisawa (Mobile Suit Gundam Wing, Inuyasha) as the scriptwriter.
Mobile Suit Gundam: The Origin synopsis from Haruhichan:
What was the tragedy that decided the fates of Char Aznable, the man later nicknamed the "Red Comet" as an ace pilot of the Zeon forces, and his sister Sayla Mass?

The two siblings' journeys, brought on by the sudden death of their father Zeon Zum Deikun who was a leader of the Spacenoids, are depicted in the four episodes of "Chronicle of Char and Sayla."

The Zabi family who seize control of Side 3 and lead the Principality of Zeon, the early days of many renowned Zeon ace pilots who later fight in the One Year War, the secrets of mobile suit development, conflicts with the Earth Federation Forces, and the road leading to the outbreak of war—all will be revealed.
Source: Gundam.info, Mobile Suit Gundam: The Origin Official website