This year's 34th issue of Shueisha's Young Jump magazine will be announcing a new Tokyo Ghoul OVA titled Tokyo Ghoul: Pinto on Thursday. The OVA will adapt the third story in the Tokyo Ghoul: Hibi novel when Shuu Tsukiyama and Chie Hori met. It is scheduled to release on December 25th.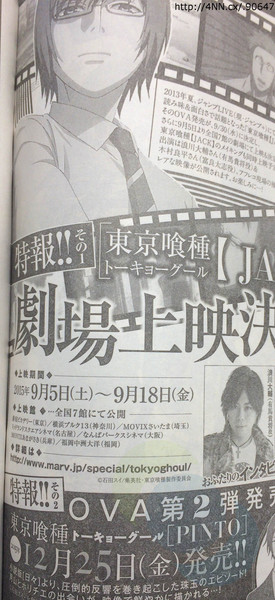 In addition to this, the issue has also revealed that the previous OVA, Tokyo Ghoul: JACK, will have a limited run in Japanese theatres. The OVA will run from September 5th till the 18th before being released on Blu-ray and DVD on September 30. The OVA is centered around the character Kishou Arima, who is a High School student by day and a ghoul investigator by night. The story is also set in and revolves around the 13th ward.
Anime visual:
Tokyo Ghoul is a manga series by Sui Ishida. It was serialized in Shueisha's seinen manga magazine Weekly Young Jump between September 2011 and September 2014 and has been collected in fourteen tankōbon volumes as of August 2014. A sequel titled Tokyo Ghoul:re began serialization in the same magazine in October 2014 and a prequel titled Tokyo Ghoul: JACK ran online on Jump Live.
A 12-episode anime television series adaptation by studio Pierrot aired on Tokyo MX between July and September 2014. A 12-episode second season, Tokyo Ghoul √A, which follows an original story, began airing on January 8, 2015 and concluded on March 26, 2015.
Tokyo Ghoul synopsis from Haruhichan:
The suspense horror/dark fantasy story is set in Tokyo, which is haunted by mysterious "ghouls" who are devouring humans. People are gripped by the fear of these ghouls whose identities are masked in mystery. An ordinary college student named Kaneki encounters Rize, a girl who is an avid reader like him, at the café he frequents. Little does he realize that his fate will change overnight.
You can visit the anime's official website here: http://www.maql.co.jp/special/tokyoghoul/
And follow the Tokyo Ghoul anime on Twitter: @tkg_anime
Source: ANN