I-it's not like we enjoy making lists for you or anything! Baka!
One of the most popular archetypes in anime is one known as the "tsundere". "What exactly is a tsundere?" some might ask. Minoru Shiraishi from Lucky Channel off popular anime Lucky Star might be able to provide an explanation! The term has faced some controversy in recent years, but in general it is known to mean a character who alternates between acting mean or aggressive, and acting loving and kind. It has taken a much broader definition however as it could also mean a person who has trouble expressing love and simply expresses it by behaving harsh or rude, or the original meaning of being a character who starts off mean but slowly becomes more loving and kind throughout the show.
In any case, with the help of a recent poll from fan-voting customary ranking system known as Charapedia, we at Haruhichan will be compiling for you a list of the top 20 most attractive female tsunderes in anime!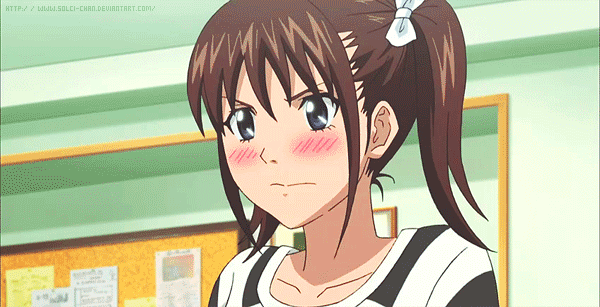 Voiced by Kana Hanazawa, Saaya is a very typical tsundere. In fact, even she knows that she is one! She is actually conscious of this aspect of her nature and actively tries to fix it – slowly and gradually making herself a more balanced person, emotionally speaking throughout the show. That doesn't mean she doesn't look cute when she's blushing and has her eyebrows furrowed though!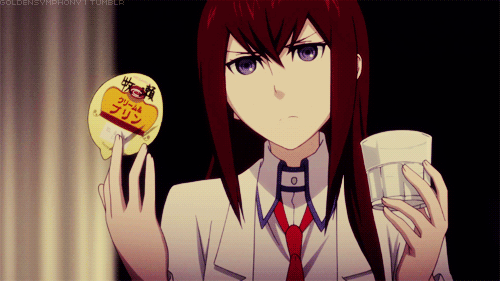 While she may not be the type to get flustered or blush as frequently, Makise from Steins;Gate fame can certainly be classified as a tsundere. Voiced by Asami Imai, while she's generally a lot more cool and calm, she certainly has no qualms with expressing her dissatisfaction with the series' protagonist when she feels like it.  Some may argue she isn't really a tsundere but it can't be argued that she is quite pretty – and thus it's no surprise that she's made the list!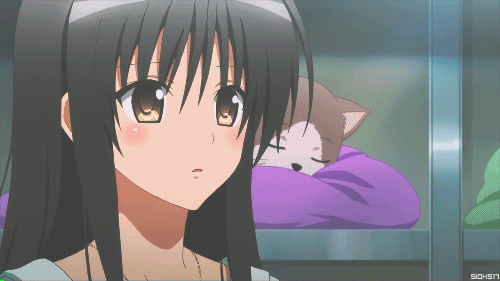 Yui Kotegawa is one of the more harsh tsunderes. She's quite strict and disciplined, and the fact that she's the head of her high-school discipline committee proves it! She is incredibly intolerant of anything suggestive or perverted and while she has a soft side,  her "tsun" shows more than anything else. Voiced by Kaori Nazuka, she both looks and sounds attractive and thus despite her attitude, she can certainly be considered an attractive tsundere.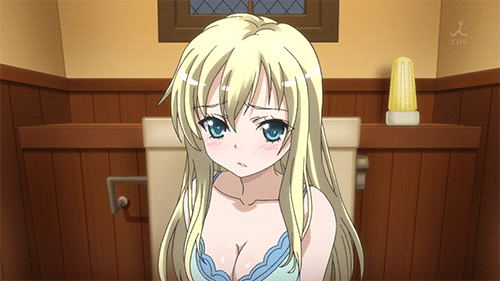 Often found wearing a butterfly hairpin, this blonde beauty is surprisingly low on the rankings as she's considered by many as the "best girl" in this relatively popular comedy/harem. Being a rich albeit clueless girl, she often hides her incompetence or negligence with her harsh behaviour. For the most part it comes off as cute though, so she certainly belongs on the list. Voiced by Kanae Ito, she sounds just as cute as she looks!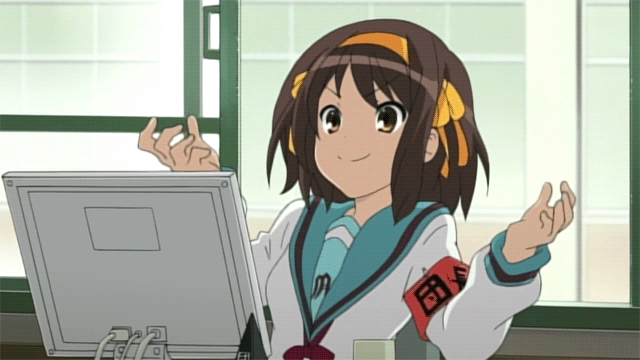 Well this one certainly needs no introduction – the site mascot and "Goddess" of tsunderes, Haruhi Suzumiya herself! Once again, known for her extremely abrasive and proactive attitude, often contrasting with the laid back one of show protagonist Kyun, she's frequently forcing the SOS Brigade into different activities, being the "leader" in each one. While she never expresses her feelings outright, it can be safely assumed that she is at least somewhat interested in him – making their interactions that much cuter! Voiced by Aya Hirano, her voice compliments the pesky, determined look she often has as well as the tsundere demeanor she carries. The only thing we're concerned about is her being so low on the list!
#15: Azusa Nakano – K-ON!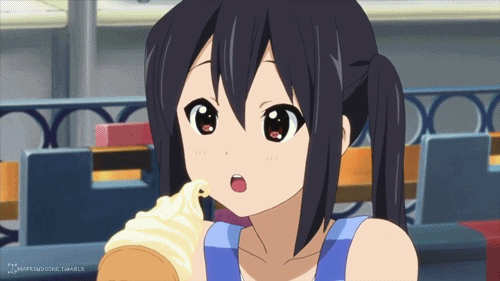 Unlike most of the older members in the light music club, underclassman Asuza is level headed and mature – and thus is always irritated or bothered in one way or the other by the antics of three of her more carefree seniors, not to mention her club advisor. However, in her heart she loves their company and enjoys making music with them. While there are no love interests in the show, she (along with her senior Mio) are perhaps the closest to a tsundere you'd find in the show K-ON! She may be mildly irritated, but in the end she finds her friends endearing all the same! Voice talent for this cutie is provided by Ayana Taketatsu.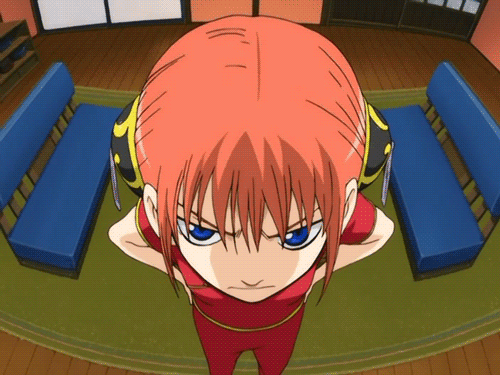 Long running show Gintama's Kagura is one of the more over-the-top types of tsunderes, with her bouts of "tsun" being a lot more acute. The feisty little red head is still cute when going through them though! Being a relatively over-the-top show in general, coupled with being a very popular one, main female protagonist (voiced by Rie Kugimiya) has earned herself a spot on our list!
#13: Kagami Hiragi – Lucky Star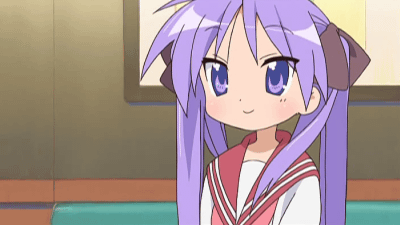 If you watched the video above earlier, you'd pretty much get what Kagami is all about, as he was talking about her. The purple haired tsundere twin is protective of her much more cutesy and innocent sister. She behaves like the older one, despite them being twins (and even possibly younger, as explained in one conversation). She is also often teased by her friend Konata and despite seeming angry and irritated, they're still close friends and often seen hanging out or spending time with each other, so it can safely be deduced that she's a tsundere – and a cute one at that! Emiri Kato leads her voice acting talent.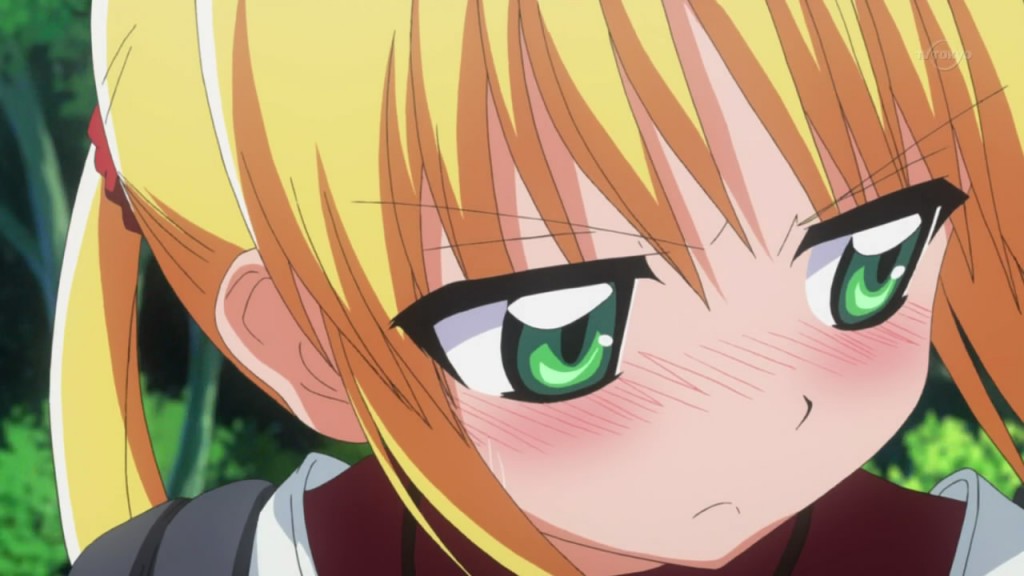 Yet another addition to our list is Hayate The Combat Butler's Nagi Sanzenin! The green eyed blonde loli voiced by Rie Kugimiya (just like Kagura!) deserves a spot on our list for her obvious tsundere traits, and she not only has a hard time confessing her true feelings, she also doesn't like losing or admitting her faults. A very typical spoilt rich girl! Though being only 13, she qualifies as a loli as well for sure. In any case, she gets a spot on the list!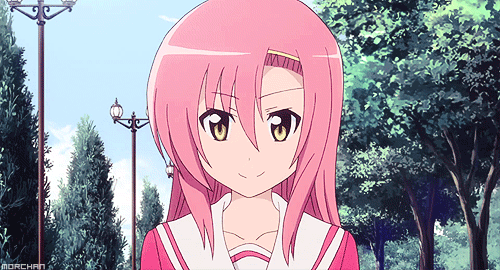 Yet another one from this series! Hinagiku is more of the "miss perfect" types seen in shows. She's an idol for many in her school, captain of the kendo club and president of the school council too. Another one that can't be seen as a pure tsundere but  she does possess some tsundere qualities. A little older than the female protagonist but still a loli and arguably cuter! Voiced by Shizuka Ito, she definitely captures the tsun vibe in her voice!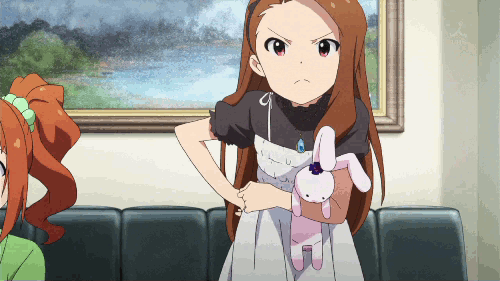 Now here's one that we all feel deserves a spot. Whether your like her personality or not, you have to agree that Iori looks adorable. She puts up a cute front for the fans (being an idol and all, if one didn't know from the title) but with her friends or producers she lets her inner self show – and it is not pretty! But at the same time it's endearing because of how cute she looks during it, and she does have a hidden soft side, even if it does show very rarely. The talented Rie Kugimiya voices her as well!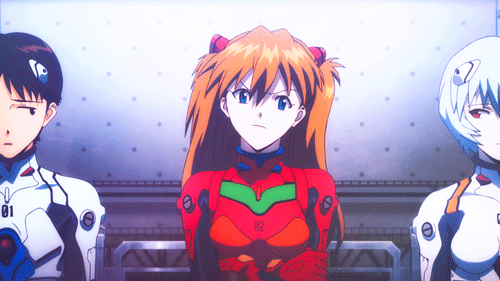 While many consider her to be irritating, one cannot deny that she's an attractive girl! And being a popular anime, it's no surprise that this very outright tsundere red head was voted to be on the list. Asuka embodies a lot of the qualities of both the classic and modern definitions of the word and looks cute doing it too. Some people just can't resist the twin tails either! Voiced by Yuko Miyamura, she has a pretty voice to go with the looks. If only her character wasn't so annoyed at times!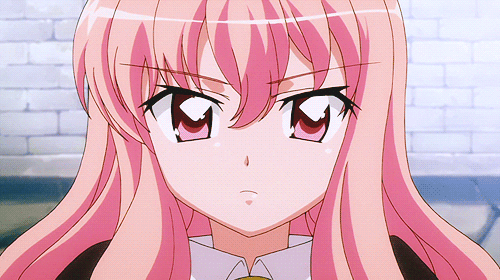 Yet another example of a textbook tsundere is Zero no Tsukaima's Louise de la Vallière. With her pink eyes and hair, she's certainly animated to look pretty, even if her behaviour is incredibly "tsun" for the most part. But for some of the more masochistic fans, watching her antics is quite entertaining. Some would definitely like watching her character! Yet another character voiced by Rie Kugimiya!
#7: Taiga Aisaka – Toradora!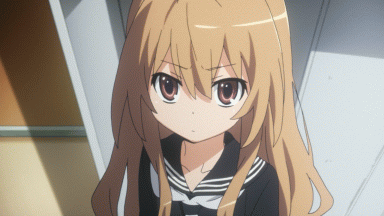 Known to many as the "Queen of Tsunderes", the palmtop tiger Taiga Aisaka earns the number seven spot on the list for most attractive tsunderes. While she definitely holds the qualities of tsunderes – mostly as over compensation for her small size – she's also adorable in her own way and though often overreacting, she's likeable as ultimately her show has a satisfying ending, and a truly annoying tsundere would not have made that possible. It comes as no surprise that she too is voiced by… you guessed it… Rie Kugimiya!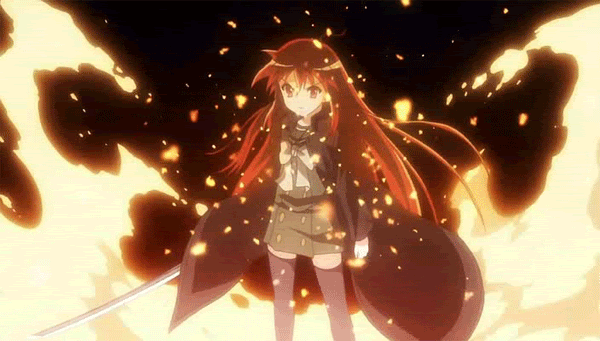 At this point we may as well say that the best tsundere of all time is Rie Kugimiya because she's voiced our next ranked candidate too! Shana from Shakugan no Shana. She has the appearance of a very typical moe character but it wouldn't take long to find that she too could be argued to be a tsundere. She definitely gets the tsun part at least! She's also a loli as she appears to only be around twelve years old. Quite an interesting character and worth a spot on the list! Though it's debatable whether or not the spot should be this high.
#5 Chitoge Kirisaki – Nisekoi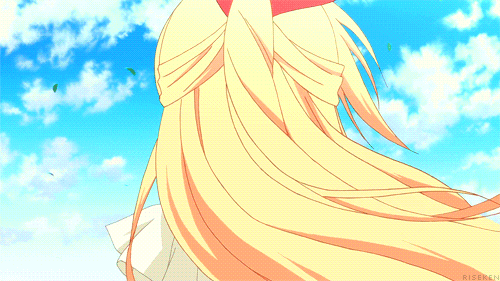 A relatively more recent entrant, with Shaft head-tilt and all comes the gorgeous blonde; Chitoge Kirisaki from Nisekoi – member of the strange love triangle from the show. She's pretty and it's not difficult to root for her in the show and she's one of the few tsunderes that seem to have been done right. Voiced by Rie… Just kidding! Voiced by Nao Toyama, Chitoge is one of the few that most would agree deserves a spot on a list like this one.
#4: Maki Nishikino – Love Live!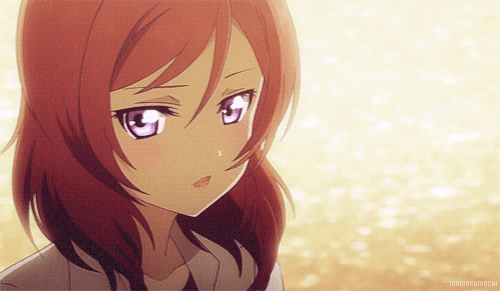 This seems to be where the list begins to show some true quality. While it's easy to write Maki off as a tsundere, she's more than that. An indescribable way of carrying herself and dealing with others that makes her adorable to any who watch the show. It must be seen to understood! But she looks beautiful whether you watch the show or not, so she has without a doubt earned her spot within the top five of the list! She is voiced by singer and voice actress "Pile".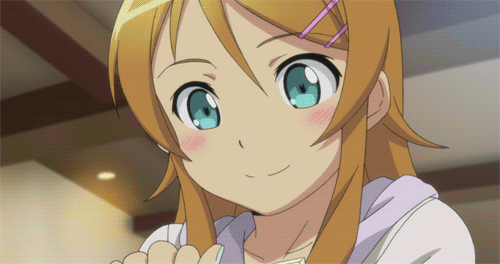 Kirino is one of those tsunderes that you either love or you hate. Being a model, it's well known that she's incredibly cute – it's just that her "tsun" takes over sometimes. Way over! Her dynamic with her brother is often frustrating and difficult to bear with and their relationship remains off and on throughout. But in the end, this blonde, blue eyed beauty (voiced by Ayana Taketatsu) belongs on a list such as thing one, though her place might be debated heatedly by some!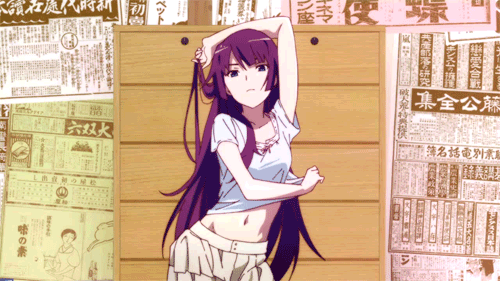 Once again difficult to place as a solid "tsundere" as such, she does carry some of the qualities although she's a unique character in that sense. Her personality is relatively more balanced and developed and her appearance carries quite a lot of sex appeal. Her lewd teasing and poses certainly help woo audiences into giving her a higher ranking on the list too! Her voice is that of Chiwa Saito.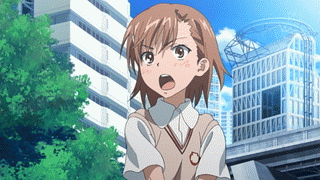 And finally for our top spot – Misaka Mikoto! Her holding the top spot might be a surprise to many, but it's undeniable that her "tsun" shows in the cutest of ways – one which actually makes audiences like her more and find her even cuter rather than begin to feel irritated or annoyed with her. Her relatively more balanced personality, her prowess in combat and ability to maintain herself in tough situations coupled with her character development make her a good character, and also an adorable tsundere. Voiced by Rina Satou, this one was voted the best tsundere in anime!
That concludes our list, ladies and gentlemen. While some may seem unjustified in being here, simply because they don't qualify as tsundere or because they aren't done in the best possible way, making them seem annoying – the rankings were based on user votes as seen in the survey linked above.
Do you think the list should have been different? Do you feel someone who should be here isn't? Let us know in the comments section!