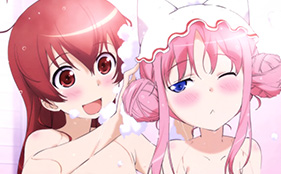 Two new visuals for the anime adaptation of Ghost in the Shell creator Masamune Shirow and Excel Sagamanga author Koshi Rikudo's Koukaku no Pandora: Ghost Urn (Pandora in the Crimson Shell: Ghost Urn) has been featured as posters in the May 2016 issue of NyanType. This issue can be purchased here (get 5% off with coupon code MOE-N3Y-4YW0QK) and you can view the other posters included in this issue here.
The cast for the anime include:
Sanae Fuku (Risa Shirakaba from Aikatsu!) as Nene Nanakorobi
Manami Numakura (Yurika Toudou from Aikatsu!) as Clarion
Atsuko Tanaka (Motoko Kusanagi from Ghost in the Shell) as Uzal Delilah
Satsumi Matsuda (Hiroe Atago from Saki Zenkoku-hen) as Buri
Rie Murakawa (Hotaru Ichijou from Non Non Biyori) as Bunny
Marie Miyake (Aki Mikage from Gin no Saji) as Takumi Korobase
Tetsu Inada (Kurogane from Tsubasa Chronicle) as Robert Altman
Junichi Suwabe (Jae-ha from Akatsuki no Yona) as Ian Krutz
Maria Naganawa (Masako Negishi from Komori-san wa Kotowarenai!) as Amy Gilliam
The staff is as follows:
The TV anime will feature ZAQ's opening theme song "hopeness." Sanae Fuku and Manami Numakura are singing the ending theme song "LoSe±CoNtRoL" as their characters. ZAQ is writing, composing, arranging, and singing the opening theme song, and is also writing and composing the ending theme song. TECHNOBOYS PULCRAFT GREEN-FUND is arranging the ending theme song.
Manga visual:
Pandora in the Crimson Shell: Ghost Urn is a Japanese manga written and illustrated by Koshi Rikudo, based on a concept by Masamune Shirow. An anime adaptation was released in theaters in 2015, later airing as a TV series starting in January 2016.
Koukaku no Pandora: Ghost Urn synopsis from MAL:
In an age when large-scale natural disasters frequently happen all over the world, when cyborgs and autonomous robots are beginning to appear on the market in technologically advanced nations, and major world powers compete for technology and resources, the divide between rich and poor grows and the future for the poor looks bleak. In this transitional stage, everyone wanders around in a self-indulgent daze and the way out isn't clear… This is the story of how two cybernetically enhanced girls meet.