Himouto! Umaru-chan was one of the most popular anime this season, now scoring fanart from Satelight animator and Mecha artist, Mika Akitaka. Featured in the November 2015 issue of NyanType magazine, Akitaka's new visual features Umaru in her "inside look" piloting a robot themed after her Hamster cape carrying her two favorite snacks, cola and potato chips. Akitaka has done Mecha-style visuals and art for anime for years, including art for The Disappearance Of Nagato Yuki-chan  earlier this year. 
Akitaka is known for his designs featured in Mecha anime such as the famous Mobile Suit Gundam series, Toaru Majutsu no Index: Endymion no Kiseki and Martian Successor Nadesico. You can purchase this issue of NyanType magazine here and you can view the other posters that come in this issue here.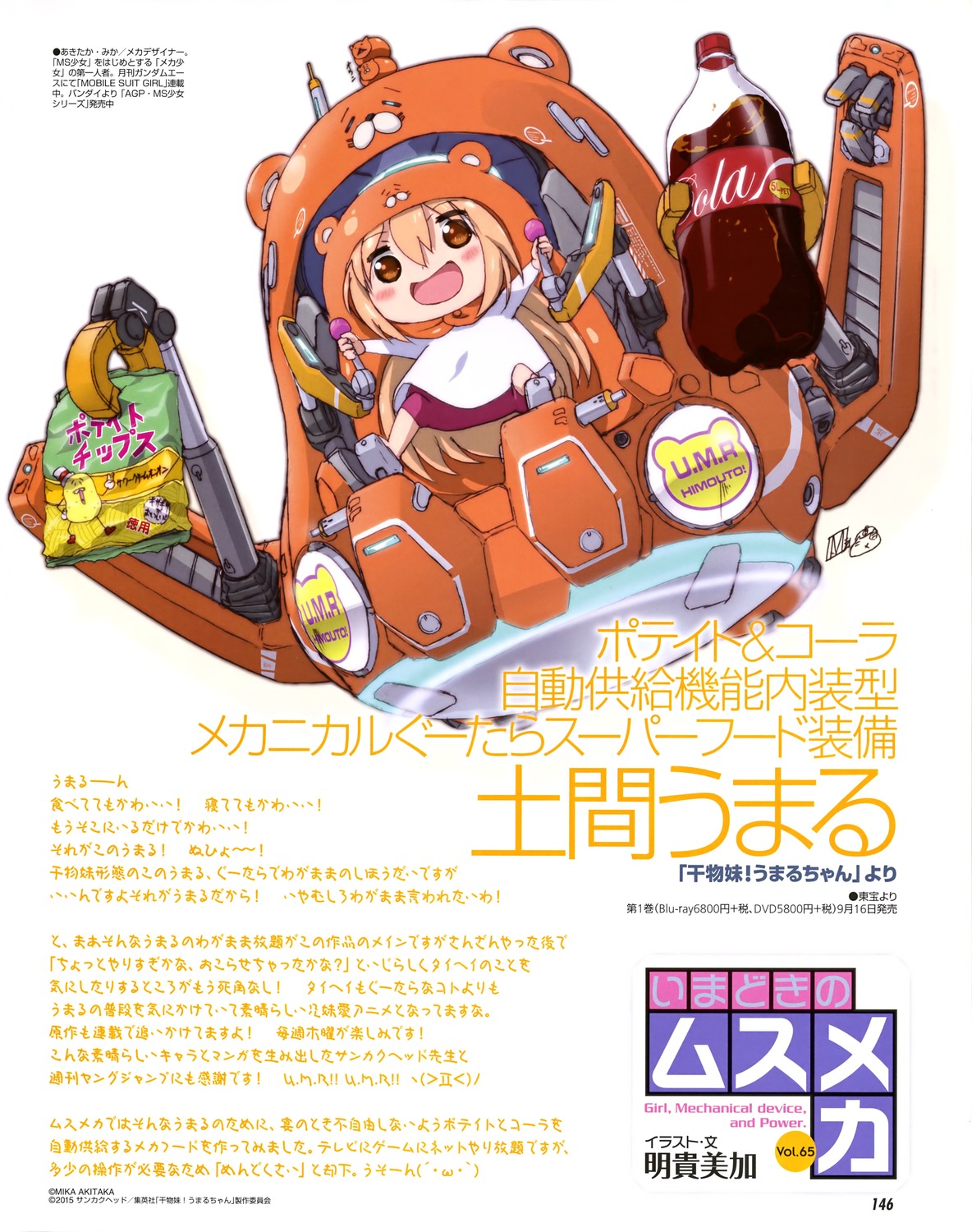 Himouto! Umaru-chan Synopsis from Haruhichan:
Umaru is a renowned beautiful 16-year-old girl in town, living with her elder brother Taihei. She acts a perfect sister with a kind heart, intelligence and popularity, who everybody admires. So who would believe how true Umaru is at home? Sleeping, gaming, watching TV, eating junk food, drinking cola… that's almost all she does at home, leaving all the housework to her brother.
Her camouflage is so perfect that when one of her classmates visits her home by surprise and witnesses "true Umaru," she pretends as if she is Umaru's younger sister. Taihei is always swayed by Umaru's gap between ostensible face and spoiled life, but he cannot hate his comical and somehow lovable cute little sister!