With the recent release of the first volume of the Tokyo Ghoul Blu-ray, this is an opportune time to have a comparison of the censored TV broadcast and the uncensored Blu-ray version. The adaptation of Sui Ishida's horror dark fantasy manga was quite popular and somewhat well received. The manga itself is well known for its dark twisted art, but it was unable to be translated well into the anime's initial broadcast and was censored in some of its gruesome scenes.
Since the Blu-rays are released after the original TV version, studios have additional time to reproduce scenes of the anime that may have been rushed to make schedules, deadlines and meet TV regulations. They may redraw scenes, add new ones, include flashier effects, remove censorship or just improve the general quality of the anime.
This time there will be a comparison of the first 3 episodes of Tokyo Ghoul. We will be looking at the TV and Blu-ray versions for the censorsed and uncensored versions of the anime.
Note: There are spoilers for the first 3 episodes of Tokyo Ghoul
The left side of the images are from the TV broadcast, and the right side is from the Blu-ray release. Click on the images for the full resolution to take a closer look.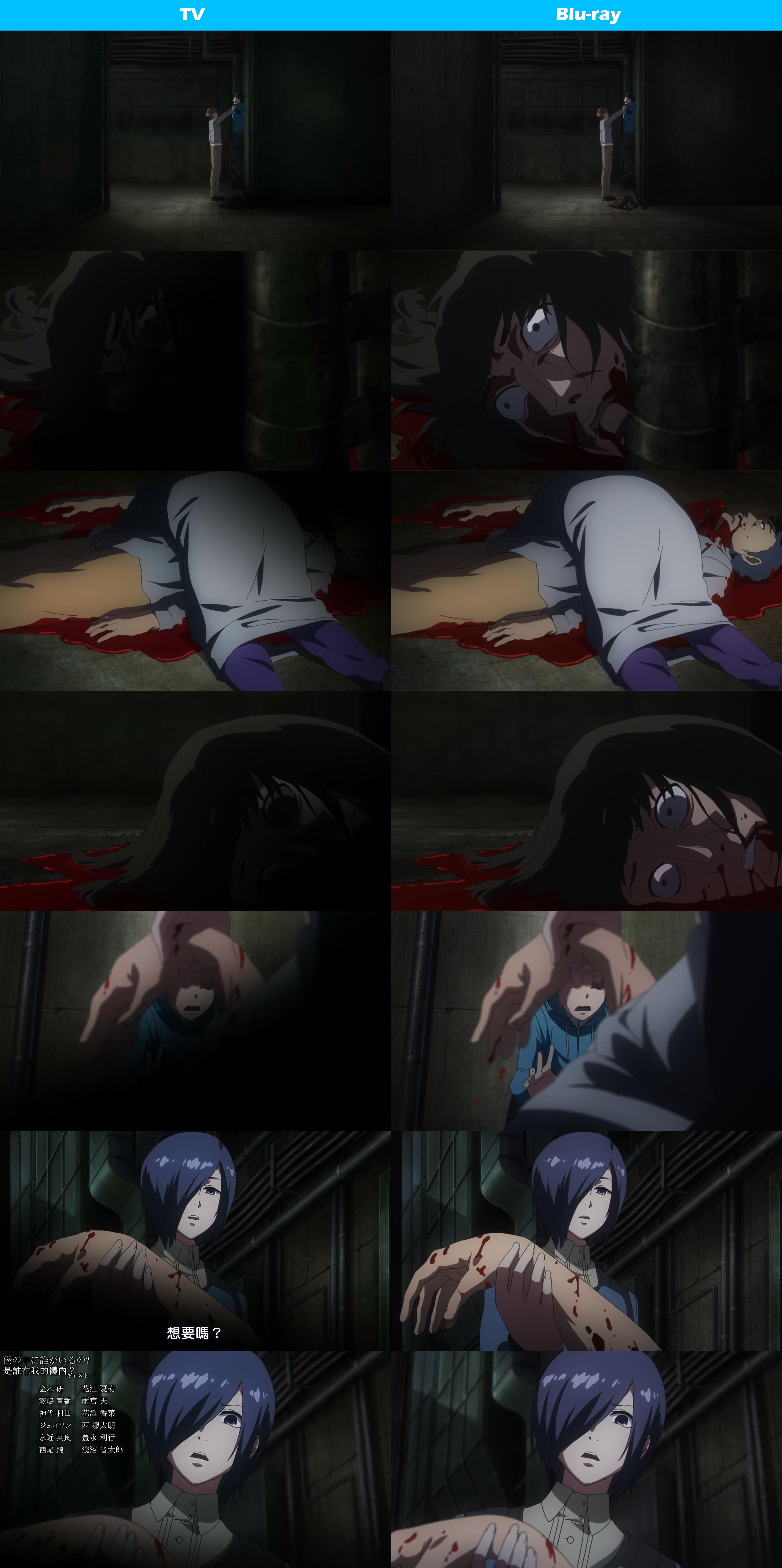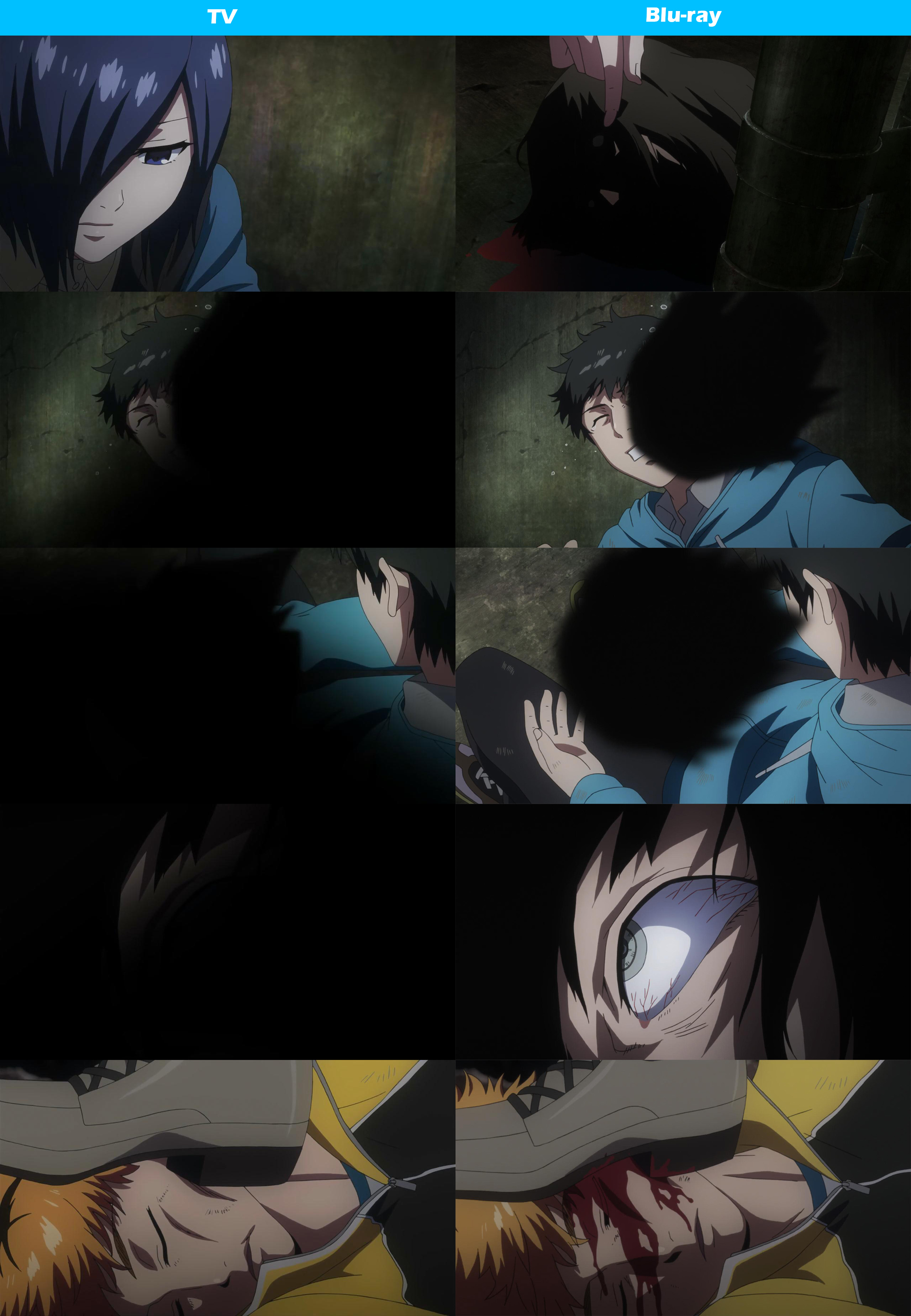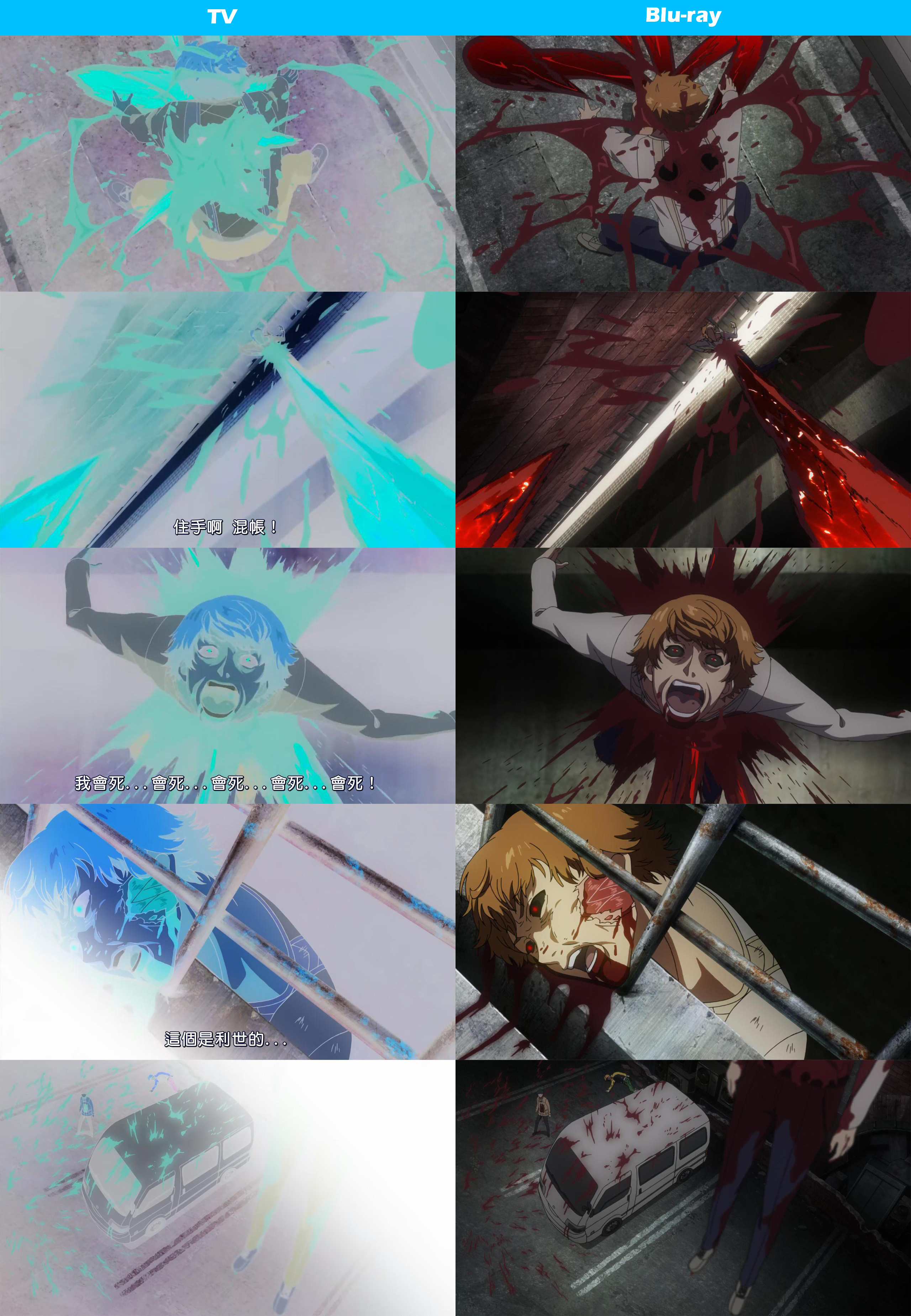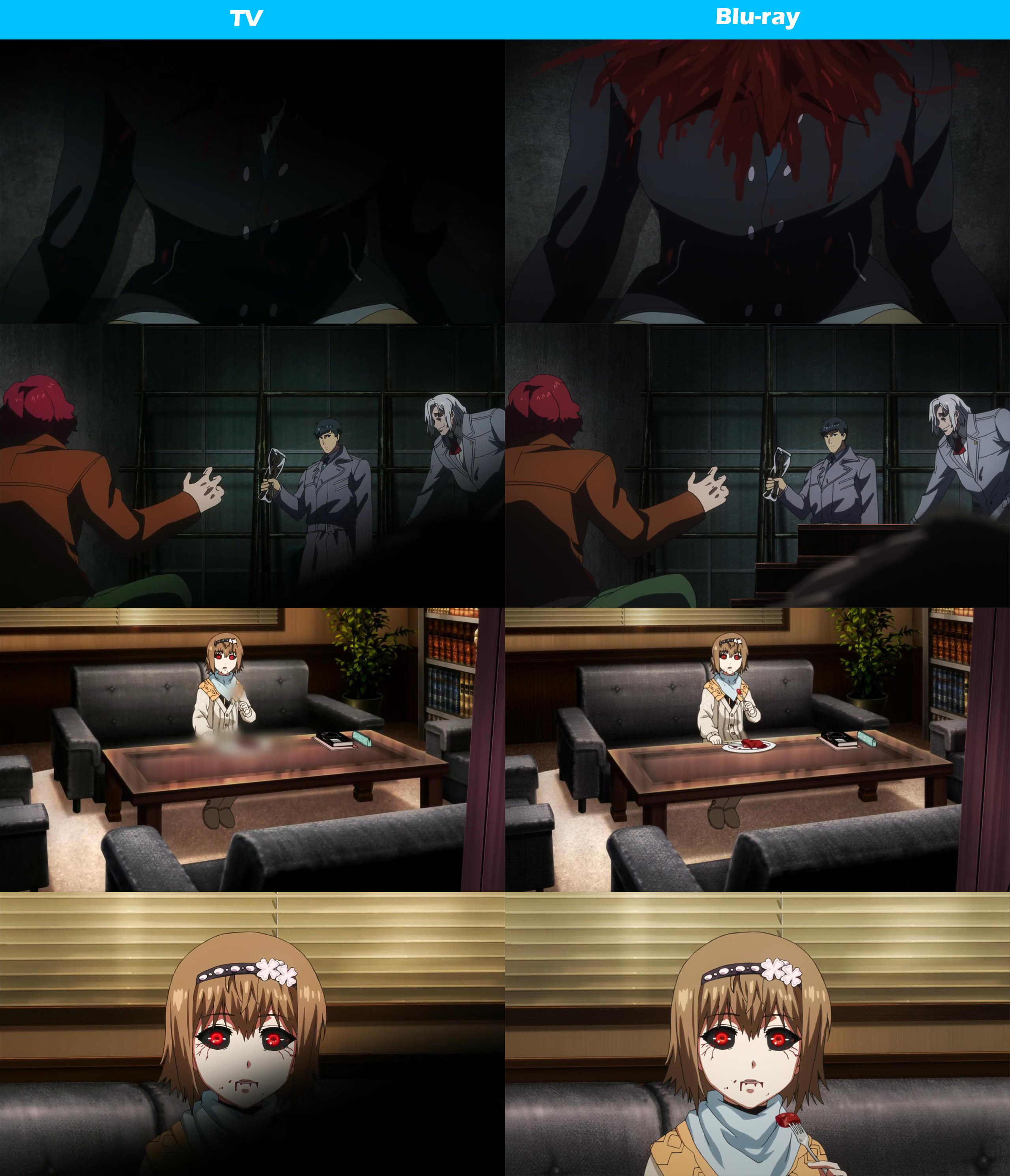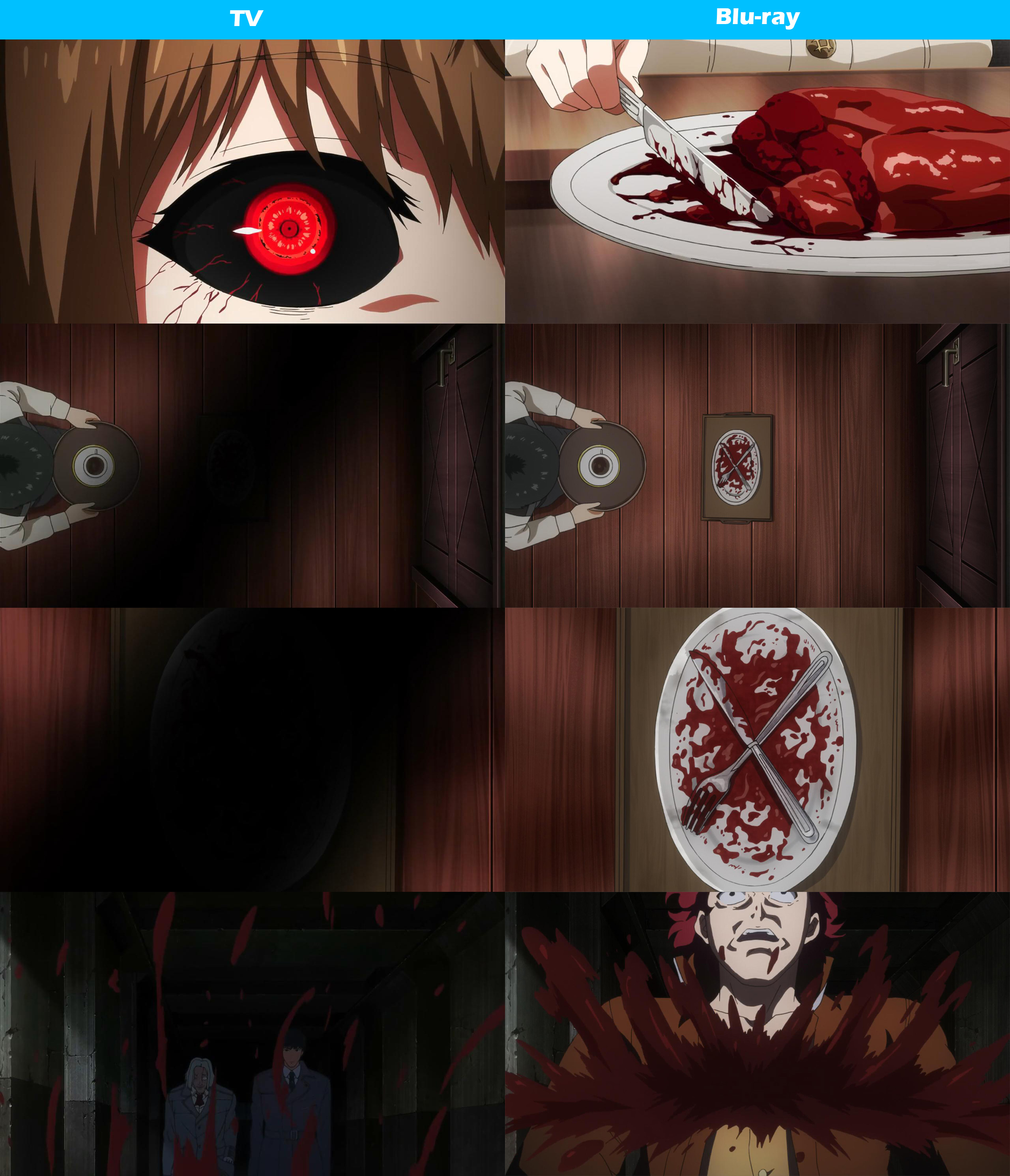 Tokyo Ghoul is a manga series by Sui Ishida. It was serialized in Shueisha's seinen manga magazine Weekly Young Jump between September 2011 and September 2014 and has been collected in thirteen tankōbon volumes as of August 2014. A sequel titled Tokyo Ghoul:re started on October 2014 and a prequel titled Tokyo Ghoul: JACK is running online on Jump Live. A 12-episode anime television series adaptation by studio Pierrot aired on Tokyo MX between July and September 2014 and a second season is in production.
Tokyo Ghoul synopsis from Haruhichan:
The suspense horror/dark fantasy story is set in Tokyo, which is haunted by mysterious "ghouls" who are devouring humans. People are gripped by the fear of these ghouls whose identities are masked in mystery. An ordinary college student named Kaneki encounters Rize, a girl who is an avid reader like him, at the café he frequents. Little does he realize that his fate will change overnight.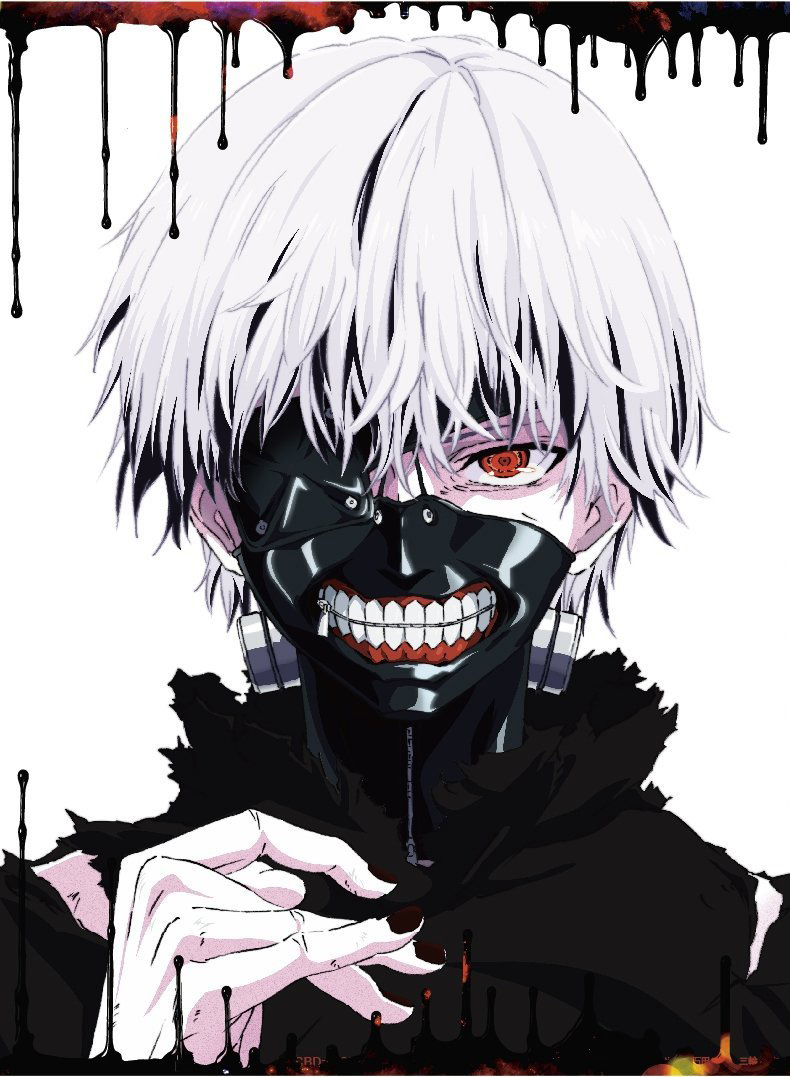 All images come from the first Blu-ray volume of Tokyo Ghoul, which is currently available on Amazon Japan for ¥7,032(~ $7.032USD). The anime's second Blu-ray released last month on Amazon Japan and the third volume will be released on the 28th.
You can visit the anime's official website here: http://www.maql.co.jp/special/tokyoghoul/
And follow Tokyo ghoul on Twitter: @tkg_anime
Source – Takamiya Reddit