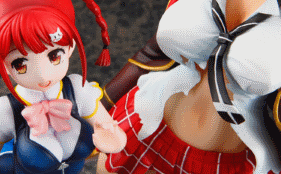 Have you ever thought: with the first episode just recently airing, what better time could there be to look for merchandise of the show? The makers of Valkyrie Drive: Mermaid seem to be answering that question with the announcement (made 6 months ago) that there would be figures for the show's 2 main characters, Shikishima Mirei and Tokonome Mamori, which are now up for preorder.
Both 1/7 figures are made by Kadokawa and are obviously meant to be displayed together with bases that easily combine into one, but each of them are also available individually. Mirei's figure has a bit more work put into it and retails for 16,000 yen (133.61 USD) while Mamori is only 11,000 yen (91.85 USD). The two are also available as a bundle from the Dengekiya shop for 26,500 yen (242 USD). This bundled set also comes with a bonus illustration, as well as an entry into a lottery where the illustration will be signed by the voice actresses of the two characters.
Mamori's figurecomes in at 200 mm (almost 8 inches) and features her in a uniform with a skirt that is probably way too short to cover anything. Complete with white over-the-knee socks, pink bow, pink shoes, and pink … accessories.
Mirei's figure is a bit taller at 240 mm (around 9.3 inches) and has her dressed in a semi-destroyed uniform (holding a sword that if you watch the show shouldn't be there at the same time Mamori is but hey, figures aren't 100% accurate to the show). Her leather jacket is keeping together her ripped white shirt and her frayed skirt is hardly covering anything at all in this figure, having her show more skin than the Mamori figure.
To account for the discrepancy in price between the two figures, Kadokawa has also given Mirei's figure a bit of a bonus! Just like the show this figure also exposes some skin as her figure is a cast-off with removable top and bottom, although the panties do stay on.
Both figures and the bundle will be released in March of 2016 and are currently up for preorder at all major figure sites.
snakes88 is an anime and PVC enthusiast . Have feedback on the article? Feel free to get in touch on Twitter to talk about all things anime and PVC.