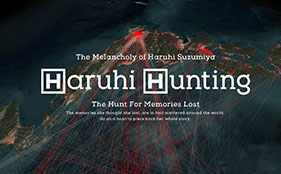 A new video has launched for the Haruhi Hunting website, the video automatically plays when you visit Haruhi Hunting campaign website. We've provided a translation for the narration as well.
Haruhi Hunting – Full Version:
Haruhi Suzumiya: I wonder why there are some memories I just can't remember.
Yuki Nagato: Suzumiya Haruhi's memories have been split into 707 pieces and scattered over Japan.
New Haruhi Fever pachinko machine promotional videos have also been released featuring the return of the stars of the show along with the same voice actresses as before:
Haruhi Fever pachinko machine made by Sankyo:
Additionally, a total of 270 images have been found. Articles about the Haruhi Hunting Campaign have also been featured in the Japanese magazine NewType.
You can find the Haruhi Hunting website here: http://haruhi.com