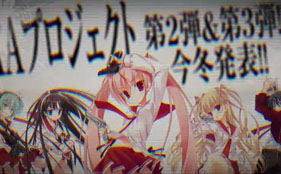 A new project for the Hidan no Aria series is starting and no, it isn't a second season of the anime because the Blu-ray/DVD sales were so bad that they were below the required amount needed for a second season.
Hidan no Aria will have another two entries into the MF Bunko J published novel series slated for winter.
Hidan no Aria New project announced PV:
Hidan no Aria synopsis from Haruhichan:
Kinji is a junior at a high school for mercenaries. He just wants to be normal, but his secret condition—he turns into an ace killer when he's turned on by the female form—triggers a fiery transfer student's unrelenting desire to make him her partner.
Source: Otakomu