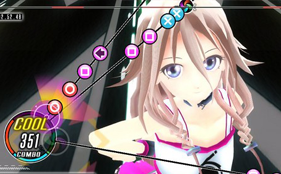 A new trailer for the new Vocaloid rhythm PS Vita game "IA/VT -Colorful-" has been streamed on YouTube by Marvelous AQL.
The upcoming rhythm game is based on Vocaloid's IA Project, and it is slated for release in Japan on June 25th.
Here are some of the in-game screenshots:
In this rhythm game, the player has to move the analog stick of the console in circles while pressing buttons at the same time the musical notes appear, as the player progress through the track, the game stage gradually becomes more and more colorful. The game will feature different game modes such as challenge modes, consecutive play and free play.
Downloadable content support will also be present upon release.
Here are some of the songs that will be featured in the game:
"Children Record" by Jin (Shizen no Teki P)
"Nihonbashi Koukaka R Keikaku" by Jin (Shizen no Teki P)
"Lost Time Memory" by Jin (Shizen no Teki P)
"Enmei Chiryou" by Neru
"Headphone Actor" by Jin (Shizen no Teki P)
"America (America! We are All Right!)" by Jin (Shizen no Teki P)
"Cloud Rider" by Hayato Tanaka
"Chiri Juso" by Kikuo
"Liar" by Nekobolo
"Lonely Child" by Otetsu
"Hajimari no Niwa" by Shirakami Mashiro
"Nokoru Natsu ni Hanataba wo" by Nodoka
"Lorelei" by 10th P (Monaca:Factory)
"Ginga Tetsudou 365″ by Ichiokuen-P (Dezzy)
"Falling Apart" by Taishi
"Kimi no Koto ga Suki de Gomennasai" by Utata P and Tory Hitsuji
"Shounen wa Kyoushitsu ga Kiraidatta Noda" by Ishifuro
"Love Sagiittarius" by Mutsuki Levin
"Overslept" by Neru
"Migawari Kibonnu" by Mabe Shuichi
"Kakshi" by Mochizuki Urara
"Pageant" by Mito
"Baibai Superstar" by Ishifuro
"Tsubasa New Days" by A-Bee
"Crystal Prism" by Anante-Garde Eyes
"Party Party" by Komorita Minoru
"Re;Birth" by Sele
"Geragera to Warauna" by Ishifuro
"Bokura ni Kigeki wo Misetekure" by Jin (Shizen no Teki P) and Ishifuro
"Kisaragi Attention" by Jin (Shizen No Teki-P)
"Ayano no Koufuku Riron" by Jin (Shizen No Teki-P)
"Kuusou Forest" by Jin (Shizen No Teki-P)
"Kagerou≒Variation" by Yairi
"22 Seiki kara no Hello" by Rider
"Zekkyo Paranoia" by Total Objection
Official Japanese website: http://ia-vt.marv.jp
Sources – PlayStationLifeStyle – Crunchyroll
Writer on Haruhichan, anime devotee and coffee addict. Follow me on Twitter.. I mean if you want to, I'm not forcing you to!