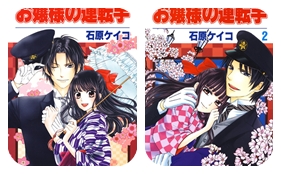 It has been announced during the Shojo Beat panel room held at Baltimore, Maryland's Otakon 2015 that they have licensed Keiko Ishihara's (Teki wa Ou-sama, Strange Dragon) historical shoujo manga, Ojousama no Untenshu (The Heiress and the Chauffeur). The first volume is slated for their May 2016 line-up.
Shuriken And Pleats by Matsuri Hino acquired! #ShojoBeat10 plus The Heiress and the Chauffer coming next May

— VIZ Media (@VIZMedia) July 25, 2015
The 2-volume manga was published under Hakusensha's Lala DX magazine from February  10, 2010 to December 10, 2011. The manga has accumulated ten chapters.
Synopsis of Ojousama no Untenshu from MAL:
It is the Taisho Era at a certain girl's school. There one young lady embodies the ambition and is the envy of every girl. The crimson ribbon adorning her marks her as the top student. She is none other than Yoshimura Sayaka. Always at her side is the chauffeur her family employs, Narutaki Shinobu. Are the two in love as rumored amongst the female student body!?